Virtual offices provide a wide variety of benefits that can help businesses take their operations to the next level. At its essence, a virtual office works as the front for a company to receive clientele, mail or prospects at a location which differs from their main operation. The Virtual Office provider acts as an intermediate to continue the operation as a third-party service for specific activities. In our case, our TEC Team acts as an extension of the Member's Team and provides them professional services and assistance such as personalised call handling, business address set up, mail handling and much more. Virtual Offices can provide support for businesses of all sizes, structure and styles – it is truly one of the most flexible products amongst our workspace offerings. This guide answers frequently asked questions from how a virtual office can be set up to running it efficiently.
How to Set Up Your Business Address
As you begin to make adjustments and optimisations to evolve how your business operates, choosing and setting up the right address for your business becomes an important decision. As the designated address of your virtual office space will be used solely to receive and intercept packages and documents on your behalf, having a prestigious business address is guaranteed to impress your clients and prospects at first contact.  For a constant professional presence in the market, having such a prestigious virtual office address established is necessary.
With The Executive Centre, you have a wealth of options to choose from in terms of prominent business districts that suits your business requirements. Your chosen virtual address becomes the designated home for your enterprise, and it is where our management team will provide executive services to your business as if you were one of our onsite Members. Everything from booking meeting rooms to business concierge services and management of mail and phone calls will be provided at this venue as per your choice and convenience to ensure your business runs smoothly.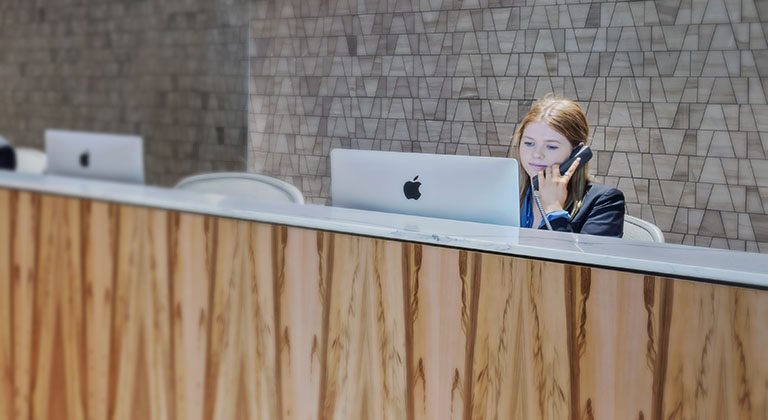 How Call Handling Services Support Your Business
Call handling services can manage a lot of your communication on your behalf while providing an exclusive contact number to your company. With a dedicated phone number managed by a team of professionally trained staff to handle each call, you can be assured your clients will receive first-class reception. Additional services such as call forwarding, setting up a personal voicemail and personalised welcome messages can be made possible through your dedicated team. What is more, with TEC many of the services our team can provide you can also be accessed through the MyTEC digital platform on mobile and desktop – providing you even more control at the touch of a button.
All messages and vital information that needs to be conveyed to you will be done immediately using an email or messaging system (MyTEC) to keep you informed and connected. The in-house reception (or in the case of TEC – your Engagement Team) will also use a customised greeting to introduce your business to personalise the caller's experience and impression of your business service. In this way, you can enjoy a complete virtual presence while having a team of professionals handling your business front.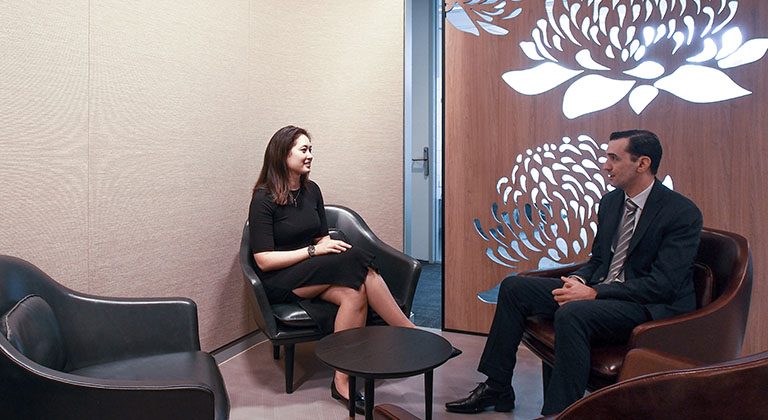 What Are The Benefits Of Using A Virtual Office
Besides the call handling and physical address aspects of virtual office services, you can also make use of the first-class support services that the on-site staff offer. Any professional business and administrative functions can be attended to remotely as per your needs and concerns through the touch of a button, call of the phone or a simple email. A virtual office space helps to reduce your overhead costs by outsourcing a highly required administrative service to a team of professionals who are already accustomed to providing this expertise on a daily basis.
No physical office space  investment is necessary to establish a presence for your organisation. Furthermore, you can also take advantage of global networking opportunities that are provided through such serviced virtual office providers where you will be connected to industry leaders from across the world. They can help you make the first step in contacting clients, networking with leaders and screening potential employees to match your team and business vision.
Benefiting from using a Virtual Office, you can share a majority of the daily management workload that must be handled internally in a business team. Many of the daily tasks can be divided and shared with a group of experts who are well-versed in these duties such as professionally handling each phone call and mail to ensure your business gets the support it needs no matter where you are physically based. This will leave you with more time and space availability to concentrate on tasks that need your immediate attention.
To run a virtual office with the help of a team of experts, get in touch  with our staff at The Executive Centre for more details and plans.