One year ago, on April 17 2018, we made an exciting announcement to our network that we would be introducing new infrastructure to support initiatives allowing our Members to connect across centres, cities and countries. Our Online Forum, new functionalities within our App and global event series have since provided rich opportunities for sharing information, skills and resources. Our Members are the foundation of The Executive Centre, and after a year of working hard to build our community, we wanted to reflect on how far we have come and what we still want to achieve.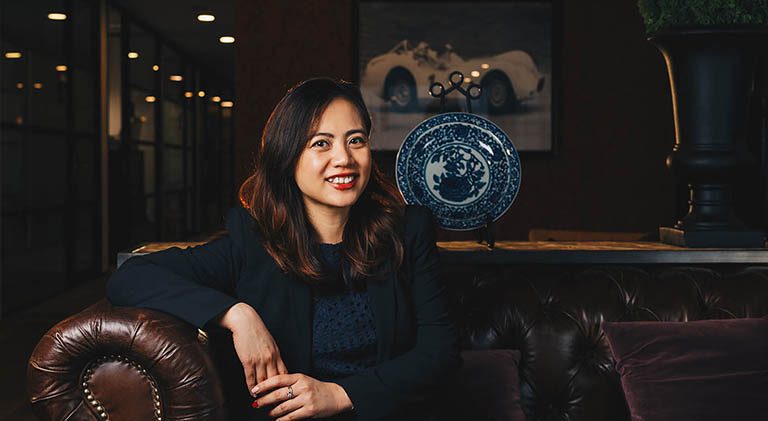 Patsy Li is TEC's Global Community Director and together with her team manages the online and offline initiatives that present our network with new ways to connect.
Patsy Li, Global Community Director
Our TEC Community is managed by our Global Community Director, Patsy Li, and in light of the one year milestone for this initiative we invited Patsy and her team to share some of their thoughts and reflections on the past year, and their outlook for the future of TEC Community.
The Evolution of TEC Community
"The TEC Community began with the desire to deliver more value for our Members. The genesis was the TEC Online Forum, connecting 17,000 global Members through topical business discussions and industry insights. Over the past year we have grown Community, hosting more than 500 events over twelve months and connecting 23,000 members through business seminars, workshops and networking events while offering more than 100 member benefits. Our TEC Community today facilitates B2B connections, health and wellness initiatives and personal development efforts for both Members and partners."
Biggest Changes
Maintaining Uniqueness in the Community: Different locations at either a country, city or centre level have a different mix of Members. We have to understand our Member's preferences and integrate their feedback before implementing new programs.
Engagement: TEC's online Community Forum has been important for connecting Members globally, but face-to-face interaction is at the core of our service offering. We are focused on offering quality offline events and human connections to find synergies and bridge the online to offline, and offline to online worlds.
Community and Flex Providers
"An active community creates demand for products and services. It allows for a dynamic that draws people to the brand and increase foot traffic to the space. Community is also a way to strengthen Member attraction and retention.  We do this by providing the exceptional hardware of a premium office and flexible workspace, but also the software of business knowledge and networking, BD and professional development opportunities; all while helping Members maintain a healthy lifestyle."
Putting Members First
Each type of Community initiative we offer is targeting a specific Member need we aim to address:
Business Seminars: We organise industry and function related seminars to educate and inform our Members about trends and developments relevant to their business
Executive Events: Exclusive roundtable discussions on business issues and challenges for senior leaders
Trainings Workshops: We organise training sessions so Members have opportunities to advance their careers
Mixers & Holiday Celebrations: We organise social events where Members can relax and celebrate together
Health & Wellness: We offer programs on mental and physical health, wellness and exercise to promote a healthy work/life balance
B2B Matchmaking: We look for opportunities to partner with our Members and introduce them to connections with mutual or complementary business interests
Corporate Social Responsibility: We actively engage with local communities through volunteer and charitable efforts with our Members
Highlights from the Last Year
TEC Global Community Launch Event in 30 cities on the same day – April 17, 2018
TEC Fitness Initiatives – more than 50 free exercise classes for Members in Shanghai and Singapore, expanded to Beijing and Hong Kong
"TEC Greater Bay Area Update Luncheon" in Hong Kong, this series will be rolled out in Shenzhen and Guangzhou soon
TEC Annual Real Estate Outlook in Shanghai, a signature annual event that draws 60+ attendees every year
International Women's Day Celebration – hosted the first TEC Women in Business Series in Sydney, Singapore, India in 2019
"The Power of Shut Up" – Lunch & Learn leadership workshop hosted across 5 cities (Hong Kong, Shanghai, Beijing, Shenzhen, Seoul). The first program that began from an Online Forum topic and evolved into a real world offline event with a Member of TEC Service Leadership Team, Joanne Hay
The Future of TEC Community
"In the year ahead we look forward to continuing to support our Members, helping them grow their business and expand their reach within our own network and beyond. We also look forward to expanding TEC Community access to the general public and hope to become the most influential Global Business Community in the Flexible Workspace Industry. All in all, we want to express our thanks to TEC Members for their trust in us, to the Global Community Team for their focus, and our Engagement Team for their dedication. With the support of our 200 Global Partners, we look forward to making the TEC Community even stronger in the year ahead."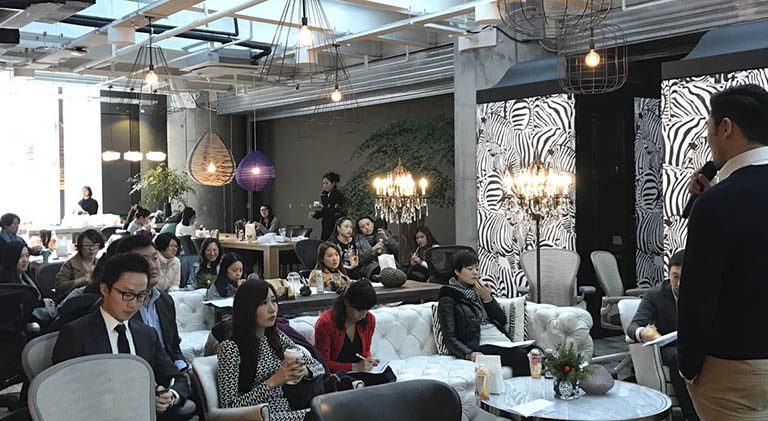 Events have formed a cornerstone of the experience offered to Members in each of our Centres. 
Kim Seychell, Community Manager, Sydney
What does TEC Community mean to you?
"To me, the TEC Community is the soul of TEC. It is at the centre of everything we do. And it's not just the community of our Members, it's our partners, our direct team, our vendors. Its the way we work with them, all with a 'People First' approach. It's about making our Members feel like they have a place where they belong, whether that is just creating a comfortable space, or making a solo freelancer feel part of a larger team. The TEC Community goes that extra mile, because it matters."
A TEC Community Highlight
"Wow, it is so hard to narrow it down to just one highlight! The thing about working as part of the TEC Community Team means that you get to work closely with the people that make TEC. This makes almost all the experiences a highlight, because we have so many interesting people. I believe it is the little things that are often the most memorable. One of my favourite moments happened when we hired a Foosball Table for the lead up of the FIFA World Cup 2018. We held a tournament for the Members over a number of days, with the grand final being held at a FIFA Party at the end of the week. Not only was this obviously filled with spirit and competition, but the number of connections made over this foosball table were astounding, as we didn't allow people from the same company to play against each other. It was organic, it was fun to be a part of, and it was Community at its rawest."
Jihane Ablal, Operations Manager, Dubai  
What does TEC Community mean to you?
"Networking is a huge part of Community. It is a tool that allows us to learn, to grow and to be inspired by those around us. It's possibilities in terms of the opportunities it presents are unimaginable and allows them to uniquely benefit from the global scale of TEC."
A TEC Community Highlight
"The main highlight of having the TEC community at our fingertips has been how easy it is to inform our Members worldwide, regarding instant news and events. Teaching others about the Dubai office, the first TEC Centre in the region has been a unique opportunity."
Sharon Li, Community Manager, Beijing
What does TEC Community mean to you?
"Community activities and close communication bring us closer to our Members. It makes our work more energetic and brings value to their experience with The Executive Centre."
A TEC Community Highlight
"A real highlight in the Beijing community I think is our Charity Activity in December last year. We donated to a children's charity and had the opportunity to visit them at their school. It was really special to help the disadvantaged and and served to make our own work more meaningful."
Natalie Song, Community Manager, Singapore
What does TEC Community mean to you?
"TEC community creates a platform, a community, where people can connect and collaborate through events, giving our Members another door that opens not only new business opportunities, but also an expanded social network. What we create here at TEC, benefits everyone. I believe that together can we strive for success. Success takes team work, and when a community remains strong and cohesive, that's when light-bulb moments happen!"
A TEC Community Highlight
"When I see more and more Members getting acquainted, referring business to one another and collaborating with each other. At events, Members would now recognise each other and at their different Centres, they would greet each other in the morning. This shows that the community here is growing and I know that our efforts have paid off, allowing our Members to feel more comfortable. TEC is not only a place where they work, but also a place where they feel at home, a place to connect and collaborate with like-minded individuals."
Emma Chen, Operations Manager, Taipei
What does TEC Community mean to you?
"Community has allowed us to focus on people. It's a part of the work culture which is so often undervalued and overlooked. Initially the Community initiative was implemented within our team, helping my own colleagues realise its benefits and purpose. Then, almost completely organically, expanded to our Members. While we know that technology has a huge part to play in business today, people were hiding behind their screens to avoid conversation and interaction. Community has brought real interaction to our Centres, Members chatting with their neighbours, building businesses together and not just next to one another. It has formed the foundation for our business and offers so many new, challenging and exciting opportunities to our people."
A TEC Community Highlight
"A Member gave us a New Year greeting at the end of 2018. She told us she didn't feel alone; she'd met many people at TEC and she felt every Member was like a real colleague, even though she was the only person represented by her company in Taipei. When I received this card, I knew that our community was a worthwhile undertaking."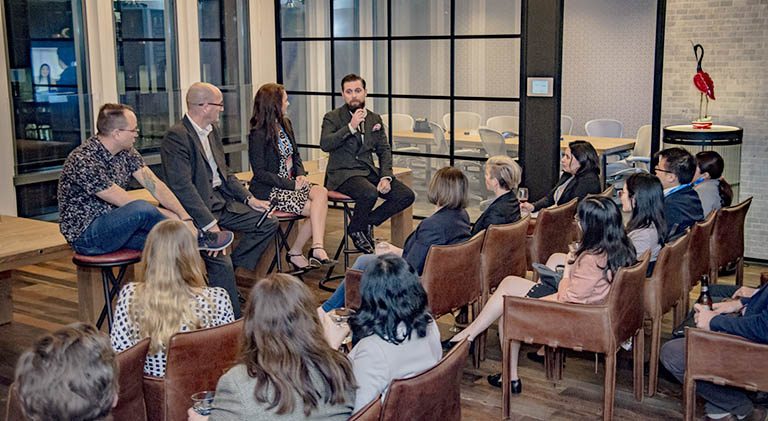 Panels, roundtables and seminars have allowed for the sharing of information and insights across our network.
By The Numbers
TEC Online Forum
Active Forum Users 5,000
Unique Topics 2,200
Comments and Posts = 13,000
Likes = 75,000
TEC Community Events
In-Centre Events 500+
Event Attendees 10,000+
TEC Partnerships
Global Partners 200+
Exclusive Member Benefits 150+
Giving Back
CSR & Charitable Initiatives 50+
Blood Donation Drives 10