This year marks an important milestone for The Executive Centre in Seoul and 2019 we will be celebrating our 20th anniversary in South Korea. Seoul was one of the first expansions made by TEC following our first Hong Kong centre in 1994. With a refreshed leadership team making great strides in South Korea, the future looks bright for our network in Seoul and we look forward to supporting our Members in the city for many more years to come. To mark this important anniversary, we spoke to our CEO and Chairman, Paul Salnikow about the dynamic history and outlook for this important market.
Why is Seoul so important to TEC?
Korea is one of the major economies in Asia – we have been in Seoul Finance Centre for 20 years, it's in the very core of the CBD, half a block from City Hall and the building and the location has retained its value, even to this very day. In the first quarter of this year, we refurbished that centre, brought in a community centre, a barista bar and a café. Our Members love it and occupancy is at an all time high.
Korea has been an interesting market and is very suited to flexible office space because domestically, Korean companies and people are very comfortable within the parameters of their market. Internationally, a lot of companies view South Korea as a higher risk location. Over the years, we have found that there are multiple MNC's who in Korea want to have flexible solutions. They are permanent participants in the Korean markets and in fact, are growing, but nevertheless, want to retain the ability to scale up or down.
What kind of evolutions have you seen in marketplace?
The primary change has been the emergence of Korean tech and particularly on the programming side and in terms of content creation for technology. Those types of industries and that type of company need office space. They're high pressure, high intensity organisations operating in a highly competitive field. They want to position themselves in the middle of a city to take advantage of their environment. These companies are looking to attract and retain talent. Foreign companies have always maintained a long-term outlook in South Korea, but they are taking advantage of our product offering to avoid long term leasing commitments, that's the nuance in Korea. Emerging positive political sentiment will destress foreign investment and encourage this long term permanence in commitment we are talking about and will only have a further positive impact on the economy.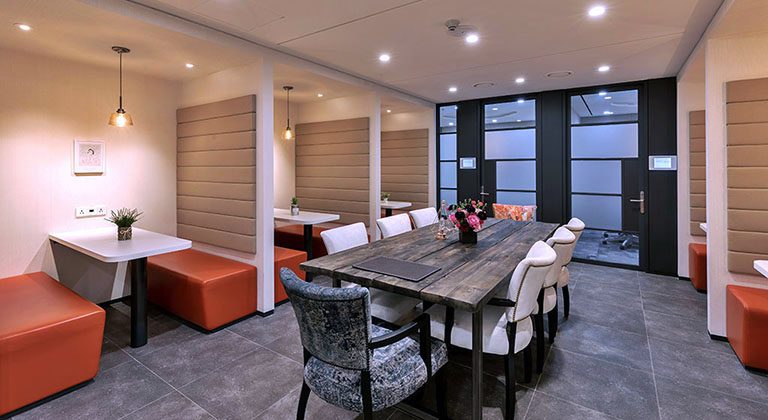 Seoul Finance Center offers a fully equipped lounge space for Members that want to experience a more flexible working dynamic.
How does TEC choose the right team to support Members?
We are certainly continuing our intention of operating in each market with a fully local, in this case Korean, team. Our team on the ground are highly knowledgeable and in tune to what is going on, they are enthusiastically supportive of the market and they view this as a very good time to position for growth, as do I. The feedback I am getting is completely proactive in attitude. As sentiment is improving in the region they are saying "lets commit to more space, more capacity and lets take advantage of this upward positive trend".
Does TEC plan to expand in Seoul?
We have been looking for expansion in Seoul and it's really just a matter of time.
The demand for the space is there and we are not sitting back. Along with the recent refurbishment of Seoul Finance Center, we are looking at refurbishing some of our other spaces in the city, well performing Centres such as Gangnam Finance Center. We are also seeking additional space in these top-performing buildings. Taking additional floors would be a logical capacity expansion in one of the best locations in the city.
What are the challenges for the new TEC leadership team in Seoul?
Ally Hong (TEC Seoul City Head) comes to us with experience from other leading industry players and she is in the prime of her career and a pro in the market. Having been with us just shy of a year, we tasked her with firstly restructuring our business in the city. A Korean company structure has a very top-down, linear approach. There is often a very hierarchical structure that stifles innovation and change, even basic feedback. It is something which we intentionally avoid within TEC and Ally was brought in, to first and foremost, drive change. Drive change in the team culture. Drive change with expansion. Drive change with the client base. Drive change with the refurbishments and renovations. She is achieving significant positive change across all fronts.
Our margins and the strength of our revenue in Seoul has improved over the last 9 months, even coming from a strong and consistent performance there has been steady growth. We are looking at further expansion and are excited to see what the team are going to deliver in the coming year and beyond.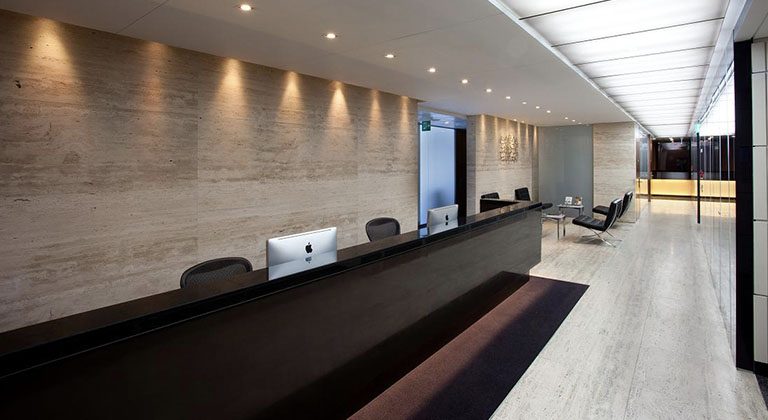 Gangnam Finance Center is thoughtfully designed with a modern aesthetic and ideally located in a prime CBD location.