The start of a new year is a great time to build new habits, commit to improving behaviours and is a chance to set the agenda for a busy, productive and gratifying year ahead. At The Executive Centre we're starting 2019 feeling refreshed and excited about what lies ahead. We know that there is a lot to look forward to and we wanted to take this opportunity, before we all dive into work, to share with you some of the important learnings we took from 2018 and how we'll be translating those into improved products, services and experiences for our Members in 2019.
Learning Through Listening
At the end of each year we share a comprehensive survey with Members across all of our cities and centres. We want to know what went well, what could be improved and what our network feels could elevate their experience. We then set about making the necessary changes to ensure that we live up to our promise of 'your space for success'. Last year we celebrated our important first steps into new markets in Ho Chi Minh City and also Dubai, a particularly exciting step given that this was our first foray into the Middle East. Community was also a focal point for our team last year with the launch of a global events and partnership program and significantly, the relaunch of our TEC app, a digital hub for community that added new functionalities to make our spaces more easily accessible to our Member network. The year ahead will see us continuing to grow our centre network – next month we will launch our first centre in Xi'an, an important hub of innovation and entrepreneurship in China. We're also proudly introducing ourselves to the people of Melbourne following the launch of our first centre in the city this month. All in all, 2019 will see us continue our pattern of broad and thoughtful expansion that aims to meet our Members where they need us most. Another key focus will be our continued refinement, nurturing and innovation of our community offering and thanks to the generous feedback from Members we already have some important updates to share.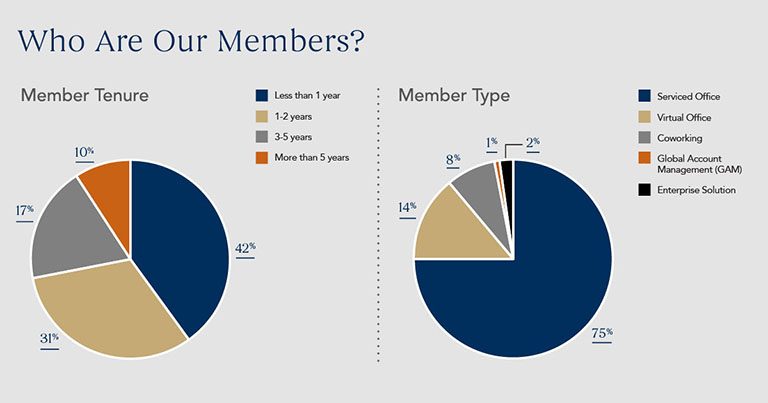 Getting To Know Our Network
Learning more about who our Members are means that we are able to learn about their business requirements and tailor the products, services and spaces that we offer them. In the last 12 months we have seen a marked increase in the number of Coworking Members, we've seen changing patterns of behaviour in meeting and conference spaces and this is dictating how we will approach the year ahead. Seeing how, where and when are Members use our spaces mean that we will be continue to develop lounges in all our centres and prioritising functional updates to communal spaces. We're introducing 1-day Coworking passes that will allow new and old Members to experiment with a new way of working and potentially transition to more flexible work styles.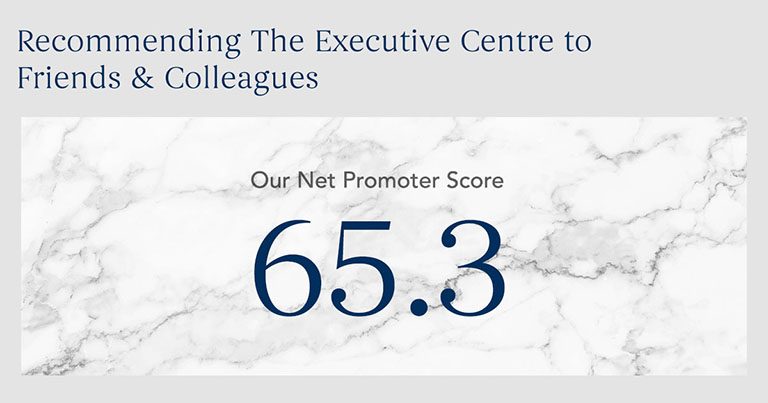 Recommending TEC
The Net Promoter Score or NPS measures customer experience and is a metric that we have always been proud of. Our Member-first philosophy is reflected in our NPS score and positions us an industry leaders defining a thoughtful and forward thinking experience for all our centres. We look forward to maintaining and improving on this rating in the year to come.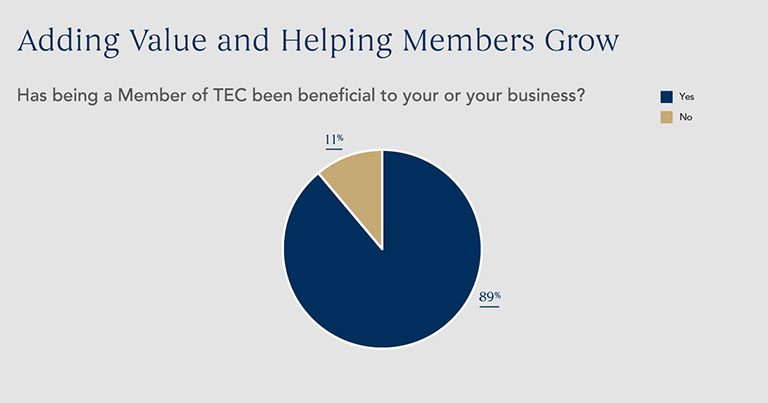 How Can We Help?
We pride ourselves on creating spaces that can help our Members and their businesses succeed and in asking our community if their relationship with TEC has been valuable we're really able to evaluate if we're actually doing this. We found that the vast majority of Members found that belonging to our network was valuable to their professional growth and we hope to improve on this metric in the coming year as we refine our approach to all aspects of the business.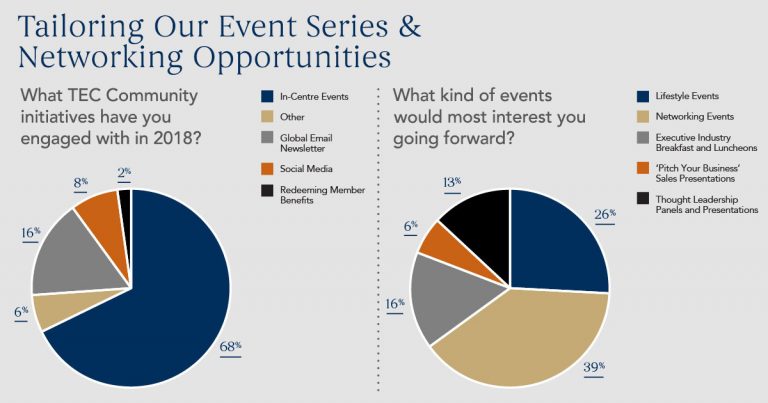 Refining Our Community Initiative
The introduction of a community initiative was a big deal in 2018, and in 2019 we will be continuing to refine the way that this initiative is managed. In 2019 we will be growing our digital offering and giving Members new ways to connect and collaborate online. Additionally, we will be offering showcase opportunities to Members, more informal networking events and shaping our spaces to support more inclusive and diverse community interactions.