At The Executive Centre, our spaces are designed not for one individual or for one industry alone. They are designed to be dynamic, readily able to adapt to the needs of each and every one of our Members. The innately flexible nature of our Centres means that they are a blank canvas, developed by our team in partnership with our Members to be responsive and agile representations of different industries, brands, teams and preferences. Our spaces and products provide a foundation or framework with supporting infrastructure ensuring our Members have access to all manner of professional luxuries. They are simultaneously engineered to be easily customised in order to align with any industry-specific needs. In short, we are proud to be able to work with our network to produce bespoke designs that anticipate how our Members work best. Years of experience in developing flexible workspaces for corporates has informed our evolving approach. Of course, there are nuances impacted by cultural considerations and work preferences that come into play, beyond that it's business as usual.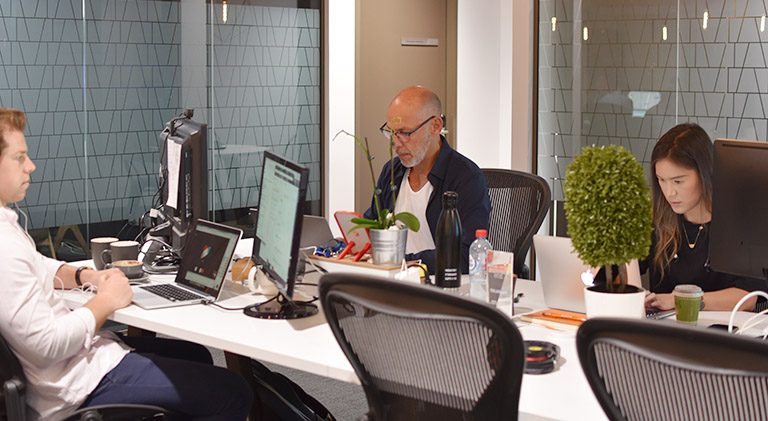 We pride ourselves on working with our Members to create spaces that genuinely support them in the ways that they need according to their industry, team size and personal preferences. 
Meeting The Majority
Many visitors to our centres come and leave without ever knowing they are in an Executive Centre. This is intentional. We want our Members to take ownership of their space and this means refraining from obvious displays of our own branding. Our spaces are well-designed, comfortable and professional, and Members should feel proud to invite guests, clients and new business prospects to their space.
Our reception and breakout areas function under similar terms. Perhaps the most important component of these spaces are our Engagement Teams. Their knowledge and understanding of our Members is unparalleled and expertly localised to their operating region. The design of these spaces is certainly functional but also aims to impress. It is the design equivalent of a handshake, making a strong first impression and setting the tone for all further interactions. Our centralised lounges are a way to include a less formal, collaborative environment that encourages community and connection.It offers a more casual environment for quiet work or quick meetings and interviews.
Corporates are spending more time engaging in collaborative activities, 50% more time in fact. FastCompany reported that offices that are able to encourage higher quality interactions are shown to have improved essential professional skills and output. Our floorplates are fully flexible to meet the requirements of all our Members. From changing seating configurations to removing walls, nothing is impossible.
Beyond this, we also think about how the requirements of different industries inform the design of a workspace. These are some of the industries most frequently represented in our Centres, and through close working relationships and years of experience these are some of the ways we have been able to accommodate their unique requirements.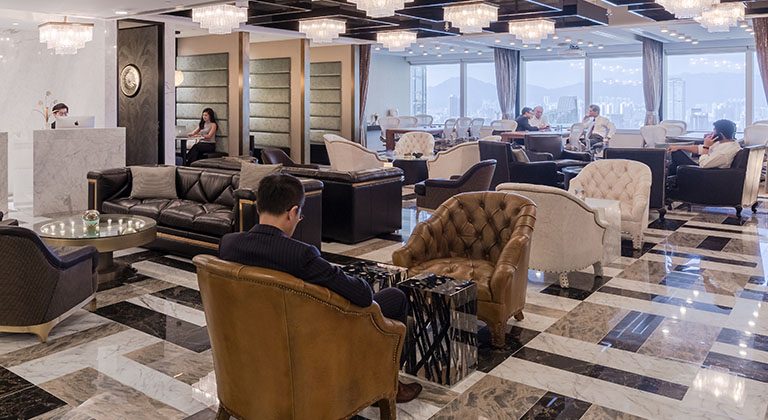 Communal lounge space, like this one at our Three Garden Road Centre in Hong Kong gives Members the opportunity to work and connect in a less formal community setting. 
Aviation
The aviation industry has experienced impressive growth in recent years. With forecasts predicting an annual growth of 4.7% by 2035, an additional 1.8 billion passengers will take to the air in the Asia Pacific market, already estimated at 3.1 billion. Experts from Endau Analytics foresee APAC accounting for over half of the global increase in air traffic, year on year. India, China, Indonesia, and Vietnam top the list of fastest growing aviation markets with China projected to replace the United States as the largest in the world by 2024. Similar to what we have observed in the flexible workspace industry, increased business travel and the simultaneous growth of globally-minded businesses have contributed to this upwards trend.
Corporates are demanding flexibility in all facets of their lives including their day-to-day itineraries and business travel schedules. In the highly competitive aviation industry, commercial aviation dominates the market leaving in its wake an untapped opportunity for business and private aviation to take hold in the region. It provides a niche in the market that is currently considered to be underserved in APAC. Our TEC network delivers a diverse group of potential clients that aviation industry members identify as a captive target audience. With the introduction of MyTEC Member Directory, connecting to potential clients will become even easier. As part of a network of likeminded, ambitious and interconnected, developing new relationships is essential for a business to thrive.
Financial Services
In many of our largest markets, finance and financial services occupy a large percentage of our space. Usually in already very competitive markets, set-up costs and overheads for traditional office spaces are high and for SME's, there are obvious advantages to working with a flex provider. These markets generally are generally competitive for prime real estate, particularly in CBD areas. Being located in these CBD's are not negotiable for companies operating in finance. Proximity to clients, a high-end and reliable outward facing presentation, as well as the clout that comes with a postcode are all important factors in this decision making process. The Executive Centre offers a solution for these organisations, as well as the added benefit allowing them to efficiently scale according to business operations and market conditions.
Being able to take advantage of central locations, the premium look and feel andinspiring environmentare obvious and tangible benefits. What impresses many of our Members in the finance sector is the secure systems both digitally and physically that TEC provide them with. For example, independent secure server rooms meet the compliance regulations for even the most cautious firms.
Often long hours combined with frequently high-pressure environments can make for unhealthy, unsatisfying, unproductive (or even counterproductive) work experiences. TEC's premeditated appreciation for the importance of workplace wellness is apparent throughout the design and functionality of our space. Our Centres include standing desks, ergonomically designed Herman Miller chairs, social spaces that are integral to maintaining balanced emotional, physical and cognitive health. These investments are the result of our extensive experience in the flexible workplace industry, human-centred design that supports people in the ways the want and need to work.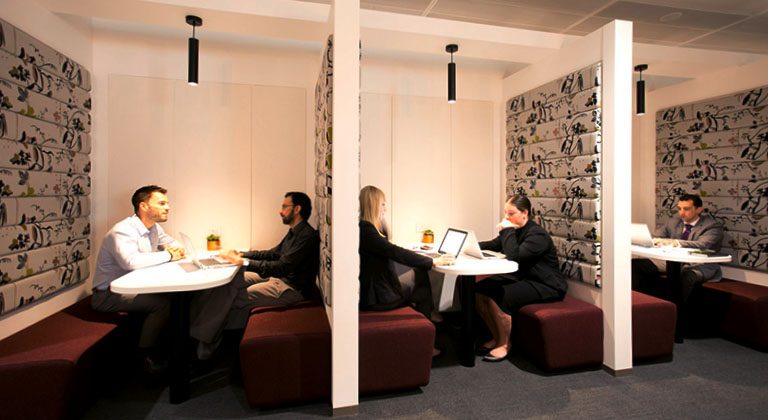 Different industries have different requirements when it comes to workspace design and our 25 years of experience as industry leaders helps us develop spaces that are always innovative and responsive. 
Mobile Consultants
Consultants, freelancers and start-ups are fixtures on the coworking scene, particularly in recent years. Demanding solutions to their atypical business hours and operations have not only been attributed asdrivers for the increasing popularity of coworking but also to evolving andmore mobile nature of our corporate landscape. Up to 80% of a consultant's time can be spent travelling as reported in an article by career intelligence resource Vault. With more corporates on the move, and a greater percentage of project based, specialised work being assigned to expert consultants or agencies, TEC can provide compelling workspaces uniquely suited to the demands of this emerging workforce. Fully flexible spaces in the best locations throughout our 32 (and counting) cities means that the number of hours wasted on travel is greatly reduced. No longer does it mean this newly mobile workforce is required to struggle with unreliable internet connections in various, noisy cafes, while struggling to remain productive and engaged. TEC provides a high level of consistency across various working environments that encourages productivity. Our spaces facilitate interactions with other Members as potential clients and access to networking or educational events that are exclusively open to our network.  In the age of globalisation, travel is rarely limited to the confines of just one city. Regional and international travel is the norm. For consultancy firms, access to a global network of office space could be a solution to challenges they face with unpredictable work schedules and unfamiliar locations. Global Accessis a product that was developed to address these needs and stemmed from acute observations of our Members and their behaviours, namely the familiar sight of a suitcase in tow, ready for their next flight. Global Access is designed to address the needs of mobile consultants and freelancers, as well as senior level executives travelling on behalf of their organisations. Similarly, our Coworking products are well suited to those who are unwilling to commit to lengthy commutes to offices situated outside of core CBD areas, while Virtual Office products again engage Members with a constant and consistent professional presence.  TEC Head of Hong Kong, Nadia Zhu concludes, "Global Access targets frequent travellers, small satellite teams in different cities, companies whose main office is in remote district but the team needs to have frequent meetings in Central."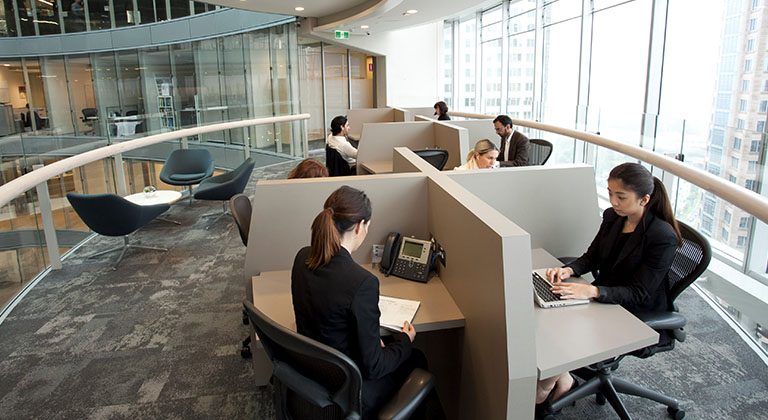 An increasingly mobile workforce means that flexibility is the new normal and the expectations of a millennial workforce are helping to shape the design and functionality of the spaces in which we work.
Experience in Action
We asked Nadia Zhu, TEC's Head of Hong Kong about her experience in developing relationships and consequently spaces that serve the industries most commonly represented in the city. She has observed that in Central Hong Kong financial firms like hedge funds, private equity and banks are commonly found, so too are professional services supporting those financial firms like consultancies and law firms. Outside of the CBD you are more likely to find back office teams for banks, insurance and tech firms. Nadia explains that in recent years bigger teams and more established businesses are turning to flex operators to manage their space requirements. TEC negates the need for capex investment, there is total flexibility to grow or downsize while the additional amenities like lounge area, barista and Member events lead to improved staff retention. Members can leverage TEC's expertise to manage a beautiful space that would otherwise be unavailable to all but very large MNCs and lastly, they can enjoy immediate access to the market. Nadia continues, "At TEC, our lounge is our personality, the office itself is usually neutral and functional. Bespoke space adds a layer of the Member's own identity to the space. We achieve this by working closely with the client on everything from layout to design details, all the visual touches and IT infrastructure."
What Does The Future Hold?
We invest in our Members and in our spaces, curating ecosystems that allow businesses to thrive. We listen to our Members and their needs, viewing our spaces as solutions to each of their unique challenges with uncompromising attention to detail.They are not ambiguous in spite of their broad range of capabilities and innate flexibility. They are anything but vague or unfocused, our spaces are intelligent, thoughtful responses to the demands of each of our 23,000 Members, their business and all their work needs – a place to work, to network and to experience the best a workplace has to offer.