At The Executive Centre, our spaces are a solution to the challenges facing modern day corporates. Our human-centric approach means that forming genuine partnerships with the cities we chose to call our homes is a vital part of the TEC equation. In calling them 'partnerships', we acknowledge that these relationships are about reciprocal involvement, and we seek to develop workspace ecosystems for our Members that allow them to thrive in the context of a city. Tokyo was our first entry into the Japanese market in 2001. Today, it is an established region in our portfolio, one which has grown to include the addition of Yokohama in August this year. With this new city to soon officially join our ranks, we have taken this opportunity to reflect on our relationship with Japan, and explore the future of the flex industry in the region.   
By The Numbers
6,852 islands make up Japan

 

126.7 million people call the country home

–

 

Tokyo 

with

 12,600,000 people and 

Yokohama

 

with 

2,993,000

 

2,497,656 foreign residents 

are 

registered as living or working in Japan 

 

93%

 of the country is classified as an 

urban population 

 
$5.4 trillion 

GDP in 2018 

 

83.2 years average life expectancy 

making it the

 highest in the world

 

25% contraction in population by the year 2050 

 

8

th

 r

an

k

ed

 on 

the Index of Economic Freedom in APAC 

 
Our Journey With Japan 
A consistently impressive performance from TEC Tokyo is largely due to the expertise and experience of our team. This, coupled with the city's burgeoning commercial real estate dynamic established TEC's foothold in the market, with initial Centre openings providing a strong foundation for further expansions. These expansion decisions, like all others we make, were calculated, precise and focused on the best developments in the city. Where our strategy evolved to meet the demands of the Tokyo market was the continued focus on existing addresses.  
Relying on demand driven development strategies, our placement in the best buildings in Tokyo meant that a multi-floor presence became an increasingly viable and profitable solution. We have always understood the importance of satisfying this incredibly discerning market with high expectations of what an Executive Centre workspace can and should offer. Landlords in the region were quick to respond to these benefits, and receptive to more creative strategies to capitalise on the potential of a flexible workspace as a key contributor to their ecosystem. Yokohama adds to this long-seeded success and will provide domestic and multinational Members with a bright new opportunity.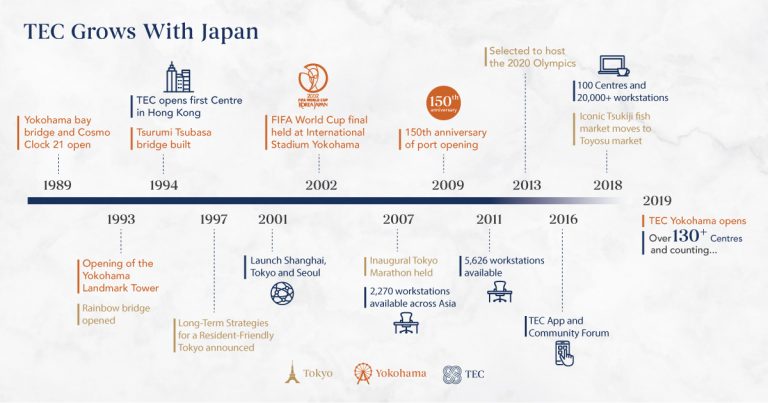 Timing is Key
As well as benefiting from its proximity to our established support resources in Tokyo, Yokohama is a market which is currently underserved in terms of flexible offices and has shown high demand for more flex solutions. Just 25 minutes apart, rents in Yokohama are 45% lower than Tokyo, with demand for flex space equally as high. The attractiveness of these rental rates in Grade A buildings at a net cost that is less than half of that in Tokyo is undisputed. However, Tokyo still acts as a mecca for international business activity, making it an essential part of any real estate strategy for MNCs and domestic players in Japan.  
A thriving domestic and international business community has seen Japan's signature infrastructural developments mushroom, with the investment signalling a seal approval for continued economic prosperity. TEC will launch our first Yokohama Centre in Minato Mirai Center, a Grade A building in heart of the Minato Mirai district. As Yokohama's CBD, this area gained popularity due to its close proximity to Tokyo, and to both Narita and Haneda airports which are just 30 minutes away.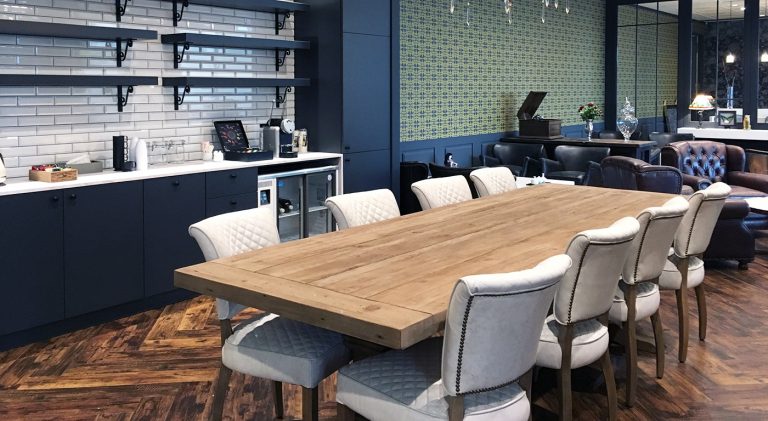 Like all the centres in our network, TEC Tokyo offers lounge, coworking and event space for Members to use. 
A Unique Landscape
The business culture of Japan is well known for its operational efficiencies, but also represents what could be described as a dichotomous perspective on tradition and innovation. While seemingly polarising concepts, in Japan, considerations of tradition and innovation construct a uniquely effective matrix for a diverse range of businesses;   
MNCs:

 20% of global corporations entering Japan choose to be based in Yokohama 

due to cost efficiencies or the nature of their particular industry. This

 versus

 

68% relying on Tokyo's international

 recognition for their first steps in Japan. 

 

Satellite Offices:

M

id-to large sized companies based in Tokyo 

often 

loo

k 

to set up satellite offices in Yokohama to be closer to their client

s or 

partners

.

 

 

Local SMEs:

 The Yokohama city government is a strong advocate for local entrepreneurs 

and

 offer

s

 different subsidies and scheme

s. 

 

Project Spaces:

T

here is an increasing trend for local Yokohama-based corporations demanding flexible space for their project

 

team

s. 

 
The two cities demonstrate subtle yet noteworthy differences in their corporate demographic. The office demand is dynamic in Yokohama, mainly driven by its status as a major port. It attracts substantial attention from logistics companies, manufacturing companies and R&D functions, which compliments the technology firms, finance sector and business services based more heavily in Tokyo. Diversity in the industry types between the cities supplements the increasingly blurred city borders. Yokohama's increasing significance to Japan's economy contributes to the concept of a sprawling urban and sub-urban metropolis, and is compounded by the fact that it is now the second most populous city in Japan.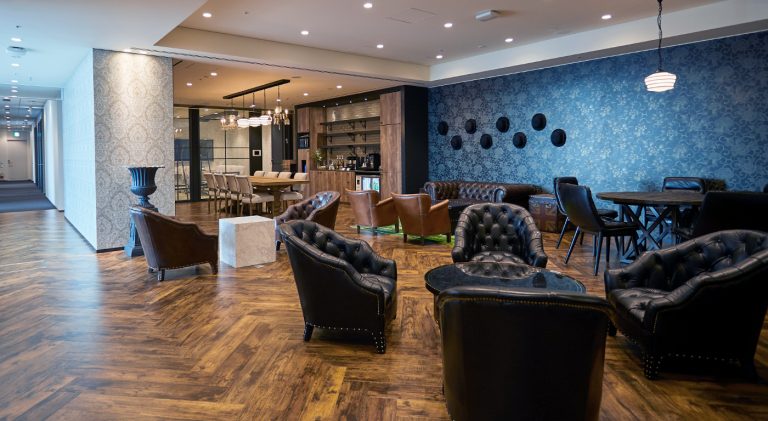 There are currently six Executive Centres in Tokyo, including this one at Jingumae Tower Building in Shibuya.
Looking Ahead
Yokohama presents a new and exciting chapter in our Japan story. Tokyo and Yokohama will act as one megalopolis, encompassing both jurisdictions and providing a more comprehensive approach to business operations in Japan. With unique benefits in both areas, we anticipate more dynamic community engagement and what will be a unique Member experience in our global network. Our proven and consistent success in Japan's capital city is a good indicator of what is to come from TEC's 31st city, Yokohama.