Although COVID-19 has impacted countries, regions and individuals across a somewhat indiscriminate spectrum, there are certain patterns we have noticed when it comes to corporates and their re-entry to the workplace. With restrictions and provisions of safety in place, our Centres around the world are now safely open and operational. As businesses begin re-opening, what lessons can we take in best-practice from those who are slightly ahead in their journey, and what trends in behaviour have emerged?
1. Occupancy and attendance are not mutually exclusive.
Building confidence takes time – days, weeks and months to be exact. The gap between occupancy and attendance has narrowed due in part to travel restrictions however also due to our Members simply wanting to get back to the office.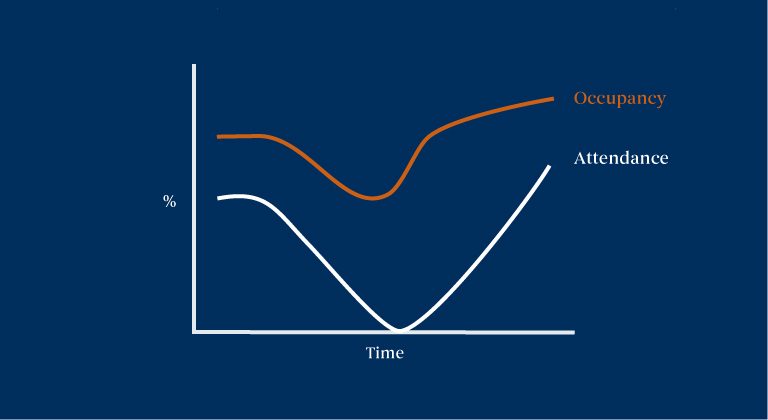 2. Travel, or lack thereof, will play a part in both businesses' short- and long-term strategies.
People are not travelling and in-fact our office attendance in some areas which reopened early on, are up on the figure pre-COVID. We have also seen this trigger our accelerated commitment to virtual assets such as 360 touring.
3. The timing will never be perfect.
Working with governing bodies is crucial to ensure that researched recommendations are upheld to get back to work as quickly and safely as possible. Complying with international, regional and local governing bodies by measuring and documenting all provisions being made.
4. Work now to create value in future decisions. 
Design can and will change. Even current projects are seeing on-going adaptations with considerations of social distancing and health management. Internal audits to provide further hygiene resources and where possible even more comprehensive insurance options.
5. Flexibility is an asset to every stakeholder group.
Landlords, Members, partners and our teams all benefit from flexibility across multiple levels including their wellbeing, sustainability and bottom line. People need options – attendance is necessary but should not be compulsory. Leaders should be encouraged to support but not to dictate.
6. Communicating health and safety precautions isn't just a 'nice to have'.
It is imperative to not only have robust health and safety protocols but also to guarantee your teams are made well-aware of what they are. Demonstrating that we, ourselves, feel safe will in turn help Members emobody that same message.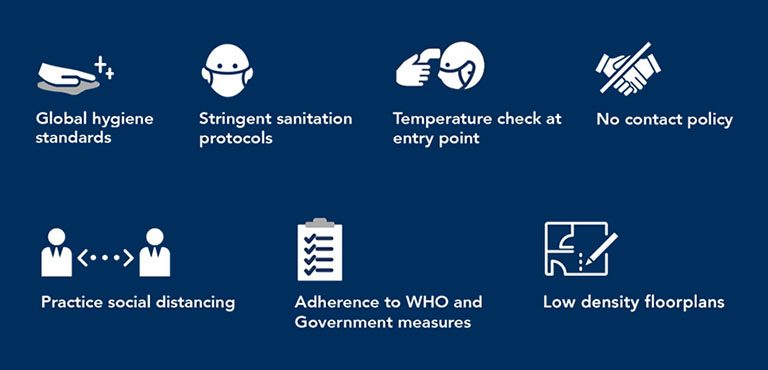 7. Lead with compassion.
Taking care of all our people and instilling confidence is our priority. Our philosophy in this, one that has been proven to be current, is that when people feel comfortable in our spaces, our business growth in our revenue and profitability will naturally follow as a result.
8. Re-focus priorities. 
For example, air quality for landlords is no doubt taking precedence and investment in important new technologies around this will soon come into effect. Another example is the fact that because physical presence is now no longer as crucial for many industries or job functions, many companies have been forced to re-evaluate the foundations of their real estate portfolio. Integrating flexible workspace with a global reach allows not only for the necessary flexibility and visibility but also scalable options for future fluctuation or expansion.
9. Show up.
Not everyone will feel comfortable returning to work right away but it is so essential that we maintain our Centres to the highest standard so that when they inevitably do, they know they can simply do their jobs. Our teams are on-site, at-hand and ready to support our Members re-joining the office.
While acknowledging that these patterns are subject to a certain degree of manipulation due to local market conditions, industry and job type as well as work culture, they are absolutely dominant trends impacting the office's global landscape. What is most important to note is that our Centres, are home to ambitious, talented and exceptional corporates. As their increasing movement back to the office continues and as their confidence grows, our sense of responsibility to all the businesses in our network sustains.