As our member network continues to grow, we're strategically expanding our network. Here's a wrap-up from our newest centre opening, Two Chinachem Central in Hong Kong.
Last week, The Executive Centre celebrated the opening of Two Chinachem Central(CCC), our brand new space in Hong Kong that offers bespoke workspaces, private offices, coworking facilities, a member's lounge with full service barista station and much more. Given that our expansion strategy is very much dictated by the needs of our members, this centre is the realisation of careful planning in response to both the changing nature of the flexible workspace industry and the ways in which our members want to work. Situated in the heart of central Hong Kong, CCC is a brand new building that features thoughtful, modern design touches at a prominent address within the central business district. The first quarter of 2018 has already been a Jingumae Tower Building for TEC, following the opening of busy period of expansion in Tokyo and Pingan International Finance Centre in Chengdu, and Two Chinachem Central is another important milestone for our community. Following the re-evaluation of the TEC brand ethos in 2017 that we discussed in detail here, CCC is in many ways a culmination of the key touch points of this process, that is, creating connection through online and offline communities through our centres. We celebrated the official opening of CCC with a 'Gatsby' inspired cocktail reception, and now the centre is fully operational and ready to welcome new and existing members.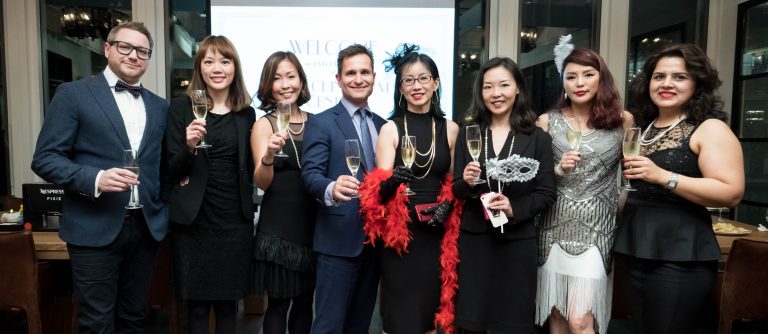 We celebrated the opening of Two Chinachem central with members, friends and special guests at a cocktail reception of 1920's opulence.
Welcome To Hong Kong
Hong Kong is home to almost 7.4 million people and growing every year. The city is one of the most important financial centres in the world and is consistently ranked as one of the freest and most competitive economies. The Hong Kong skyline features more than 8000 skyscrapers, the most to be found anywhere in the world, and they act as a constant visual reminder of the city's dynamic corporate culture. There are plenty of reasons why Hong Kong continues to attract new investment – there is the solid infrastructure that allows foreign business owners and entrepreneurs to thrive, the simple taxation system that is one of the lowest in the world, and a free trade policy that encourages a robust import and export trade. In this environment, the newest Executive Centre is well placed to serve our diverse community of local and multinational members.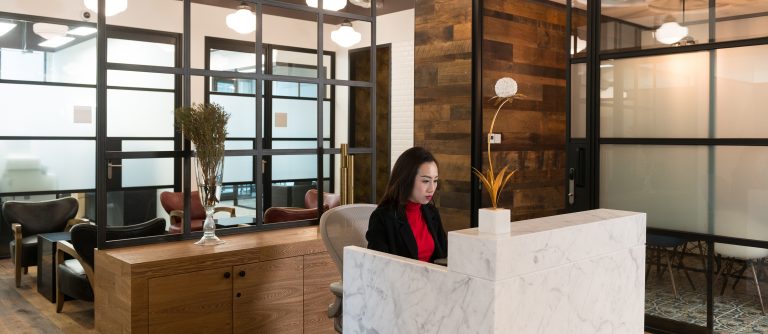 Our newest centre is staffed by a robust engagement team who will help facilitate all of our community events.
Always Growing
Hong Kong's potential as a growth market is affirmed by some recent statistics from JLL as part of their JLL Report. They report that rents on office spaces advanced by 0.4% month on month as vacancy tightened to 1.7%. In response to this data, Hong Kong Business explains that the demand for coworking space has been responsible for much of the activity in the rental market. "The growing popularity of co-working offices in Hong Kong is not only being driven by startups, but also increasingly by larger corporate occupiers looking to better utilise their real estate within the city; taking advantage of the greater flexibility, convenience and savings that can be provided by operators." In this environment, Two Chinachem Central is an incredibly important step for both TEC and our members, with the large communal space on the 19th floor acting as much more than another coworking area. Already,  this space has become a focal point for events and networking as part of our strategic focus on community.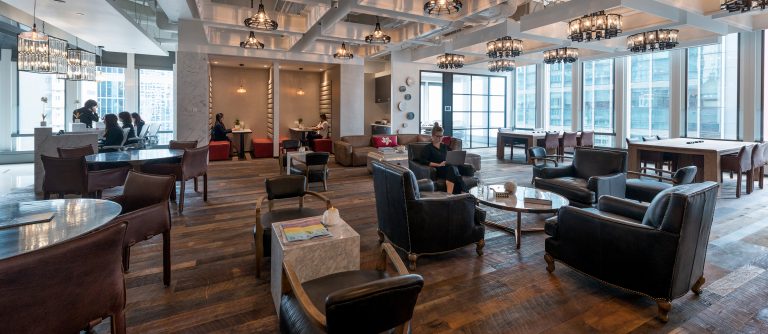 The communal space on the 19th floor will be a focal point for coworking, networking and events at Two Chinachem Central.
Community First
The very nature of the building at Two Chinachem Central allowed us to offer a truly unique product to our members, and to definitively assert the learnings from our brand refresh in 2017. As explained by Jennifer So, Development Manager – Expansion, CCC is a unique space in that it offers the privacy of small plate floors, but still within the context of a large and active community. The 19th floor is available for co-working, but can also be used by members from other floors looking for a change of scenery or a less formal work environment for all or part of their day. The space, attended by a full-service barista station is already a cornerstone of our event program and will continue to host panels, industry events and formal and informal networking opportunities.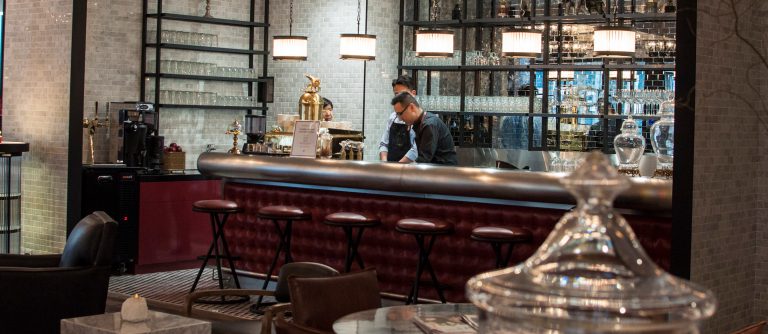 The coworking space at Two Chinachem Central is also attended by a full-service barista station.
Doing Things Differently
The opening of Two Chinachem Central marks the tenth executive centre in Hong Kong. In terms of space, the city accounts for around 10% of our network but consistently delivers more in terms of revenue. As one of our strongest markets, a highly strategic approach to expansion has been essential. As Jennifer So explains, other providers are continuing to leave Central after overcommitting and underperforming in a market where rents are already extremely competitive. This is where TEC stands apart and can demonstrate a mature and holistic approach to delivering the best product for our members. Because we work closely with our community to facilitate mutual growth, we have been able to establish centres at key Hong Kong addresses, like One IFC, Three Pacific Place and now, Two Chinachem Central. CCC is the realisation of the TEC brand ethos that foregrounds community and flexibility for our members.
Where to from here? Managing Director of TEC Hong Kong and Macau, Lucy Liu surmises that from IT, to design, service, sales and engagement, a focus on the latest technology and newest service concepts will be essential to maintain a leading position in the Hong Kong market. We will be continuing to share more news from upcoming centre openings and community events. Next month we turn our attention to Beijing for the opening of China Central Place, and we will also be sharing more details about our online community app which launches in March.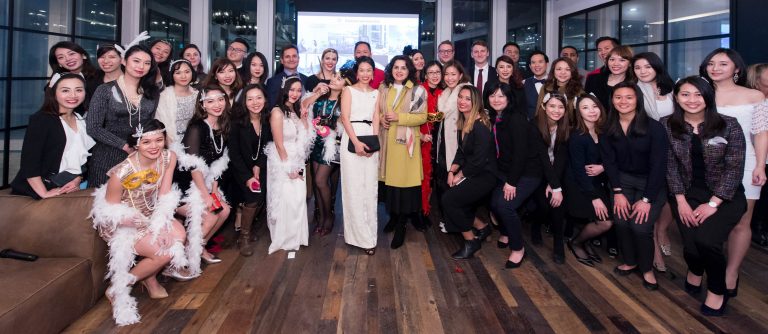 From the entire TEC team, thank you for those who were able to celebrate the launch of Two Chinachem Central. We look forward to welcoming new and existing members to this space.