There are a lot of assumptions floating around about the best time to make a big change in your career. Is January really the optimum time to make a move? For job seekers and businesses, here are our thoughts on making a hiring plan for the new year.
It's generally accepted that the start of a new calendar year is one of the best times to look for a new job. Why? HR Departments are back at work after the holiday season, budgets are replenished and able to accommodate new hires and there's a certain energy and enthusiasm that accompanies the start of a new year, making a big change seem particularly attractive. For businesses looking to take on new hires, there are plenty of candidates actively looking for new roles, giving employers greater choice in their search for the perfect applicant. We want to investigate these assumptions about 'hiring season' and provide job seekers and businesses with some sound advice that simplifies the process and empowers more straightforward decisions. Here are our thoughts on making a hiring plan and accepting a new role for the year ahead.
What Does The Data Say?
Using over 10 years of internal data, Executives Online explains that the spike in recruitment during January is real, but is also affected by the serious slump they observed in December. In January, the ratio of new candidates to new jobs, what they call the 'Search Competition Index' or SCI is highest, by almost 24% as compared to any other month. With many job seekers entering the new year with specific resolutions like finding a new job, there's a lot of noise in the market and it may be hard to stand out from the crowd. According to this study, the best months for job seekers are November, February and March as these were months in which the number of new jobs exceeded the yearly average and the SCI was lower than at other times.
The Lunar New Year is an important holiday for our Asia-Pacific network that falls early in the year, and this will also impact the regional job market in January and February. Bonnie Wong, TEC's Human Resource Director explains, "There are generally more openings in the early part of the year, after Chinese New Year. There is also adequate budget to be able to make new hires at this time, and the period between February and April is when we see the most movement, the greatest number of vacancies and the majority of hires made. Of course there is no real 'wrong' time, but typically December is the worst time to look for a job as you are really looking at the last opportunities in the market. HR departments are more often than not inclined to wait until the new year to begin the hiring process in earnest." With this in mind, it's still possible to use the holiday period to your advantage by proactively researching new opportunities, laying the groundwork for a new role after the return to work.  
A report from SmartRecruiters gets even more specific when it comes to the best time to apply for a job. Their findings are based on an examination of a randomised cross section of 270,000+ jobs posted between 2013 and 2015. They found that on average, Tuesdays were the most popular day for jobs to be posted and also the day when the most applications were received. Encouragingly, according to their data set, Tuesday was also the day people were most likely to be hired. Another important finding by SmartRecruiters was that nearly 60% of applications are received within a week of a job posting, indicating that applying early will help ensure you are noticed. For employers considering applications, our advice is to communicate as quickly as possible with applicants so that you don't lose out on talent by letting too much time pass.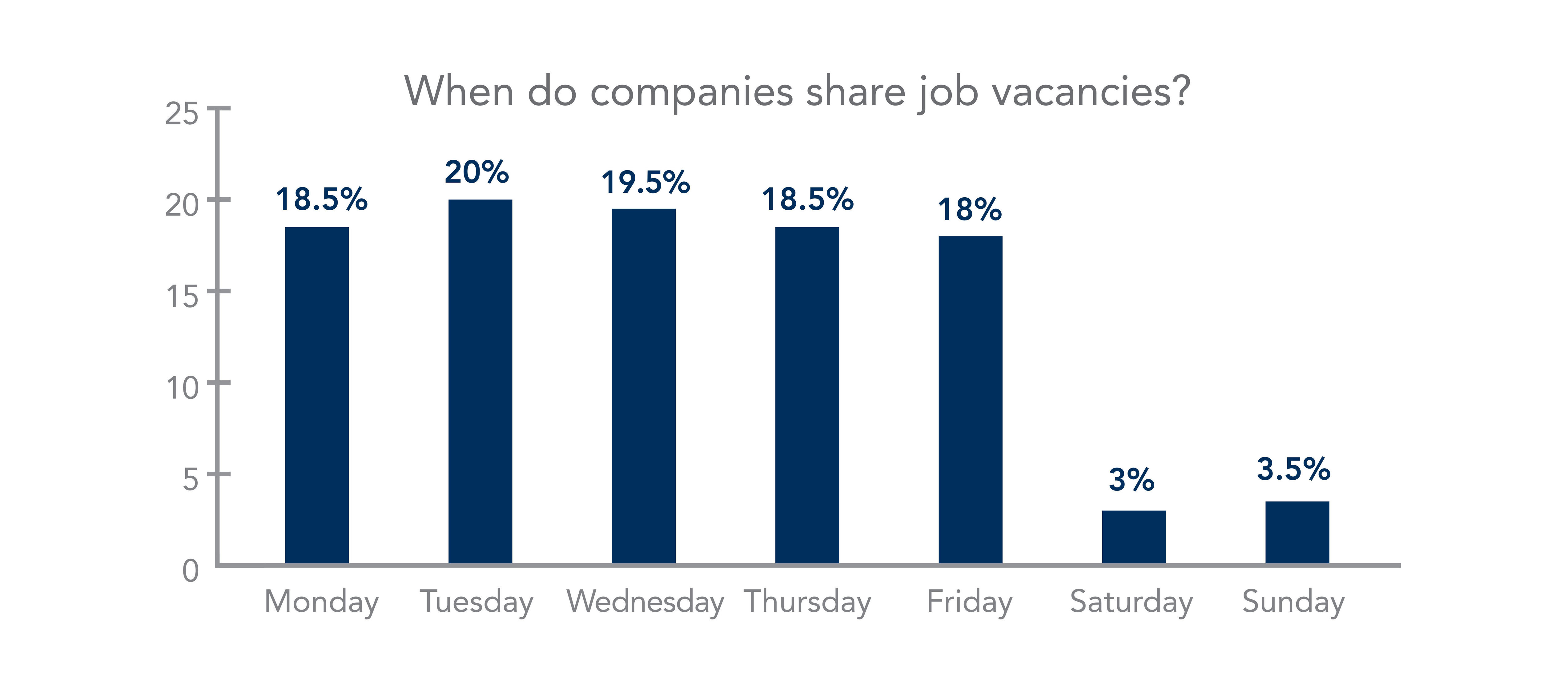 Although there is never a 'wrong' time to look for a new role, there is a spike mid week when companies tend to post vacancies as demonstrated by SmartRecruiters.
What Our Experts Say
In addition to looking at the data on this subject, we thought it was important to get a first-hand perspective from people who deal with the complexities of the recruitment process regularly. We invited some senior members of our team to share their advice and experience when it comes to making the perfect hire or landing your ideal job.
Chelsea Perino, TEC's Global Marketing Director
When exploring the job market, the end of the financial year is difficult because teams are preoccupied with projections and planning and generally have less flexibility in terms of loose resources.

Identify what you want to learn and research roles that would allow you to develop your skills. You would be surprised how many jobs and industries you fit but would otherwise have never considered.

When hiring, don't be super focused on past experience but rather on attitude, personality, adaptability and eagerness to learn and grow. Basic skills are obviously important, but attitude and team spirit are much more difficult to teach.

Build teams from diverse backgrounds because that difference in experience will inspire innovation.
Bonnie Wong, TEC's Human Resources Director
To attract the best talent the job description should be rich and descriptive with a complete explanation of key responsibilities and development opportunities. Don't forget to emphasise company benefits and learning opportunities.

Competitive remuneration is essential if you want the best candidates to consider you.

It's important that you have really determined what it is that you want from a new job. Before handing in your notice, consider how you can develop and progress where you are.

Conduct a carefully targeted search, don't apply for jobs that don't excite you and keep your CV short, sharing your achievements, not just your primary skill set to help you stand out from the crowd.
Daniel Noble, TEC's Country Director – Australia
With fierce competition at the start of the year, you really need to make sure you can demonstrate how you stand apart to get the job you really want.

Over pu

blic holidays and weekends we tend to have more applications so it's easy to get lost in the crowd. Instead, try applying mid-week.

Create a great cover letter, but don't make it generic, try and personalise it to each position you apply for.

Attractive incentives which are not just financially rewarding will help businesses 'sell' themselves to the very best candidates.
Yvonne Lim, TEC's Managing Director – Southeast Asia
Capitalise on new budgets and personnel plans at the beginning of the year when planning your job search.

Candidates now have their own expectations about their potential work environments and employers. In the same way that TEC offers members flexible workspaces, co-working and bespoke spaces, businesses need to be responsive to the things that will attract the best talent.

It's important that you are able to offer a 'complete' experience in terms of space, environment and a team where people can feel open to sharing ideas.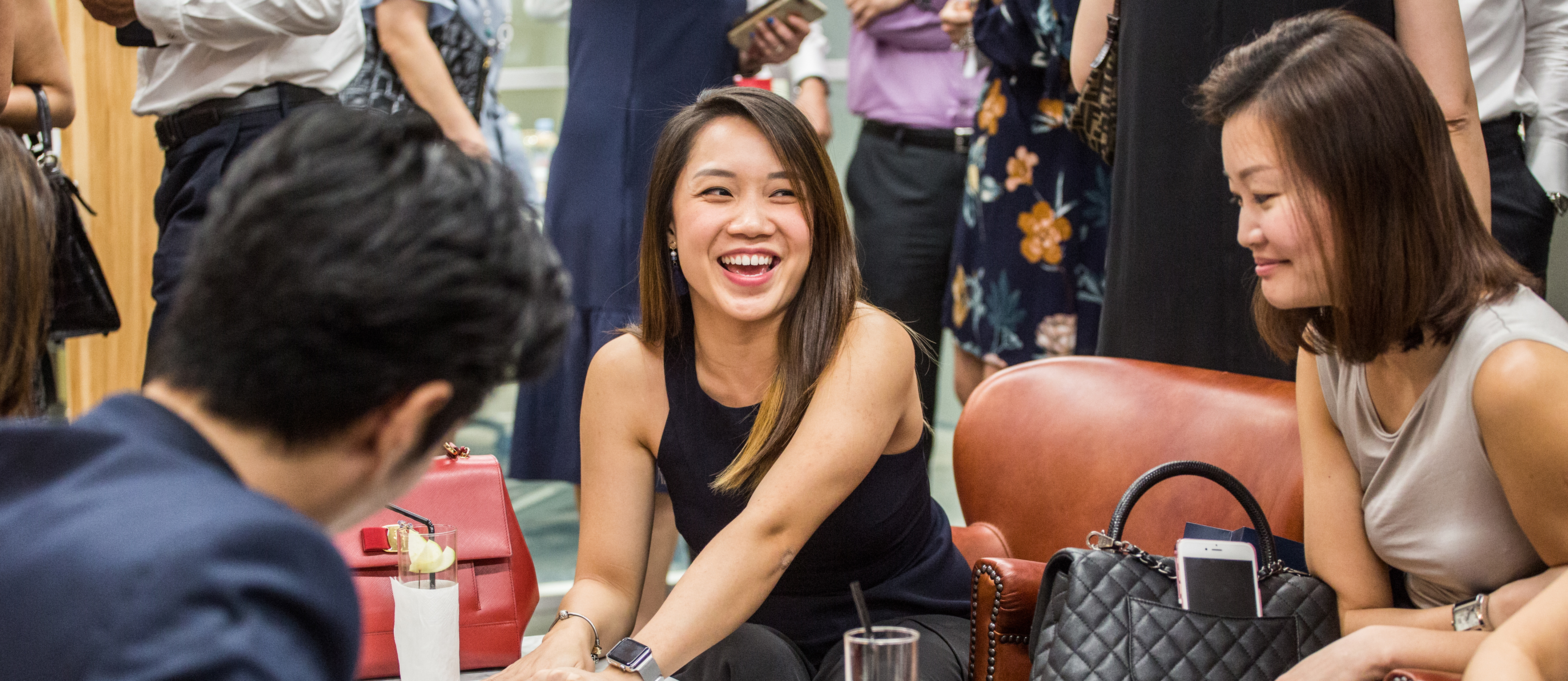 Community events, like this one held to mark the opening of our Gateway West Centre in Singapore can be important networking opportunities when you are looking for a new role or a potential new hire.
Now Over To You
While there are certain advantages and disadvantages to different hiring seasons, we would argue that there is never going to be a perfect time to look for a new job or to begin the recruiting process. Certainly, there are ebbs and flows throughout the year thanks to holidays, budgets and the unique complexities of different markets and industries, but the right time might be right now. Keep in mind that you are also 'recruiting' the best company for you when taking on a new role. Be just as particular as a potential employer and remember that a satisfying and happy experience at work is going to impact on your overall health, happiness and wellbeing. Do what you love – sure, it sounds cliche and nothing is ever going to be perfect, but if you are passionate and feel like you're growing and making a difference it won't feel like work. Similarly, to employers, approaching the hiring process methodically, with an open mind and clear blueprint of your business requirements, there's no time like the present. If your new year's resolutions included a new job you should probably know that we're hiring and we'd love to hear from you. Follow us on Linkedin for more updates and explore our vacancies.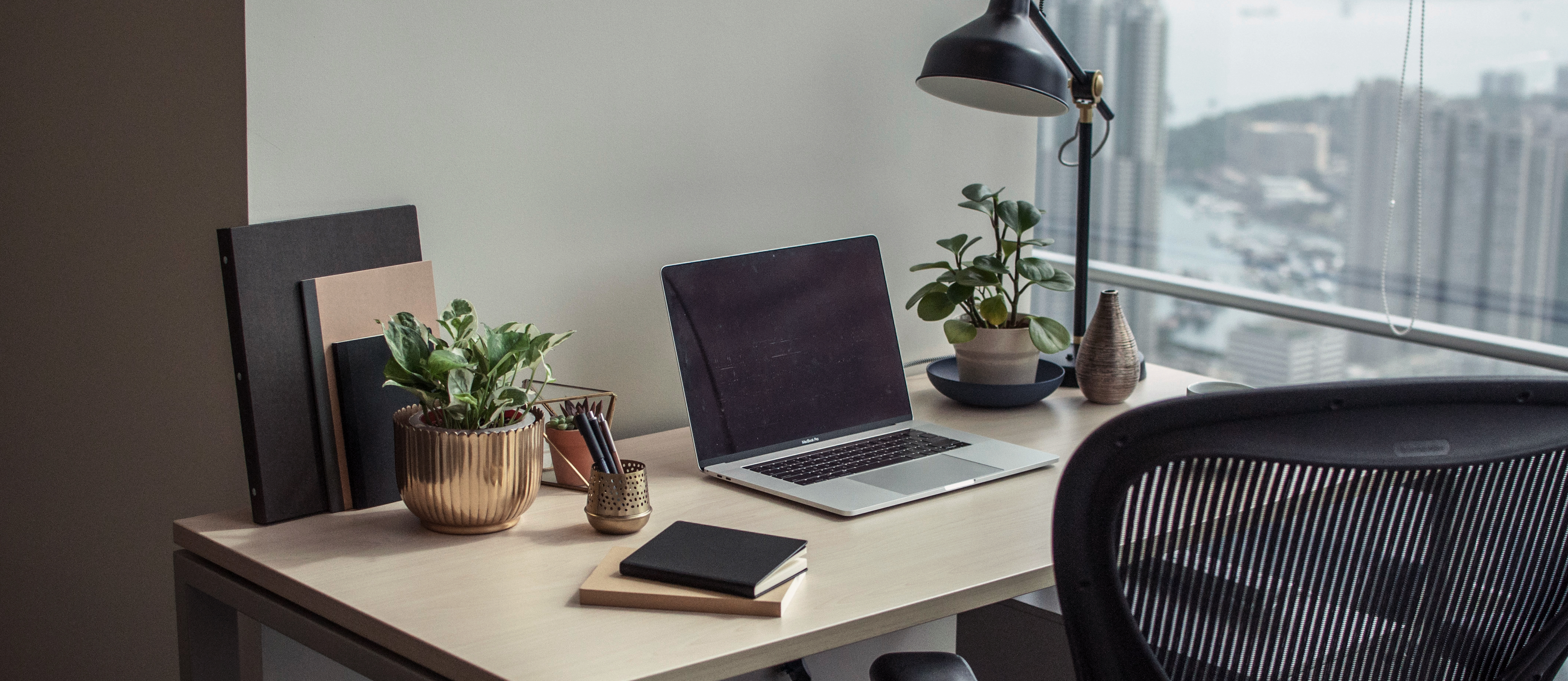 If a new job is one of your resolutions for the new year, we're hiring and would love to hear from you.