As our member network continues to grow, we're strategically expanding our presence in Southeast Asia. Here's what Members can expect from our upcoming centre, Saigon Centre Tower One in Ho Chi Minh City and the first Executive Centre in Vietnam. 
In August this year, The Executive Centre will celebrate an important milestone with the opening of our first centre in Vietnam at Saigon Centre Tower One in Ho Chi Minh City. As a rapidly growing market in Southeast Asia, Vietnam is a business destination for a number of our larger corporate members. Ho Chi Minh City itself has been a market where we have carefully considered expansion opportunities for some time. Recent upward trends, coupled with the demand from our membership was what ultimately drove the decision. While this is an important opportunity for TEC to expand its network, it's also a unique opportunity for us to support the growth of our members in this fertile economy.
Why We're Growing
The commercial office dynamics are quickly growing with the Vietnamese economy, but premium options have remained limited for both MNCs and domestic firms. Given the lack of Grade A space in District 1, there are very few options for existing firms looking for top-grade expansion space, or for newcomers to the market looking to establish their business. With a relative lack of serviced office options, much of the market has had to compromise on either building quality or location. The presence of an Executive Centre means additional supply in this tight market so that our members need never compromise. Saigon Centre Tower 1 is connected to the newly completed Saigon Centre Tower 2 and, more importantly, the adjoining retail mall which stands as the biggest international retail space of its kind in Vietnam. Having secured Grade A space for our first location in Ho Chi Minh City we are eager to continue to grow our presence across the country as we continue to meet the demands of the market and our members.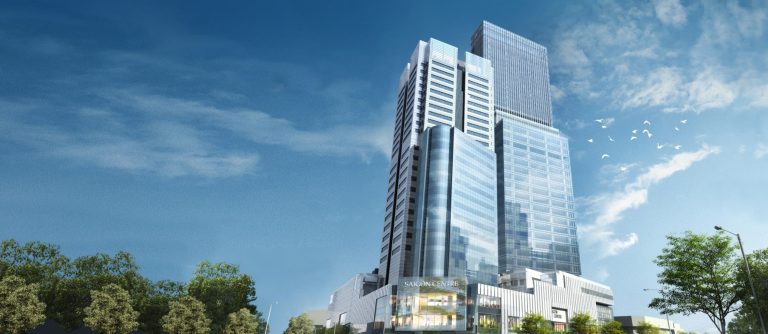 Strategically located in District 1, TEC Ho Chi Minh City will support Members as they grow their business amid a thriving community of creative entrepreneurs and business people. 
Thrive In Vietnam
Ho Chi Minh City is the largest city in Vietnam and home to almost 8.6 million people. It is a thriving metropolis that is currently experiencing sustained and profound growth. By 2025 the population is expected to grow to 13.9 million people. The city is really the central hub of economic activity in Vietnam and while it occupies a relatively small percentage of land, 20.2% of national GDP and 27.9% of the country's industrial output come from Ho Chi Minh City. The city is also popular with foreign investors with Santander reporting a consistent upward trend in both the amount as well as the quality of FDI. The country has attracted large technology, industrial and HR projects and as of October 2017, FDI in Vietnam hit a record of USD $25.48 billion over the first three quarters of that year, up 34.3% year-on-year. FocusEconomics reporting on the economic outlook for Vietnam in April of this year concludes that while growth has been more moderate in the first quarter of 2018 when compared to the previous year, it remains on solid footing – "The Ho Chi Minh Stock Exchange has vaulted to one of the top performing stock markets worldwide in the year to date, and prospects for more economic gains look promising as Vietnam benefits from Korean and Japanese companies, among others, diversifying their production out of China given more favourable labour costs. This trend is expected to accelerate amid heightened trade tensions between China and the U.S."
A Complete Experience
Our very first Vietnamese centre will accommodate 162 workstations and will offer a mix of private and collaborative working environments. Expect meeting and conference rooms equipped with state-of-the-art technology to enable seamless connectivity and easy remote communication. The centre will also feature ergonomic, height adjustable standing desks by 9-A-M and artfully designed Herman Miller chairs. In line with our commitment to building and supporting our TEC community, our Ho Chi Minh City centre will feature regular networking events, industry-specific forums and unique opportunities for members to connect and collaborate within our wider network. We have deliberately selected District 1 as the location for the upcoming centre. As the most central urban district in Ho Chi Minh City it is an important and strategic location that will give Members access to the local business community. Home to most of the city's administrative offices, consulates and large buildings, The Executive Centre will be at home amidst this thriving community.
 
Expect a mix of private and collaborative working environments, state-of-the-art connectivity and ergonomically designed Herman Miller chairs. 
Calling All Entrepreneurs
A maturing start-up scene in Vietnam and Ho Chi Minh City specifically has also been a great driver of growth. Expanding in quantity but also in terms of quality, Vietnam is now regarded as fertile ground for all manner of start-ups looking to scale, with fintech, IT and logistics particularly well represented. Vietnam is also able to offer a much more balanced lifestyle that can be a well-received change of pace when compared with other cities in the region. Housing is very affordable, transport is convenient and with 70% of the population under the age of 30, there is an undeniable energy and sense of possibility that is incredibly appealing to entrepreneurs. Vietnam is also strategically located just a short, direct flight from adjoining financial centres which allows for straightforward travel throughout the region.
Having looked to secure space in Vietnam for some time we are excited to have found a location in Ho Chi Minh City. We are looking forward to building our presence in Vietnam with more centres to look forward to and supporting our members as they grow and develop their businesses in Southeast Asia. We are also excited to join a rich and dynamic community of entrepreneurs and creative business people, driving upward growth and facilitating new opportunities for our Members to succeed.