The prevalence of technology is impacting the way we work and communicate. How does this change our understanding of communities? 
Community is a universally important concept, one that has become even more meaningful given the ubiquitous presence of technology in our lives. You have probably observed that at TEC we have been talking about community more and more frequently, and we discussed at length why it would be an important focus for us in 2018. Ahead of an exciting announcement that we will be sharing with members in the coming weeks, we wanted to take this opportunity to consider the ways that technology can bring us closer together by facilitating free and easy communication. From social media platforms to project management applications and the ever-expanding potential of AI, technology allows us to connect and interact in new and exciting ways. Technological advances offer us the tools to nurture relationships and simplify the ways in which we work, connect and build communities.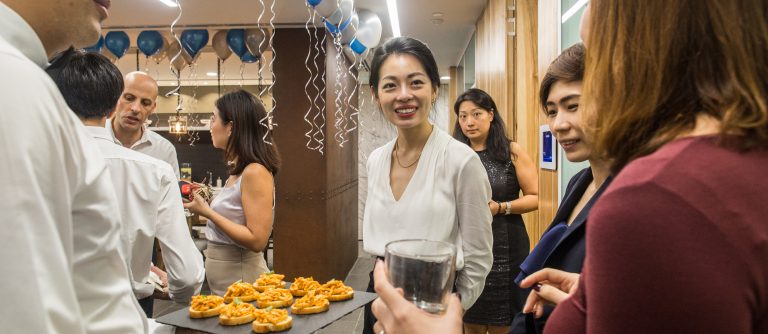 Community events in our centres are an important way to nurture relationships and bridge the gap between the online and offline experiences of our members.
Social Media By The Numbers
A roundup by Smart Insights sets out current statistics for social media use that make plain the prevalence and force of these online communities.
Facebook has the most users – more than 2 billion worldwide
APAC favoured platforms like QQ, WeChat and Qzone all have over 600 million users
Twitter is continuing to lose ground…and followers. It had the slowest growth between 2010 and 2017 when compared with its biggest competitors, Facebook, WhatsApp and WeChat.
76% of Facebook users log in daily, whilst 51% do for Instagram
Instagram dominates significantly when it comes to interaction
Age is just a number – on Facebook alone, the number of users aged 65 and above has increased by almost 20 percent in the past 12 months.
In the annual Global Digital Report by We Are Social and Hootsuite it is reported that there are now more than 4 billion people around the world using the internet, in other words, more than half the world's total population. With this number set to continue growing, it's clear that online communities like social media networks are critical to an understanding of how we connect and communicate in the modern age.
Closer Together
It's sometimes assumed that this boom in social media and the increased presence of technology in our lives undermines our ability to make meaningful connections. The argument usually goes that the intervention of screens and devices create walls that inhibit real-time contact. However, a more productive way to think about this is that the nature of community is changing, and a more broadly inclusive definition of the term allows us to view technology as a tool, rather than an impediment. Social media has been an important contributor to a contemporary understanding of globalisation. The networks and communities that we join, develop and grow online allow people to learn about new places, unite around common causes and gain a broader understanding of culture and identity.
All About Access
When we initially launched the TEC App in 2016 we saw an opportunity to give our members free and easy access to our spaces. This early iteration of the App allowed users to book meeting and conference rooms with ease. Beyond this, we saw an opportunity to connect our members not only with the spaces they needed but with each other. Later this month we will be launching a much more sophisticated version of our TEC App that offers members a unique opportunity to participate in a global community. This online community is about delivering access, that is, access to ideas, to opportunities, and to an extensive network of like-minded individuals. Just as social media can make the world a little smaller and easier to navigate, we anticipate that the community function of our App will bring our members together to share ideas and experiences.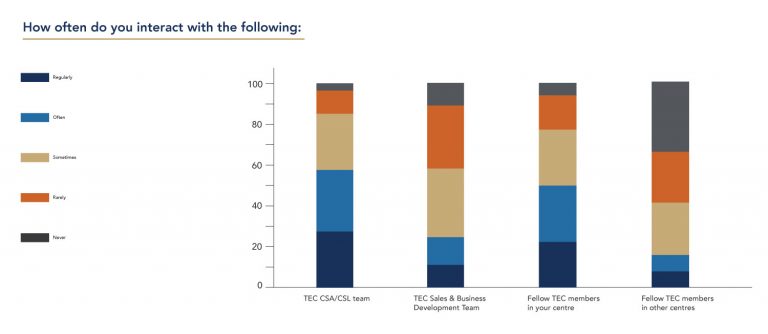 Our community offering is structured to increase interaction between members. The results of our annual survey in 2017 demonstrated a need for more opportunities for members to meet and connect. 
Bridging Online And Offline
Our community initiative has been very much driven by what our members want and need. As part of an annual survey conducted in 2017, we explained our vision and asked active members what kinds of events they would be interested in. The responses have formed the underlying structure of our offline event series and will act as a bridge between the online experience of the App, and offline experience in our centres.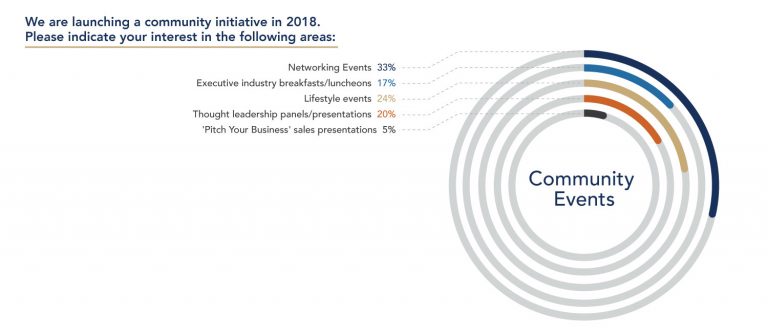 When we asked members what kind of events they most wanted, their responses became the foundation of our ongoing community efforts.
A Mobile Movement
We are long past the tipping point whereby mobile internet use has outstripped fixed internet use,  and still the uptake of mobile technology continues to increase. Smart Insights reports that in 2018, 80% of internet users own a smartphone with users spending 69% of their media time on that device. The vast majority, that is 80% of social media time is spent on a mobile device, while more than 50% of users reach for their smartphone immediately upon waking. Mobile culture has given us access to information at any time, anywhere, and at the very tips of our fingers. We should not be alarmed by these kinds of statistics. The more pertinent takeaway is that these devices are democratising access to online communities and a new wealth of information and experience that belongs to everyone.
We regularly share news and updates with our community via our own social channels. For all the latest from The Executive Centre follow us on Facebook, Linkedin and Instagram.