Hangzhou is a city widely celebrated for its rich history, cultural significance and striking landscapes. Having developed a successful formula for our strategic expansion across Greater China, Hangzhou has maintained a constant presence on our proverbial radar. In conjunction with its unique cultural offering, recent significant commercial developments and its exponentially positive projection solidifies its status as one of China's most prosperous cities. In many ways, Hangzhou acts as an ideal microcosm for nationally experienced growth and development and TEC is proud to enter this new market.
Ancient History Meets Modern Industry
Hangzhou's coastal location and control of the Grand Canal established ensured that it was an early commercial hub. It was a significant stop on the Silk Road due in part to its geography, but also thanks to its tea and silk industries. Although the industry of Hangzhou has changed over the years, fundamentally it has remained a hub for forward-thinking and innovative businesses.
In spite of having experienced rapid urban development in recent years, Hangzhou's cultural heritage could not be more evident. The convergence of ancient landmarks and cutting edge contemporary design provides even the most developed areas of the CBD with a signature style and one which astutely reflects its uniqueness. Technology, electronics, tourism, manufacturing and logistics are all major players in the Hangzhou commercial landscape, while some of the founding industries such as textiles still remain as key GDP contributors.
When the Economic and Technological Development Zones were approved in 1993, it gave way to tech parks and what has become known as China's 'Silicon Valley'. This was spurred on by increasing foreign investment, securing Hangzhou's title as China's most prosperous city. It is now home to some of the nation's largest technology companies, even some of the world's leading organisations like Alibaba. Alibaba is was  founded in and remains headquartered in Hangzhou, emblematic of the incredible potential of this special city.
Perfect Timing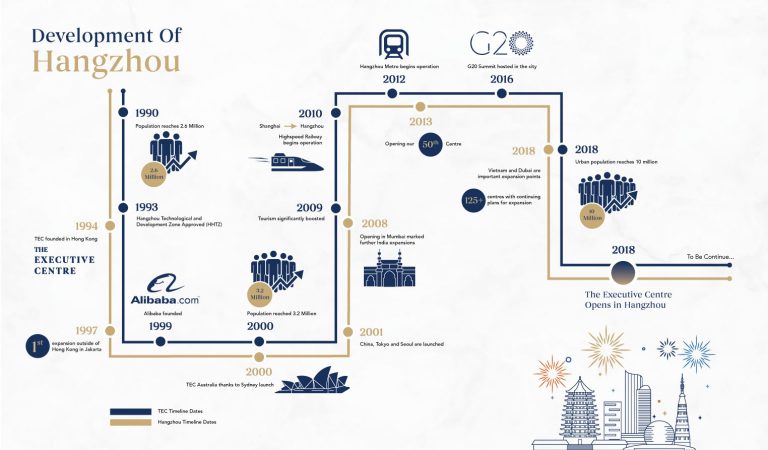 As The Saying Goes…
As the Chinese proverb goes, "Paradise above, Suzhou and Hangzhou below."
In other words, and echoed by Marco Polo's sentiments about his favourite city in China Hangzhou is "Heaven on Earth".
By the Numbers
2 World Heritage Sites. The West Lake is a popular tourist attraction while the Grand Canal is recognised by UNESCO for its role in developing the city and the country
2,200 Years of history. Tracing its roots back to the Qin Dynasty in 221 BC.
70,000 shared bicycles throughout the city. Boasting the worlds largest public bike sharing systems, there are over 3000 stations to rent from.
45 minutes to travel to Shanghai via high speed rail. The system makes Hangzhou one of the most connected cities in China with direct links to Beijing, Nanjing, Changsha and more.
1.13 Trillion GDP guarantees Hangzhou's spot among the top ten cities in China- an intensely competitive list.
71.19 square kilometres is the size of Wuzhen, one of the most famous of the water towns that surrounds Hangzhou area. It's long list of famous revolutionary figures, idiosyncratic architecture and rich saturation of culture is partly attributed to its proximity to the Yangtze River.
The Future of Hangzhou
Nicknamed the 'Alibaba Effect', Hangzhou has attracted exciting, well-funded start-ups. With this, comes increased attention and expectation from both foreign and local investors. The Hangzhou branch of government recently invested RMB 10 billion in a blockchain fund and there is little to no doubt as to whether we can expect continued growth in the city. Technology is global force and is paving the way for innovations across all business sectors. TEC is able to provide space to facilitate this growth, supporting the needs of businesses and we look forward to developing with our Members in Hangzhou and beyond.
Discover our Serviced Offices, Coworking Spaces, Virtual Offices and Meeting Rooms in Hangzhou.