At The Executive Centre, we're constantly striving to create exceptional workspaces that balance design, service, technology and networking opportunities to ensure our Members are supported at every turn. The newest development in terms of technology that we're particularly excited about, is our WeChat account. WeChat will allow our Members to book spaces, RSVP to events, redeem special offers and stay up to date with news and expansion announcements. In the coming months, we will expand the functionality of this platform to allow non-Members to enjoy these same functionalities. To mark this important step forward, we invited Vincent Lian, our Social Media Manager in China to introduce this important new platform.  
What is WeChat?
Those living outside China will be familiar with the routine of using Facebook for communicating with friends and family, Instagram for recording special moments, Amazon to shop online and Apple Pay to purchase goods both online and offline. But, if you are living in China, the first thing you need to do is download WeChat – quite literally a 'one-stop' app that will fulfil all requirements for social networking, shopping and life admin like booking tickets and making payments.
In 2018, WeChat reached an astonishing 1.098 billion monthly active users and is the fifth most-used app in the world and it's clear that WeChat has a huge market with great advantages.
5 billion WeChat messages sent on a daily basis over 2018
WeChat accounts for 34% of total mobile data traffic in China
WeChat market penetration in China at 79%
30 million active users of WeChat at Work, 1.5 million enterprises
83% of WeChat users use the general app for work
WeChat drove $50 billion into the Chinese economy in 2017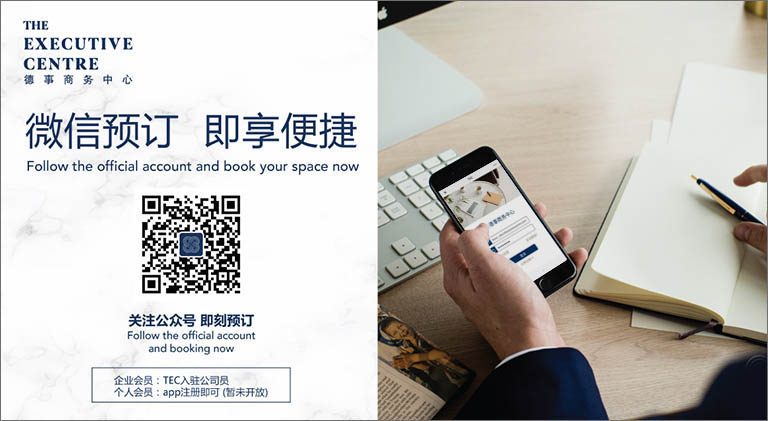 How Will WeChat Benefit TEC Members?
Given that WeChat asserts such a dominant position in the Chinese social, mobile and online landscape, we think that it is essential for TEC to be able to reach Members and the wider Chinese community on a platform that has become an essential for businesses and consumers alike. WeChat features social, payment and service functions, and is used by people on a daily basis. Although we have our own TEC app that supports Meeting Room and Event Space bookings, as online behaviours evolve, we see that there is sometimes an willingness to download and use multiple apps. The fact that WeChat is a  one-click, intelligent experience helps our Members improve both their work and life efficiencies.
Through the new functionalities of our official WeChat account, we've expanded on the traditional model of social, payment and life service functions, and included a functionality that allows Members to manage bookings for space (including cancellation, order modification, online refund), RSVP to community events and receive news and updates on our expansion in China and across APAC. Our WeChat account will allow us to develop closer relationships with our network by sharing news about products, promotions, industry insights and global developments efficiently and effectively.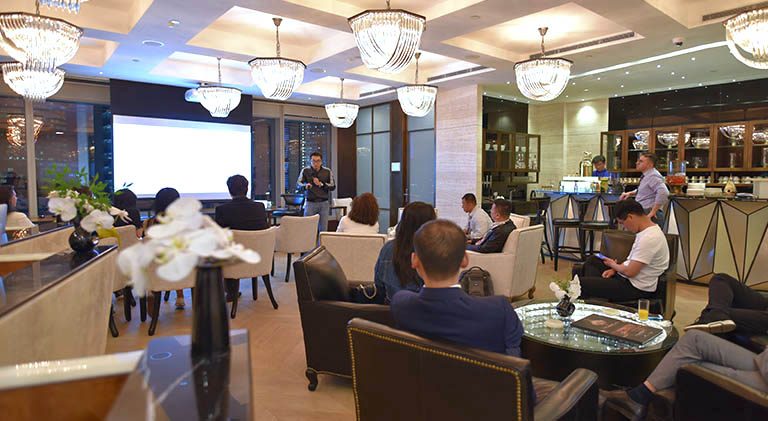 Through WeChat our Members will be able to RSVP to events across our network in addition to managing bookings on meeting and event spaces. 
Why Choose WeChat?
Downloading a mobile app uses a lot of your phone's memory space. The project we developed completely avoids this situation by combining the functions of WeChat and our TEC app. Simply scanning the TEC WeChat QR Code and following a few simple steps allows you to book meeting spaces and participate in all community activities.
We anticipate that this will really simplify the experience of using our spaces and navigating our centres given that bookings and payment will be centralised through WeChat. Anyone can scan the TEC Wechat QR code to register and become an individual Member. Our existing Members only need to login with their company email to begin the process of booking or responding to events.