2017 has been a dynamic period of growth and expansion for The Executive Centre.
Work for the year is beginning to wind down, but before you leave for the holidays, set yourself up for success in the new year by taking some time to reflect on the year that was. The chance to deliberate on successes, learnings and accomplishments provides context for replicating periods of growth in the future. Appraising key trends from 2017 provides a framework that is fundamental to any plan of attack for the new year. At The Executive Centre, 2017 has been an incredibly dynamic year of change and expansion that has seen us venture into new territories, undertake a comprehensive reassessment of our brand ethos, and subsequently define a member-first vision. Here's what we learned over the last year:
Speak Authentically
One of the biggest undertakings over the last year has been the development and rollout of a branding update. At the heart of this process was a profound reassessment of our brand vision. We have moved from a purely functional message standpoint, to a much richer, member-oriented imagining of TEC that values community, service and quality above all else. This is now represented in our centres, communications and collateral via our video series 'Member Success Stories', newly dynamic visuals featuring the human touches that make our centres unique, and our ongoing community event series.
The groundwork for this 'refresh' took well over 12 months of painstaking work that was very much driven by what we at TEC were able to learn from our existing members. In fact, this process was initiated by the development of a Mobile App that would more effectively allow members to utilise products and services within our centres. With the re-envisioning of TEC's value system, we've expanded our App's functionality to help our members connect with each other, participate in dynamic conversations via our forum, and get important TEC program information. TEC Chairman and CEO, Paul Salnikow explains, "What began with the development of the TEC app led to a redesign of the brand website, which ultimately ended in a complete re-envisioning of The Executive Centre's core values." He continues, "The brand has been successfully around for 25 years, and even with the changing dynamics of the market, the brand remained unchanged for so long. While this proved the brand's strength, we also realised that we needed to change our outward communications and the way we present ourselves."
In September we unveiled new brand visuals, a new look website and a reinvigorated digital strategy. Global Marketing Director, Chelsea Perino adds "It was important that our visual identity accurately represented the level of service and in-centre experience that our members have come to expect. The new look is reflective of The Executive Centre lifestyle." This undertaking has continued to prove that developing a strong brand identity is crucial to helping any business grow. At TEC we look forward to continuing to tell our story and serve our global member network via our refreshed visual and brand identity.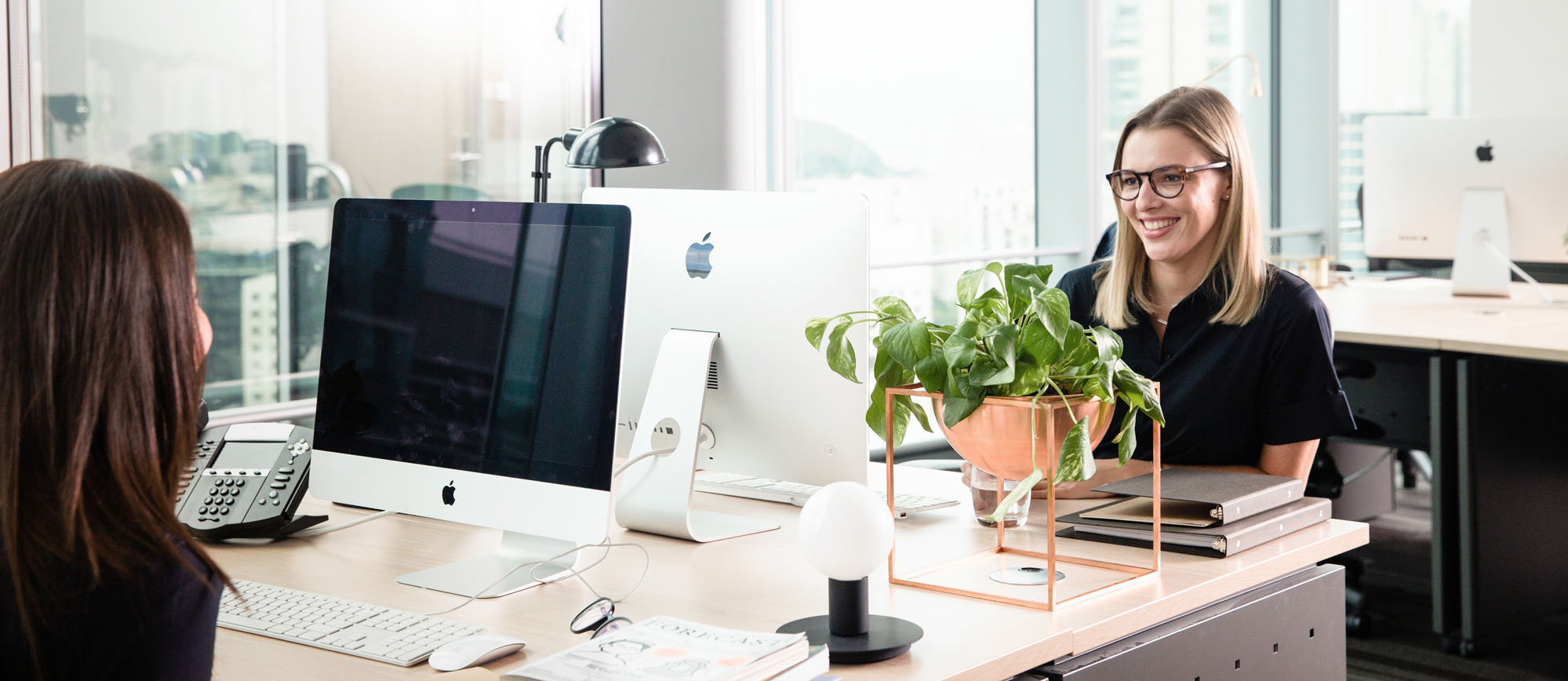 Our new brand visuals encapsulate how members experience our centres.
Community Is Key  
In an increasingly digitised landscape populated by incredibly savvy consumers, the need to create connections via genuine content and offline communities has never been more acute. At TEC, our members are the absolute foundation of our business, and we continually seek to elevate our services by strengthening our community offerings, both online and offline. In 2017 we hosted a number of events at our centres to facilitate networking opportunities, career development and knowledge sharing. Paul Salnikow explains the essentials of this community focus, "The functional elements of our business act as a solid foundation, but the core of our focus now is our community and how we, as an organisation, can facilitate connections between the 19,000 members that are a part of all our centres."
A key element of any community building strategy is of course proper management of social media. Facebook released its Third Quarter Results for 2017 in November, with founder Mark Zuckerberg casually announcing "Our community continues to grow and our business is doing well." The report details the sheer volume of content generated by Facebook users worldwide. Every minute 510'000 Facebook comments are posted, 293'000 statuses are updated, and 136'000 photos are uploaded. These statistics are important to consider when it comes to planning and executing creative content for social media. It is critical to stand out from the crowd, to be genuine and shareable if you want to remain relevant and speak directly to your consumers. At TEC we have sought to bridge the gap between our online and offline communities by refining our social media content and creating a communication strategy that has shifted inward, focusing primarily on our existing community. We have worked hard to understand who our members are and what they care about, and will continue to refine this data to carefully curate our social channels so that they continue to serve the needs and wants of our community.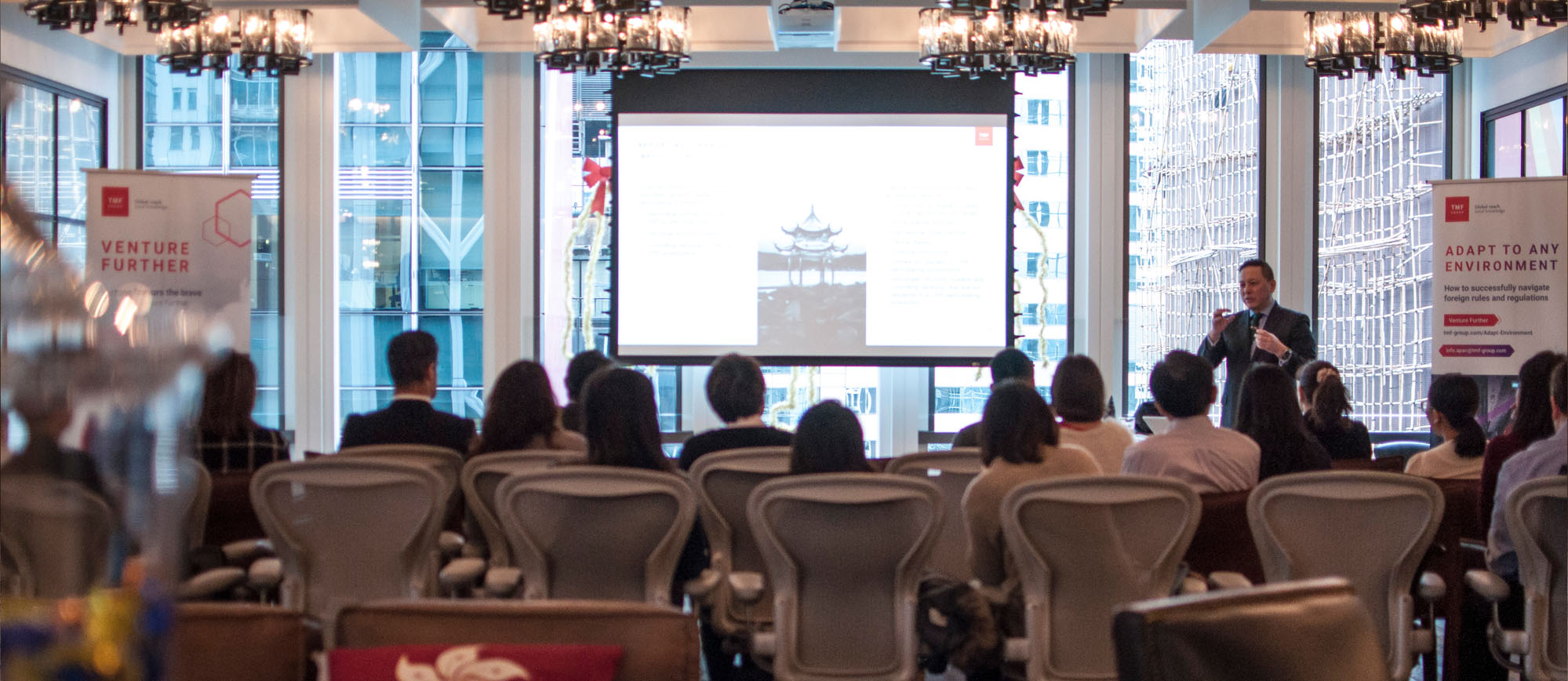 TEC X TMF event at Two ChinaChem Central in Hong Kong on The ABC's of Common Reporting Standard.
Paul Salnikow explains this in the context of our branding update, "One of the main shifts for TEC has been to refocus our energy and messaging inward, to our members, in order to truly understand what they value and what will make their experience within our centres better. This has also helped us in developing new programs and communication strategies that address our members' needs in a more efficient and proactive manner."
Asia Pacific Is Still A Growth Market
In the last year, we have opened 23 new centres across 7 countries, taking the total number of Executive Centres to 115. We now service more than 19'000 members in bespoke workspaces, private office spaces (serviced offices), shared workspaces (virtual offices), and co-working environments, providing tailored support based on the business needs of each individual. China has proved to be a particularly rich area of growth for TEC, with a total of 11 new centres opening in the last 12 months. Given its status as the world's second-largest economy, China continues to transform via an ongoing period of rapid urbanisation. The 2018 Global Market Outlook, a report shared by global asset management firm Russell Investments points to a 5% increase in GDP across APAC in the last year, predicting this is a trend likely continue over the year ahead, thanks in part to the strong influence China has as a stabilising force on developing markets.
Our success in China has been an important part of our overall growth strategy, and comes largely as a result of a consistently localised approach to the market. With urbanisation and the exponential growth of the service industry, industrial spaces are in decline, and there is unprecedented demand for the kinds of premium spaces and bespoke services provided by TEC. The steady growth of the Chinese economy has also meant that our existing members are growing and expanding, and we are able to support their momentum by opening new spaces and expanding our service offering. While Western markets have endured a year of unrest thanks to marked shifts in the geopolitical landscape, China has remained remarkably stable and unmarked by events in America and Europe. This has provided us with a unique opportunity to support the growth of our members by entering new cities like Chengdu, Chongqing and Tianjin, as well as opening new centres in cities like Shanghai and Beijing where we have been present since 2004 and 2005 respectively.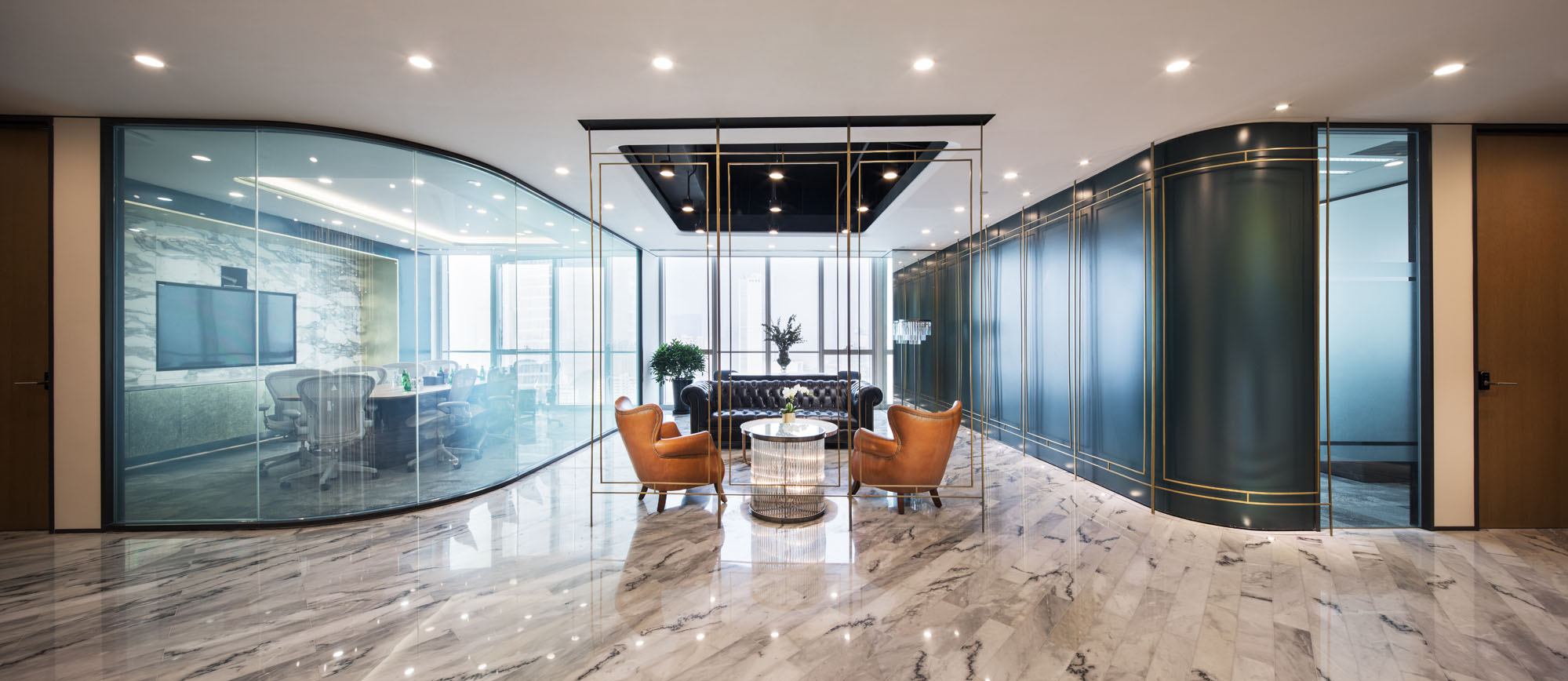 Our Pingan Finance Centre location opened in December 2017 in Chengdu.
The flexible workspace industry continues to grow at historic rates, however, we will remain disciplined in our approach to expansion, driven by demand and ensuring that we open where we are needed. We have seen our membership network double since 2014, and expect the coming year to yield similar results. We have consistently adopted a localised approach for each market. This has been particularly critical in China and has seen our local member base reach well over 50%. Paul Salnikow stresses the importance of this approach, "In Asia each city is like its own ecosystem – different business approaches, different cultural norms, different reporting and taxation regulations, even different languages. This means that you have to be adaptable – it's not a one size fits all solution. TEC succeeds by being culturally aligned with every country. We are not a foreign company that enters into a new market and imposes our view of the world, rather we localise. We have a local perspective, we respect the individuality of each city we are present in, and adapt our communications and business style to fit those expectations."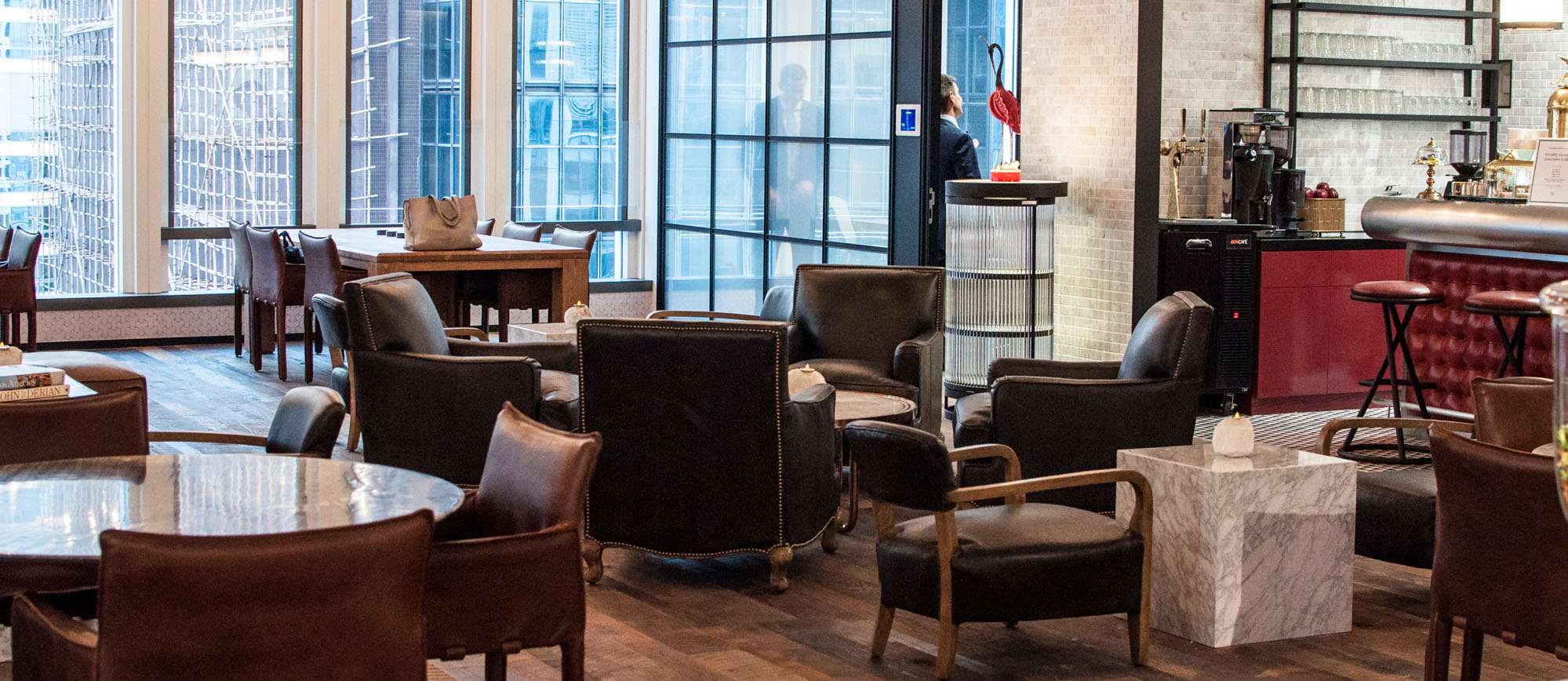 Our 2 ChinaChem Central location opened in November 2017 in Hong Kong.
Think Video First
A quick look at any social media feed immediately indicates that video is a dominant form of communication in 2017. Overwhelming statistical data points to the fact that consumers are increasingly converted by it. At TEC we created specific video content as the cornerstone of our brand update. It provided us with a rich opportunity to demonstrate our core values and refreshed visual identity in a highly engaging format that is both succinct and shareable. For the first time, video allowed us to verbalise our ethos and commitment to members, something that had not been available to us in the past. It has also provided dynamic content that serves multiple channels, acting as a particularly powerful resource for our sales team, allowing them to showcase our spaces, services and ethos where in the past they has relied on powerpoint and static imagery. This year, we  launched the first in an ongoing series of collaborations with our members, 'Celebrating Member Success Stories'. In this series, video has also allowed us to nurture and showcase longstanding relationships with members, and we will be sharing more of these stories in the new year.
Video has been a powerful tool that allows us to reach across our global member network and speak directly to our community. It builds trust, has demonstrable value in terms of ROI, is mobile-friendly and encourages sharing. The video we created to support the launch of our brand refresh has since earned 155'000 views on Instagram and 829'000 views on Facebook since September. 2017 was the first year that the global digital ad spend exceeded that of traditional TV advertising. This headline has tantalised digital marketers for the last several years, and according to Magna Global, the research arm of media buying firm IPG Mediabrands, this trajectory shows no sign of change. Digital ad spending reached $209 billion worldwide, while TV earned $178 billion, and the fact remains, to ignore video as part of any communication strategy is to bypass the needs and wants of your consumers. Looking ahead to 2018 we have already commenced pre-production for video content that will be shared early next year, and we will continue to work with our members to build content that supports their growth and development.
Where To From Here?
All in all, 2017 has been an exciting year of growth and learning for TEC and our members. It has been overwhelming to see the impact that our branding update has had on both members and centre staff. Soon we'll be sharing some of our plans for 2018 based on what we have achieved in the last 12 months. In the meantime, we hope that you will take this opportunity to reflect on your own year in business, in preparation for a busy and successful year ahead. Finally, from all of us at The Executive Centre, we wish you a very happy holiday season and all the best for the new year.