As we prepare to introduce our network to a new digital platform that will streamline their TEC experience, we invited some of our Members in Sydney to share their thoughts on what it's like to work from our centres, the opportunities they have enjoyed as Members of our global community and their reflections on the future of work.
In the coming weeks we will be sharing more details about our new Member portal, MyTEC, that will allow Members to book spaces, manage account details, RSVP to events and connect and collaborate like never before. We look forward to continuing to support and uplift our community of exceptional professionals with this new development.  https://vimeo.com/329522013
Who are Sydney Digital Marketing?
We're a digital marketing agency based in Sydney, and we help businesses get more leads and make more sales using social media marketing, Google AdWords, smart digital strategies and that sort of thing.We started originally in 2012, and then became an agency. It was me, basically, just myself in 2012, consulting, and then became an agency with our first employee in 2014, which is when we discovered The Executive Centre as well.
Why The Executive Centre?
We had an opportunity come our way. We didn't have an office at the time and had an opportunity come our way with a large global brand, who is still with us and we thought we needed an office. We Googled The Executive Centre and I think within an hour of us speaking, we went for a tour, and I think the next day, we signed up. I think we were one of the first people in the Barangaroo centre when it first opened two years ago. From our point of view, the flexibility I think of something as simple as month to month, for instance. That's great, without having to invest a lot of capital upfront, especially if you're a startup business or you're somebody who's setting up on their own as a consultant perhaps for the first time, having been in corporate for years and years and years. We like the flexibility of it first.Secondly, the community feel, the co-working thing, or shared workspace thing, everybody sort of just gets on and does what they do, but each person is in a different space.Some of them need our services; sometimes we need their services.
We've lent on people for legal, we've lent on people for some training as well. In terms of just having a bit of a chat about what they do in their space, it's been very beneficial for us. Lots of varied types of businesses here, which from our point of view has definitely been very good for us in terms of our business. We like the fact that we've got established relationships with centre managers and wider teams. The staff on the desk are fantastic. They take our calls for us, they take our messages for us. We have a slightly different way of inbound sales, so we don't actually take phone calls; we get them to input out the caller's details into a form on our website for us, which goes straight into our CRM, which is fantastic for us that we can get that sort of flexibility, to work within our own systems as well.
Simon gets to work with his team working from the Coworking lounge at our International Tower Three Centre. 
Why is flex space good for business?
I think we've got three, perhaps four active clients that we've as a result of being here in The Executive Centre. So my favourite story is one of our clients that we have been working with for a number of years, who also became a member of TEC. We actually developed their branding, and 'brand-stormed' their whole reason for being in this room actually, about a year or so ago. So we were working with them. We helped launch them, take them to market.
And then one day, I was sitting over in the breakout area, the kitchen area at the table just having coffee and reading a newspaper, and I heard a couple of people on the other side of the table say, "Have you spoken to those guys in the corner yet, the digital guys? I hear they're really good." And they're sort of chat, chat, chat, and I said, "You're talking about those guys over there, Sydney Digital Marketing?" They said, "Yeah." And I said, "Oh, that's us." And they said, "Oh well, we'd like to talk to you about doing some work with us. We've heard you guys are awesome marketers." And so we picked up the business, literally from just overhearing … That was just literally hanging out in the kitchen, and picking up some business. That's probably my most profitable coffee here.
I think one of the other things that I love about being here, is the fact that obviously if we need to have a serious meeting in an eight-seater boardroom with a big screen TV and communications facilities, then we've got that. If I just need to have a huddle with my team for something, a casual huddle, just get some privacy in a four-seater with a whiteboard or a blackboard, we've got that as well. Plus the fact of being able to break out into the kitchen area or the canteen area, for us is always really good. In some cases when we have a meeting, we want something a little bit more casual, we'll just have a coffee with our clients or prospects in the kitchen, or as I said, we can take them into a meeting room.
And what about the future of work?
I think one of the other benefits to the whole community aspect of The Executive Centre is the events and talks and learning lunches, that sort of thing, that we have here. We had a partnership with Google; we brought Google in here. There was ourselves, Google and one of our other partners. That resulted in four really good conversations for us, and two ongoing opportunities right now. People love coming to Barangaroo, because it's still new and shiny, and it's just such a great location.
We made a conscious decision when we moved here, that because of the presentation of the office, the layout, the fit-out, the finish, we felt that it was going to elevate us as a business to get our clients to come here. So I'd say now, probably 85% of our meetings are held on site. Most of the time they're impressed, and we get the business.But from a time/efficiency point of view, traveling around Sydney, having to jump in a cab or an Uber or a train, or drive and park, you don't think perhaps about those sorts of additional efficiencies or economic efficiencies that you get when you step into an office that's got this sort of ambience or environment. You're able to do better business. The energy when you bring people in here as well. You've got little huddles of coffee meetings going on over here, and it's not the same as going into a café, where I guess it's just a little bit more hectic. Sometimes it's a bit hectic in there, but just the ambience – there's people rushing off to meetings, and it's just got a good, busy, energetic feel about it. And people comment on that when they come and meet us here. They always say, "Wow, great offices. You're so lucky to work here."
There's no doubt, we're living in a shared economy now, whether it's sharing our cars, our homes, Airbnb, Uber, Car Next Door, or whether it's a shared workspace. It makes sense financially, it makes sense in terms of networking and meeting new people. And I'm not a big networker; I'm definitely not of those people who likes to go and hang out and network with everybody and hand out my business card, but once you've been here for a little while, and you're seeing people, and you just have a casual chat at the coffee machine or at the water cooler, it definitely lends itself to having a richer work experience, because you're exposed to so much more opportunity as well. I love coming to work; I love coming to work here. My team love coming to work here. We've made great friends here, we've built some great business opportunities as well, so I have no doubt that co-working, flexible working, shared workspace, whatever the term is that resonates with you, it undoubtedly is the way of the future. https://vimeo.com/329521305
Who are Loop Brands?
We're a brand consultancy. We've been going for about 17 years. Probably about six years ago, we evolved from primarily a FMCG or packaging based business always in Sydney and we diversified…You're always concerned with one second of engagement as people are walking down a shopping aisle and we saw the threat of private label at least here in Australia in Sydney. And we started todiversifyand taking those strategic insights that we gained from working in packaging to start applying them to broader branding communication problems. Over the last five years, we have successfully evolved the business so now that now we're working with lots of different categories across consumer brands, across service based industries. And what's fascinating is that the experience that we have gained from working with the large guys, we're now able to efficiently bring to the small guys. It's been a great journey and we're at that point now that we're really happy with the mix of clients we have, the categories we work across. Everything from fashion to food to building maintenance and that increases every day the diversity. We come from a very informed, insightful space which then translates into the work that we do.
Why The Executive Centre?
We initially found out about The Executive Centre through one of the companies that we actually were working with on this floor, Sydney Digital Marketing and Simon who heads up that company. So, as a brand consultancy, we have a core team but we then utilise a lot of freelancers, a lot of contractors to bring to market a number of deliverables. We'd actually had a number of meetings with Simon, we are already in this building on a different floor with another serviced office suite. To be brutally honest, The Executive Centrewere doing a much more professional service with regards to how the office was organised. There's always going to be an issue with the dynamics of so many different companies, so many different cultures within this floor. So, for us, just the way TEC manage the clients, people like me, we found them to be exceptionally good at that. And I think that's one of the most crucial things for us and why we moved. TEC have remained very professional with regards to managing the clients and the people on the floor, that allow you to run your business more effectively and efficiently.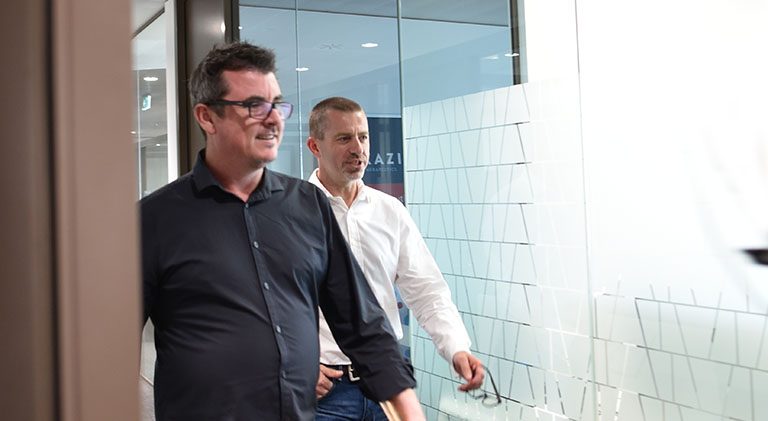 Ed and his team work from one of the suites at International Tower Three but have still been able to leverage the networking opportunities presented by the space to secure new business. 
Why is flex space good for business?
In the case of Loop, we occupy one of the suites and we do that primarily because; one, we're creative so we're a bit loud. But more importantly we're quite often working on very confidential projects that can't be seen. As a business owner, as a business manager, I've always been fascinated with not what a business needs to be now but what a business needs to be in the future. And in a nutshell for me, that's best described by scalability. The ability to expand and contract as opposed to being locked into a fixed lease in a fixed office environment that in both a good and bad way doesn't allow for growth when you suddenly need to put more people on; or even if you need to in the world that we live in, you have to make some hard decisions and sometimes have to downsize.
In a space like this, you can easily accommodate for those fluctuations but also as you have your own team. Our experience is with Sydney Digital, is that suddenly other companies become in effect part of your team. Because you're on the same floor, you're seeing each other every day, so instead of having formal meetings, you're able to have very valuable but off the cuff hallway conversations that very conducive. You're getting that synergy and flexibility, but at the same time, you can tap up people really efficiently and easily within the workspace.
And what about the future of work?
I think The Executive Centre have a nice mix of options with how people can occupy the space be it social and casual spaces. And some of the things that attracted us to this floor was the variety of spaces and the ability to use those spaces through a flexible process. You can book cubicles; you can book desks on a day basis and a weekly basis. I know if we were to expand, that I can occupy breakout areas or smaller spaces within a phone call and an email and that sum again just allows me to get on with running our business and not worry about those day to day admin issues. Especially being sole proprietor and manager of the business, it just takes so much of my plate. It's one phone call, one issue, I'm not paying for security, I'm not paying for garbage collection, I'm not worried about maintenance. Why didn't the cleaner come in? It just takes so much of my plate. And I do get a lot of people asking me, "It would have to be more expensive wouldn't?" And I said, "When I think about all the things I had to do about occupying a space, be it lease renewals, phones, web access, contracts, bills, admin. When I add all those things together, I'm winning. It's cheaper. Because, I just don't have to worry about that stuff and I therefore don't have to pay myself or someone else to spend time worrying about that stuff. Our thanks to both Simon Gould, Ed Kirk and their respective teams who were incredibly generous with their time in putting together these interviews. See more from Sydney Digital Marketing here and more from Loop Brands here.