Celebrated for its night markets, natural beauty and unique architecture, Taipei is also home to some of the most cutting edge technology research and development, making the city a beacon for international corporates and businesses. It's centralised location within APAC and exceptional liveability are just some of the reasons for increased foreign investment. The Executive Centre has been present in the city since 2006, taking space in the iconic Taipei 101 Tower. Today we see our spaces filled with a community of diverse professionals and look forward to continuing to grow with our Members in this dynamic market.  Our network has grown extensively in Taipei since our initial entry, however, just2% of Taipei's office market is occupied by flex providers which would indicate that many exciting opportunities are still to come. Increasingly positive sentiment toward the many benefits of flexible space and the rise of TMT (technology, media and telecoms) in the region are both contributing to evolving real estate strategies in the city. We spoke with Managing Director of TEC Hong Kong, Macau and Taipei, Lucy Liu and Alex Chen, our Head of Business Development in Taiwan about the evolution of the city and the ways in which TEC has evolved to support our Members in the market.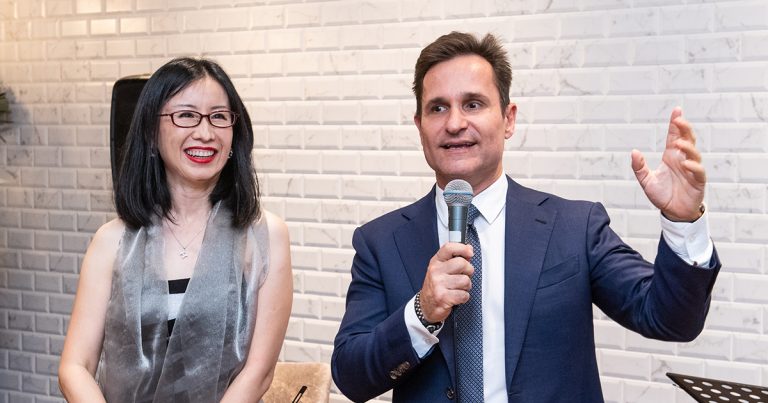 Lucy Liu, Managing Director, Hong Kong, Macau and Taipei with Paul Salnikow, Founder, CEO and Chairman of The Executive Centre.
Lucy Liu, Managing Director, Hong Kong, Macau and Taipei
How does Taipei compare to the other cities that you oversee in terms of both similarities and differences?
Taipei has a unique culture which is largely reflected in its business operations. All in all, it is a real pleasure to do business here. While the market is fortunate in the sense that there has not been a lot of direct and aggressive competitors, its size is estimated at about half of that in Hong Kong and the rate per workstation being about the same comparatively. The demand for flexible workspace is healthy which supports our ongoing expansion plans.
How has our business in Taipei changed and grown over the years?
TEC's initial relationship with Taipei began in 2006 with the exploration of developments and commercial opportunities. Fundamental to our business ethos, we focus on Grade A office buildings in any market we enter. With limited new developments in Taipei's core CBD in last decade and with so much success in our existing portfolio, our expansion strategy revolved around our established presence in the iconicTaipei 101 and the adjoining Nanshan Plaza.
How do our Members experience our products and services in Taipei?
Our Taipei operations team are amazing. They are truly responsible for the strength of our community. While celebrating the pre-opening of our newest space, I was so happy to be able to witness the relationships between our Engagement and Operations teams and our Members. Our Members had so much fun and you can see the genuine bond between the team, the Members and even their family and friends. It is so rare to see this in what is considered by most to be 'just an office', but it contributes to the environment and makes TEC so much more than just a place to work.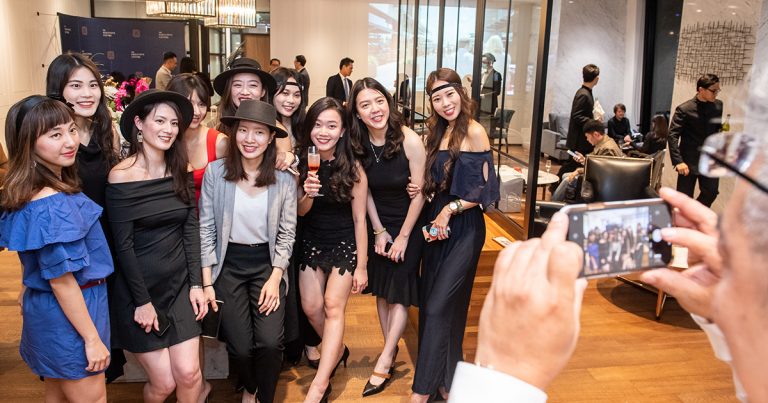 The Taipei Engagement Team at the recent pre-launch celebration for the expansion of our centre at Nanshan Plaza.
Alex Chen, Head of Business Development, Taiwan
 What is your day-to-day like with TEC?
My role with TEC is complex but fundamentally, it all comes back to communicating with our Members – finding solutions to their problems and creating a space that meets and exceeds their expectations of what they need from a work environment.
What are the types of Members we see most often in Taipei? 
We most commonly see IT or FinTech related Members, followed closely by pharmaceutical, manufacturing, and consulting. There is also a range in terms of the relative size of our Member organisations, ranging from one to over 20 people – we support freelancers, SME's and large MNC's. We have seen many of our Members efficiently scale their company with us. One, in particular, took a three-person operation to six people within a year and are now sitting at 10 people. Over the last two years, TEC has helped support and facilitate this growth.
How is doing business in Taipei different to other cities in the APAC region?
Taipei is the economic, political and cultural capital of Taiwan. It also boasts world-class infrastructure, is well connected by high-speed rail, major highways and air links to all the world's major destinations and business hubs. On top of that its geographical location in the heart of APAC is key in connecting East to West. Taipei serves as an international city making it easy for businesses to thrive.  Most of the key flex players have significant digital touchpoints that enable Members to view and understand the products online, which in turn provides them with an initial education regarding what we are able to offer. However, in Taipei, we more often than not see Members choosing to experience our spaces in person, speaking to and learning from a TEC representative before making their decision. It is the human interaction that adds a special touch, and the hospitality from TEC Taipei always put Members and prospective Members at ease. Knowing that we can take care of them in a beautiful, comfortable and highly functional working environment really puts them at ease.
What makes Taipei so significant for TEC's global network? 
Taipei has been considered a gateway city to Mainland China, with many MNC's choosing Taipei as their first location before establishing themselves in Greater China. The locations TEC hold are also the most renowned addresses in the city. Taipei 101 and Taipei Nanshan Plaza are symbols of Taipei's upward trajectory and pure potential. Our spaces throughout Taipei attract mature entrepreneurs as well as associates from the top-notch international enterprises. All of this makes us an attractive partner for any business or individual looking to grow and connect.
What is your favourite place to visit in Taipei?
First and foremost I would recommend visitors experience the landmark that is Taipei 101. It is the first of TEC's locations in the city, but also has an observatory floor for a magnificent, panoramic view of the city. Jiufen, or 'The Foggy City' as it's known is a town that was once famous for gold mining, but fell into decay after resources were exhausted. Today, the rich culture and scenery flourish once again and it provides an insight into the history of Taiwan. It celebrates the past and offers a taste of traditional and modern culture. When you are there, try some of the famous yam or taro Balls, or peanut ice cream wraps and immerse yourself in the history of the town. Finally, visitors should check out the 24-hour Eslite bookstore, a great spot to spend time before a late flight. light takes off.