At The Executive Centre, our Members are front and centre of everything we do. We aim to cultivate close relationships in our centres via our Engagement Teams who are responsive to the ongoing, day-to-day needs of all Members. We offer events, networking and community collaborations as a way of bringing the network together. This interview is a continuation of a series where we spotlight our relationship with Members, their achievements and their expertise. We are very proud to introduce Ernesto Borge, CEO – Asia Pacific for GSI China who generously shared his experience of growing a business in China as an expat, and the impact of technology on the security industry. 
Can you tell us who you are and what you do? 
My name is Ernesto Borge and I am the CEO for Asia Pacific of GSI China. We are composed of more than 10 companies that focus on services associated with private security, particularly things like robo-security guards, automated treasury solutions and high value logistics for things like cash and diamonds.
Can you tell us more about GSI China and the kinds of services you provide? 
We support businesses to do things like automated reconciliation payments by WeChat and offer services that reduce cash handling costs. The range of services that we offer is quite broad and we can also support clients with tailored solutions as per their particular requirements. Essentially we are focused on the intersection of security, technology and automation.
Security is becoming an increasingly important topic for both businesses and individuals, be that online or offline. Have you noticed an increase in demand for your services in recent years? 
Absolutely, I have seen a marked increase in demand for our services. Businesses are recognising this as an essential function and we are able to help them optimise their budget for security and provide assurance and peace of mind from the point of sale all the way to the bank.
What kind of impact has technology had on your business? 
Technology has been a huge part of business and automation is our unique selling point when dealing with big retailers and bank databases. As technology evolves so too do our products and services. This means that we are able to offer greater assurances to our clients with more sophisticated and stable technological developments.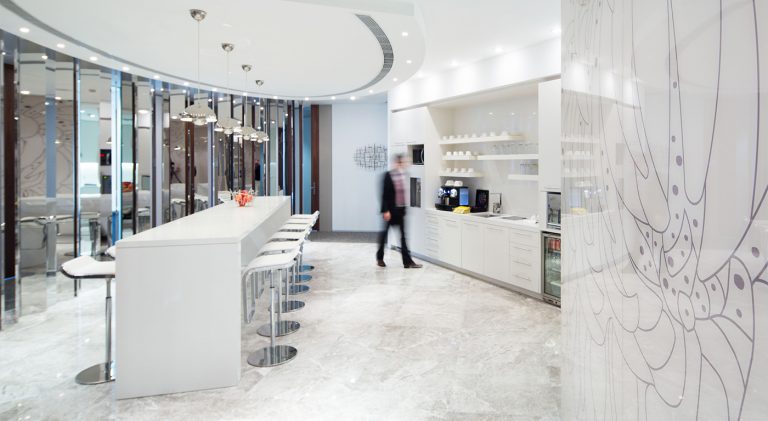 Our Shanghai IFC Centre offers Members the opportunity to work both privately and collaboratively throughout their day. 
What has it been like establishing and growing a company in China? 
At the beginning there were certainly more challenges, but wow things are much smoother given that we are well established and enjoy a strong reputation in the market.
What advice would you give to anyone considering China as an expansion opportunity for their own business? 
This is what I would argue is absolutely essential for making a successful market entry to China:
Have a clear plan and know what you want to achieve.
A good team will be invaluable.
Have a well defined budget and cost distribution before doing anything else.
Importantly, define a single point of contact to deal with back office and bureaucratic hold ups.
What has been the biggest challenge when it comes to working in China? 
Language can be a real challenge and it is important that at the very least you make an effort to learn the basics. Bank bureaucracy can also be a significant challenge when establishing a new business in China.
Can you tell us a little bit about your own work environment? Do you prefer to work in a totally private space or do you enjoy the option to work both collaboratively and privately? 
We have been a Member of The Executive Centre for 2.5 years now. I think that collaborative space can be really convenient in many senses, it can allow you to share ideas with neighbours who might be facing similar challenges and can provide new business opportunities too.  Obviously we also have to have a private space where we can work quietly, and given that we are part of the finance ecosystem privacy and confidentiality are essential at times. TEC provides a good mix of both kinds of working environments, we can trade ideas but there is no need to sacrifice quiet private spaces either.
How do you think technology will impact on the workplace of the future? 
Hopefully technology have an impact on the workplaces not only in terms of mobility, but in terms of health. A good example of this are the heigh-adjustable standing desks that TEC have provided to Members. I think this is really important, it helps individual productivity and supports genuine wellbeing at work.
What would your ideal workspace look like? 
TEC is an ideal space.