The Executive Centre was founded in 1994 with the aim of bringing the concept of flexible working to Asia, an approach to corporate real estate that did not really exist in the region at the time. As pioneers of this concept, we are conscious of the need to keep growing, changing and ultimately evolving. The very nature of our industry as flex providers means we need to be agile, not just in the delivery of our products and services, but in the way we think about and plan for the future. We spoke to our CEO and Founder, Paul Salnikow to understand more about his approach to evolution at TEC, and how this is driving positive and impactful change for the business.
Evolution Defined
Evolution is a term most of us first encounter during a school science lesson, but it is a concept that has relevance across all kinds of disciplines, be that biology, technology or behaviour. When it comes to evolution in business, we're talking about responding to market dynamics, customer demand and changing technologies to ensure relevance and progress. On this point, Paul Salnikow explains, "Wehave seen the emergence of changes in business patterns, with global travel, The emergence of the internet and truly global communication. People now view markets not as a country or city, but on a regional or even global basis, and to address their markets, they move from one location to another." True globalisation has meant that at TEC we have evolved our definition of an office, with digital infrastructure like our app enabling communication across borders and time zones. We've also expanded our view of work through services like Virtual Office and Global Hot Desks which enable our Members to quite literally work from anywhere in the world, with the support of our team and growing network.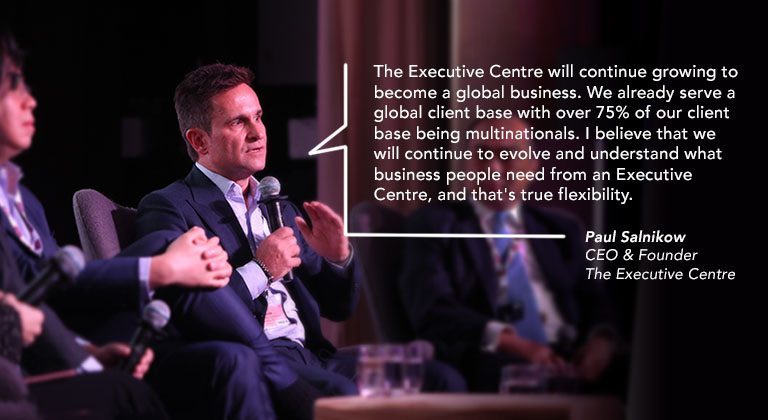 Enterprise Solutions
An Enterprise Solution is a large scale, bespoke solution that is born from an understanding of true flexibility. This product evolution has grown from our experience working with large corporates and MNCs who want to take advantage of all of the benefits that come with a flexible workspace, but have different requirements than SMEs and startups.
This Enterprise space was developed for a major technology company in India. They had incredibly prescriptive IT requirements and needed a lab space for product testing. Through an Enterprise partnership we were able to leverage our experience to develop a fully bespoke space that was ready for them to begin using within a matter of months. The space is designed to their exact requirements without the need for them to commit to a long-term lease with the option to grow as their team expands.
Transforming Space
Community and the ability to connect has become a real focus for corporates the Executive Centre, and evidence of this evolution is the change in our design ethos. Paul Salnikow explains, "The lounge is a product that has evolved over the last four years and it's ultimately a very interesting space. It has our people at the reception pods supporting the membership and their guests. It has the flexible seating, where Members can work in a community environment. It has the really luxurious, comfortable sofa seating, where you can kick back and relax a bit. You have the barista bars, which serve much more than coffee. It's coffee, it's food, but it's also a place to interact with other Members."
These lounge spaces have become the norm in all of our new Centres, and we are taking the time to revisit some of our longstanding spaces to renovate and reimagine the communal settings to include these sorts of community functions. Technology is going to keep driving change, our Members will let us know what they need and how we can evolve to serve them better, and we will continue to prioritise processes that allow us to improve and grow. Evolution is an essential function of any successful business, what will you do to ensure your organisation continues to thrive?