Chinese New Year is one of the most significant holidays for both our Members and teams across our Asia Pacific network. For those who might not have celebrated the Lunar New Year before, we've got all the essential information to help you understand what all the food, fireworks and festivities mean.
The Lunar New Year is celebrated in a number of countries throughout our network. Each region will have different traditions, practices and customs when it comes to marking the occasion which is considered to be one of the most significant cultural holidays in Asia. Given the importance of the Lunar New Year holiday, we thought this was a timely opportunity to share some of the essential information about how, why and where it is celebrated, and what the uninitiated can expect over the holiday period. Some of our team from China, Singapore, Taiwan and Hong Kong have shared their firsthand experience in the hope that navigating work and life over the Lunar New Year holiday will be just that little bit easier.
What Is Chinese New Year?
Chinese New Year (CNY), otherwise known as the Spring Festival or Lunar New Year will be celebrated this year (2020) beginning on January 25. The date is different every year because it is determined by the lunar calendar, but it always falls somewhere between January 21 and February 20. Each Chinese year is associated with an animal sign according to the Chinese zodiac, and the coming new year will mark the beginning of the Year Of The Rat. Each animal has different attributes and offers a different 'fortune' to those born in the corresponding lunar year. It is predicted that those born under the Chinese zodiac Rat sign In 2020, people born in the year of Rat will enjoy good fortune in terms of wealth and career, but should be wary of their health and relationships. Traditionally, Chinese New Year is also a time to honour ancestors and deities, and the holiday period is typically spent with family.
How Can We Help?
One of the great strengths of TEC is the diversity of our team, and to understand how CNY is celebrated around the region we collaborated with individuals from our centres in China, Singapore, Taiwan and Hong Kong. They shared their knowledge of the particular customs and traditions from their respective home countries. Remember, if you have any questions about what to expect from your city over Chinese New Year, need recommendations on the best spot to see fireworks displays or simply want someone to handle incoming calls while you're with family for the holidays – we're here to help. Talk to the Engagement Team within your centre for specialised arrangements and assistance with more specific questions.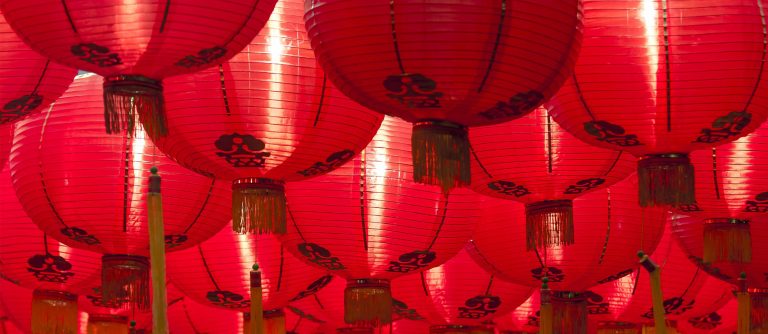 In China, the Lunar New Year celebrations involve one of the largest mass migrations in the world as people return to their family home, traveling from cities back to towns and villages across the country.
What To Expect In China,
with Marketing and Communications Manager, Lily Wang
Public Holidays | January 24 – January 30
At Home:
Family members gather together at home – the most important meal is the New Year's Eve dinner.

Houses are decorated with lanterns, knots and blessings.

Watching The CCTV New Year's Gala is a tradition for many families.

Families will visit the flower market and buy fresh flowers to celebrate the advent of the Spring Festival.

Older members of the family will give red packets to the younger generations – a symbol of good luck and good fortune.
At Work:
Some companies give red packets to employees as a gesture of good fortune in the new year, it's not expected, but it is common.
Out and About
Paint the town red – lanterns, flowers and lights!

Expect to see street markets selling decorations and traditional foods like pastries, cookies, candy and more.

Most malls and restaurants close early or don't open for business so that staff can return to their homes – check opening hours and special arrangements if you plan to eat out, go shopping or visit tourist attractions over this period.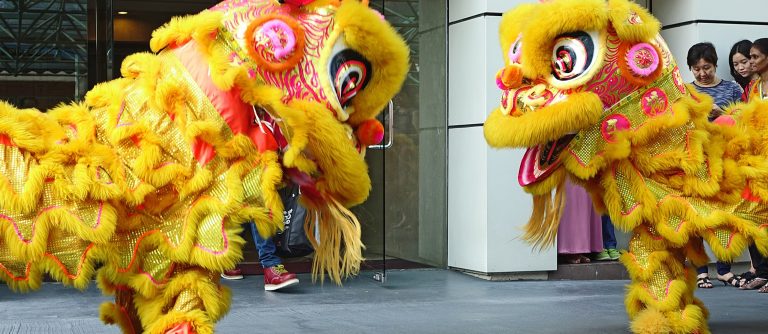 Lion dances are common in the lead up to and during Chinese New year. They are said to ward off evil spirits and bring good fortune.
What To Expect In Singapore,
with Community Manager, Serene Loi
Public Holidays | January 25 and 26
At Home:
Spring cleaning happens before the start of the festival – it's considered bad luck to do it during the holidays.

The family 'reunion' dinner happens on New Year's Eve. Lights in the house should not be switched off until the following morning.

Children are encouraged to stay up on New Year's Eve so that their parents will enjoy longevity and good health.

On the first day of the new year, parents are presented with mandarin oranges and children receive red packets.

The remaining days of the holiday are spent visiting friends and relatives. During these visits you should wear new clothes and new shoes.
At Work:
Businesses will often hire a lion dance performance, you'll hear a lot of noise and drumming. Having a lion visit your office and presenting it with red packets is good luck, while the dance itself wards off evil spirits and brings luck to the audience.

Often there is a reunion lunch or dinner with colleagues on the first day after returning back to work from the holiday.
Out And About
Expect plenty of

loud

celebrations during the holiday period.

There is a countdown party on New Year's Eve in Chinatown.

There are also celebrations happening in the Marina Bay area called the

River Angbao Festival

Most restaurant and shops are closed for the first 2 days of the new year to allow their staff to celebrate – be prepared and stock up on food!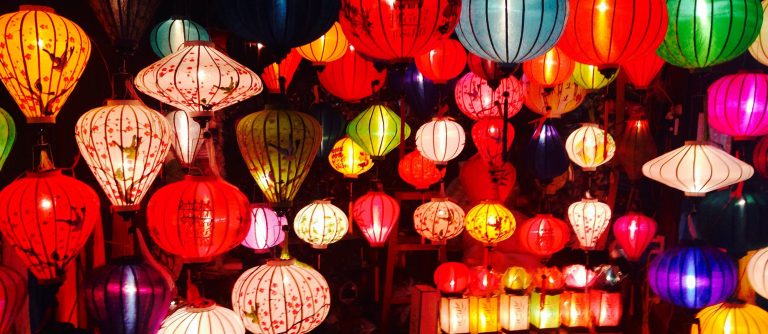 Stores, businesses and homes are decorated with lanterns, kumquat trees, flowers and more to bring good luck for the year ahead.
What To Expect In Taiwan, 
with Manager – Business Development, Tracy Lo
Public holidays | January 24 – January 29
At Home:
We return home for a family gathering on New Year's Eve.

Prior to this we shop for food, visit the temple to pray for good luck and watch the lion and dragon dance performances.

There are lots of fireworks and exchanging of red packets to wish each other good fortune.
At Work:
There is typically a year-end dinner or party and red packets might be given, especially to employees that are working and can't spend time with family.
Out And About:
Red and gold! Everywhere in the city is decorated for the festive season

Restaurants are often busy due to high demand as more and more families are choosing to go out for the holiday.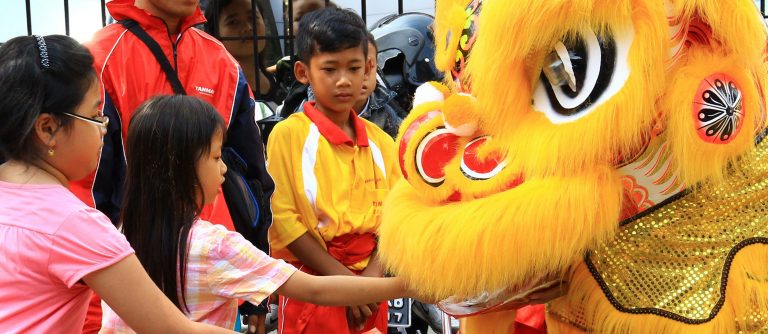 Offering red packets to lion dancers during a performance is said to bring good luck.
What To Expect In Hong Kong,
with Graphic Designer, Helen Tsang
Public Holidays | January 27 and January 28
At Home:
The family comes together for a reunion dinner on New Year's Eve, either at home or at a restaurant.

New Year's Day is spent visiting extended family and distributing red packets.

Candies, nuts, chocolates and melon seeds are served and symbolise good fortune and happiness.

You cannot wash your hair over the holiday as it is believed you are washing away good fortune and luck.

Some families will gather to play Mahjong together.
Chinese New Year At Work:
Expect a celebratory meal with colleagues and perhaps red packets.

Some businesses invite Lion Dance performers to bring good luck for the year ahead.
Out And About:
You'll see lots of Lion Dances and drummers throughout the city in the lead up to the holiday.

Many businesses will close to allow staff to celebrate.

The city looks its best – there are red and gold decorations, mandarin trees and CNY displays in malls and residential buildings
While there are of course many similarities in the way the Lunar New Year is celebrated throughout the region, local customs and traditions will inflect the celebrations in your city. Our main piece of advice? Enjoy the experience! With fireworks, carnivals and seasonal treats on hand, embrace the holiday, try something new and from all of us at TEC, we wish you a happy and prosperous year ahead.