Connection, networking and brand visibility is an integral part of success for many businesses around the world regardless of their size or international reach, as well as individuals looking to grow their personal network and business presence in a professional and regional environment. Making an impression and having a real connection with potential clients, stakeholders and partners is a crucial step to building trust early on in any professional relationships which can, in turn, grow into lucrative opportunities in the longer term. However, the difficulty for many businesses is in finding the right opportunities, communities and platforms to connect with such individuals and companies.
The Heart of Our Community
From our 26+ years of operations, starting with one Executive Centre in Hong Kong back in 1994, to our 135+ Centres today across 32 Cities in 14 Countries, we have built a trusted Community of over 27,000 Members who are professionals, decision-makers and influential leaders within their industries. Our extensive profile of Members and trusted international reputation within the Corporate Real Estate industry has led us to put on a variety of insightful academic events with partners such as Forbes and Business reporter, webinars with leading companies like Steelcase and CoreNet, and partnerships that provide exclusive Member Benefits for our TEC Community such as the latest exclusive promotion at the House Collective with Swire Hotels.
One of the reasons our events, partnerships and promotions are so successful is because we apply the same signature 'Members First' approach that we use when designing our Centres, training our TEC Engagement Team, and developing collaborations with partners. In this way, we can ensure our Community, and partners always receive the world-class service that we are known for internationally.
The Future of Our Community
Looking towards the future, we want to collaborate with more partners and offer more exciting opportunities for our Community. So, we are proud to introduce a new Membership and Partnership scheme that will provide prospective partners, individuals and businesses with the opportunity to leverage our Network without having to enrol in one of our Flexible Workspace plans.

TEC Membership
A new membership tailored for individuals, professionals and businesses who want to connect with our global network of TEC Members, without the need for a long-term Flexible Workspace.
For enhanced brand exposure and greater professional visibility, these are the packages made for you.
Corporate Membership:
All Centre access globally 

 

2 x individual representatives

 

Company introduction to the TEC 

C

ommunity across various channels

 

12 days lounge access, per year during 

office 

operational

 hour

s

, shared

 among representative

s

 

20% off all venue, meeting room bookings, secretarial and IT support packages

 

20% off all 

Virtual office 

and 

Coworking plans

Full mobile access to the 

MyTEC

 platform including 

g

lobal network directory, online forum, booking system and event registration

 

Access to full scope of global events and webinars held within 

The Executive Centre

 

One-time complimentary boardroom access to host

/

co-host an event with The Executive Centre

. 

TEC will support the event promotion, setup and rsvp management.

 

30% of the seats will be exclusively reserved for TEC Members

 
Individual Membership:
All Centre access within your city 

 

12 days lo

unge access per year during daily operating hour 

to 

C

entres 

with

in your city

 

20% off all 

Venues &

 

Meeting Room

 bookings, Secretarial and IT support packages 

 

Access to the full scope of 

g

lobal events

 and webinars

 held within The Executive Centre

 

Full mobile access to the 

MyTEC

 platform including 

g

lobal network directory

, online forum, booking system and event registration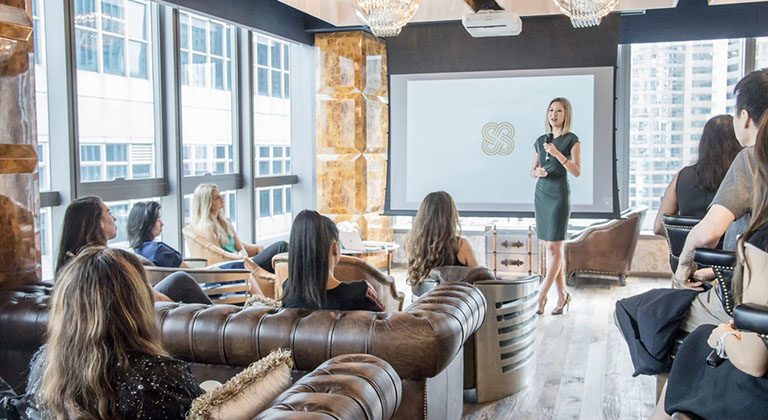 Business to Business (B2B) TEC Partnership
For businesses seeking a platform to promote their services or products to a professional audience for more visibility and reputation, our B2B Partnership combines the best of our professional service and expansive network without the restrictions of a flexible workspaces plan. Our professional events management services and priority visibility across our Community platforms are sure to help your business raise its status and secure new business opportunities.
Benefits of this package include:
C

o-hosting events with The Executive Centre across multiple cities

 

V

enue usage for offline event

s

 or dedicated bandwidth for webinar

 events

 

M

aking use of our

 professional marketing collateral

s

 such as flyers, digital signage and newsletters

 to showcase your busines

s

 and enhance brand exposure

 

Additionally, enjoy

 special rates on 

TEC 

Membership

 plans

, Virtual Office, Coworking 

p

lans, 

v

enue 

r

ental

s and select services

 
For more information about our TEC membership and partnership, or to tailor a package to your specific business needs, please send an email to our team at membership@executivecentre.com