"2019 was a milestone year for TEC. Not only did it mark our 25th anniversary, but we saw record growth as revenue hit a high of US$235.8 million. Our member first approach continues to drive our long-term growth strategy as we opened 20+ new centres across Asia-Pacific and the Middle East. Driven by client demand, we have maintained our steady annual growth rate of 20%, have an occupancy rate of 85.8% and continue to scale our business through the re-investment of our retained earnings."
Paul Salnikow | Founder, Chairman and CEO
Financial Highlights
Record Revenue and Profit Growth
Revenue grew by 17.8% to a record high of US$235.8 million
Growth excluding currency impact was 20.7%
EBITDA increased by 21.9% to US$46.1 million
EBITDA margin up from 18.9% to 19.5%
Demand-led Expansion Continues Across Key Markets
20+ new Centres (450,608 sq. ft)
Global footprint of 135 Centres in 32 cities and 14 countries (Total footprint 3.03 million sq. ft)
Close to 5,000 new workstations added bringing the total to 25,667
Consolidated occupancy increased to 85.8%
Average client length of stay of 36 months
Strong Growth in Enterprise Solutions
34 new global clients signed (Up 100%+ YoY)
Enterprise clients total 19.6% of TEC network revenue
Robust Balance Sheet, Stable Client Base, Consistent Cashflow
Cash conversion in 2019 (including maintenance capex) of 84%
Cash on hand of US$21m with available credit facilities of US$55m
Net debt leverage ratio of 1.44x
MNC's with high credit standing comprise 76% of client base
In the 25 years we have been creating spaces for businesses, our focus has always been to provide them with a secure and supportive platform. Facilitating successful connections and providing conducive workspace environments for their success continues as our commitment to a Members-first approach. The more accurately we deliver an elevated experience, the more we see our Members thrive. Their success is our success.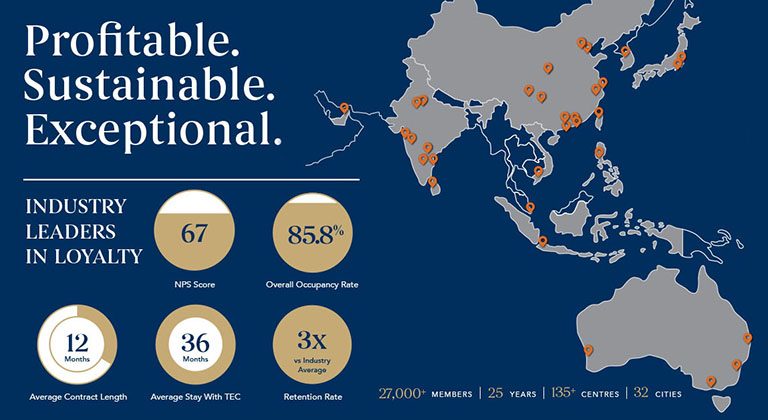 With an expansion rate averaging 20% year-on-year, our growth strategy is thoughtful, intelligent and has repeatedly proven to be sustainable. Genuine understanding of the corporate landscape has benefitted our bottom-line, not only in pursuing new business but in retaining our valued existing Members.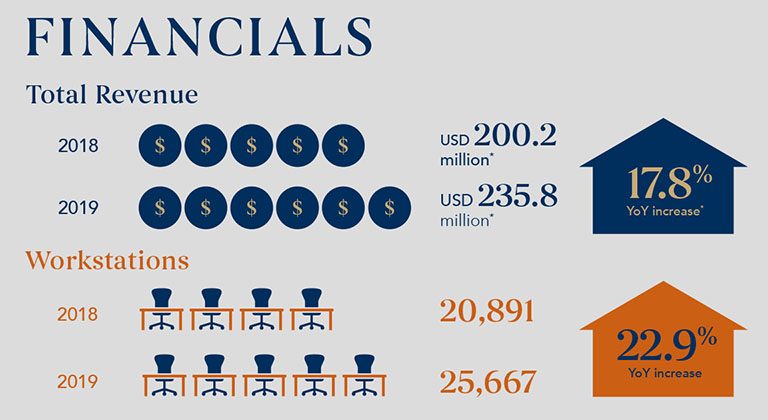 While we are proud of our ability to grow and thrive in all sorts of economic conditions, we are not complacent when it comes to remaining responsive to the changing dynamics of the marketplace. Working with both Members and landlords in new capacities, we will build even stronger partnerships which enable us to continue to grow and thrive in the face of adversity.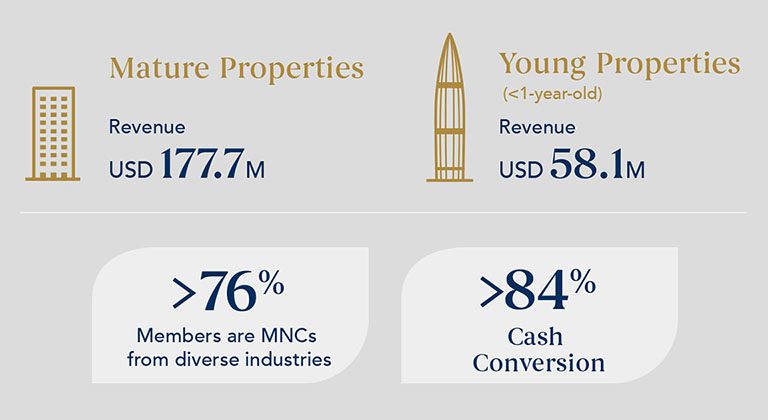 "Over the last decade, flexible workspace has moved away from the fringes of commercial real estate and is now an essential element for all landlords and corporates. Looking ahead to 2020, the current global market uncertainty caused by COVID-19 means that businesses will need even more flexibility from their partners as they look to manage costs over the short-to-medium term. We believe this will lead to a real step change in the way that people and businesses work, with a much larger need for flexible workspace globally to meet the demands of tomorrow's workforce."
Paul Salnikow | Founder, Chairman and CEO
Reflecting on our previous fiscal year, the recent COVID-19 outbreak has influenced our evolving response to future business. The circumstances have no doubt impacted global markets however our methodology provides a solid foundation for the continuing growth of TEC. Essentially, our attitude is the same – agile, sophisticated and intelligent. People will be changing the ways they work and we are ready to help them when they do.