Our 'Faces of TEC' series is a chance to get to know our Members, an opportunity to hear about their professional journey and celebrate accomplishments along the way. In this instalment, we spend time with more of our Members from Cielo who were one of our first Enterprise clients. An Enterprise Solution is a new product offering from TEC, our response to the here and now of corporate culture that gives Members the chance to experience all of the exceptional touchpoints of the TEC experience, just on a much larger scale and with the added benefit of complete customisation at every turn. These interviews were captured during our time in Manila where we spent several days shooting our new campaign that you can see here. Thank you to Matt, Donnalin, Christian and the entire Cielo team for welcoming us into your space and sharing your thoughts so candidly. We are so proud that this workspace serves you well and we look forward to the future of this partnership.

Matt Jones – Senior Vice President Global Operations, Cielo 
Why choose TEC, and why an Enterprise Solution?
I am the main sponsor for operations here in the Philippines. I set up the operation back in July 2017, and as we expanded, we were looking for a partner who could help us deliver a large and on brand workspace that also gave us the flexibility to scale without the liability and operational challenge of having our own direct lease and having to manage the facility ourselves. 
What were some of the specific design considerations?
Cielo has some pretty specific standards – we like to run open plan spaces with a high degree of collaboration, but also highly professional so that we can inspire our people, inspire our customers when they come to visit us with a consistent look and feel around our global offices.
We were looking for a provider, a partner, that could deliver upon that, while also giving us the opportunity to expand as we continue to grow. 
How did Cielo's expansion plans influence this project?
It was important for us that we could start with a certain number of desks and capacity and then grow as we grew our operations in the Philippines. We don't always know exactly when that's going to happen because part of our growth is built on new customer acquisition and different operating rhythms throughout the course of the year. We genuinely needed a provider that could be flexible, could understand that our needs change, and could be there to support us and plan with us along the way. 
How does 
Ceilo
 express their brand identity in a space?
We have some pretty loud brand colours which are important. We like to express ourselves and show that we represent our brand. A communal space is important for us as well, a break-out space that feels fun, professional, exciting – places people want to be. We also want to make sure that the character of our office is reflected across the world. If you walked into our office in Budapest in Hungary, Manchester in the UK, Buenos Aires in Argentina, or Manilla in the Philippines, you see some common themes, common images – it looks and feels very similar. 
Ultimately, how will the space be used by the team?
Most of our team members here (Manila) are in recruiting operations for clients around the world. What's important is that our teams get to collaborate, they have some open plan space to work together, because often they're collaborating with each other to deliver a service or a solution to a customer. It's also important that we have formal and informal break-out space, so that if you're solving a problem on behalf of a client, doing a little bit of coaching at the desk, then you can break out into some space and have semi-private conversation or coaching discussions. 
How has TEC assisted when it comes to managing the day-to-day operation of the space?
It's important for us that we don't have to spend our time worrying about operating an office. Our teams are focused on delivering a great service to our customer. It's tough enough to find great talent for our clients and deliver great service without people having to worry about replenishing office supplies, stocking the pantries and those other operational office pieces. So, that's what we asked TEC to do. It was important that they felt like part of our team, but that we had a clear delineation of responsibilities. 
How has your relationship with TEC evolved throughout the Enterprise process?
My relationship with The Executive Centre has changed a bit over the course of the periods of the project. Initially, when we were designing and going through the initial phases of selecting the space, I found the team to be collaborative and very commercially focused for us, which is important. We need a partner who is successful, so that we can maintain a long-term relationship.
Ultimately, TEC was very easy to work with, providing services with a high degree of customer centricity and an understanding that we needed something specific to us, we weren't building from a boiler plate.  
It was a really good experience during the design and contracting phase. The build-out and office fit-out ran like clockwork and we are very, very happy with how that operated. We visited a couple of times to keep track of everything, but we were on track the entire way. Since we opened, it has been a great experience in terms of account management. TEC have been very responsive, working both locally with the team here and regionally, with the leadership team to solve any small problems that come up along the way. 
Is an Enterprise Solution by The Executive Centre something you would recommend to other corporates?
I would… The experience has been positive through design to implementation, to fit-out, to account management, and I think The Executive Centre provides a flexible solution, while still being focused on delivering a specific, customer-centric building fit-out and environment.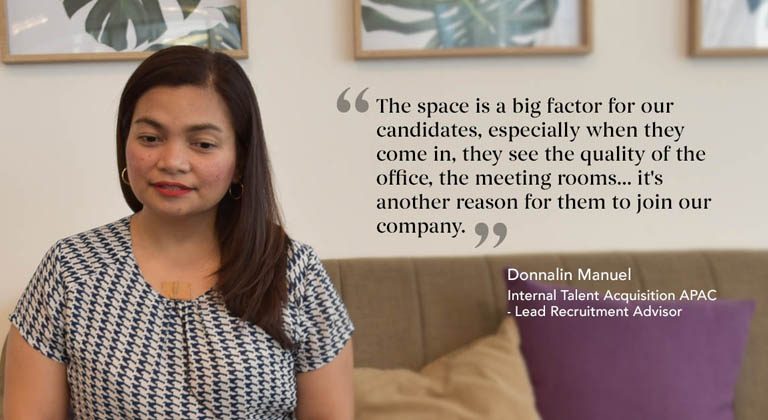 Donnalin Manuel – Internal Talent Acquisition APAC – Lead Recruitment Advisor 
What was the space like that you and the team were working in before the Enterprise Solution?
When I first joined Cielo, we were just situated in one small room until we started growing. They would just take down walls to make it bigger! Later, when our team had really grown our offices were scattered. To get to know people, you had to bump into them in the hall or during a meeting. 
How has a fully custom space impacted team culture?
It has made a big difference, a huge difference, knowing that we have a lot of meeting rooms and small spaces where we can work or meet informally. It has brought us together. We really know each other, not just by face, but by name because we all see each other every day. We see each other in the operations area, but it also in the pantry and in a breakout area and have a chance to talk and connect. 
The space is a big factor for our candidates, especially when they come in, they see the quality of the office, the meeting rooms…it's another reason for them to join our company. 
Why is a custom design so important for HR in particular?
Knowing that we deal with sensitive topics or subjects in HR, we have our own designated room. At the same time, we have small spaces where we can huddle. The pantry is a great area as well because it's not just somewhere to eat, we have the flexibility to work in these areas as well. I feel really happy when I come to work because I know that we have a good environment and ultimately it brings you energy.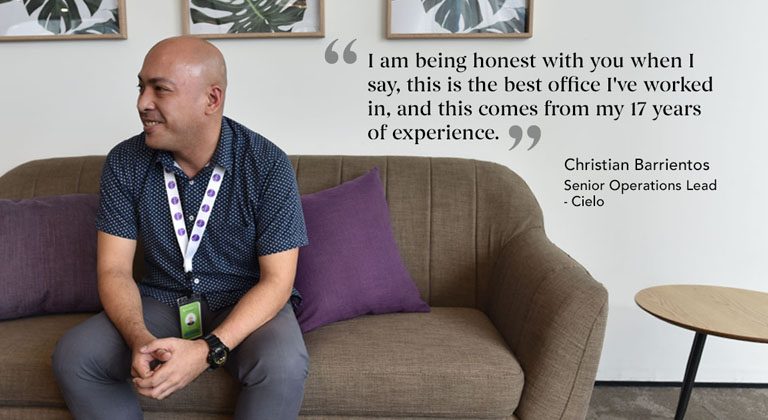 Christian Barrientos – Senior Operations Lead, Cielo 
What were your first impressions of the space?
It's phenomenal… I really like the idea of people being able to work where they want to. You can bring your laptop anywhere, if you want to take lunch or have some something to eat, there is space for that too. 
Other than it being customised, the atmosphere is very welcoming. The pantry can serve as a place where people can also hang out, eat their lunch or enjoy a break. For me, it's a place to go when I just need a quick break away from my desk. 
What is the mood like in the office now?
We have a lot of people on staff, and a lot of them are getting to know each other, are getting to know the processes, getting a feel of the environment of the new office. I am being honest with you when I say, this is the best office I've worked in, and this comes from my 17 years of experience.  
How do you work with the TEC Operations team?
They are very, very friendly… In terms of being able to build rapport or a great relationship with the people who are working here, they do a great job.