Constructed by Singaporean conglomerate Keppel Land, The Saigon Centre is a premium, mixed-use development featuring retail spaces, Grade-A offices and soon, a brand new Executive Centre, the first of what we hope to be even more spaces in Vietnam. Strategically positioned along Le Loi Street in the coveted District 1 area of the city, this new centre occupies prime position on the top floor of the building, taking in panoramic views of the Saigon River and surrounding office towers of District 1.
Need To Know
Population: 8.6 million (2017)
City GDP: US$161.49 billion (2016)
Main Industries: Mining, Construction, Manufacturing, Finance, Software
A Varied Past: Saigon, French Indochina (1859-1955); Saigon, Capital City of South Vietnam (1955-1975); Ho Chi Minh City, Vietnam (1978-present)
Getting There And Away
Download the Grab App and you can either travel like a local on the back of a motorcycle or enjoy an Uber-like experience in a car or SUV. The building also has a designated taxi stand for added convenience.
Working Lunch
Takashimaya: A Food Court featuring cuisine from all over the world and situated inside the shopping centre that forms part of the Saigon Centre development – delicious and convenient.
Tel: 1800 577 766
Opening Hours: 9:30-22:00
Address: Saigon Centre, District 1
Jaspa's: Part of the renowned Jaspa's restaurant chain, this spot serves up great quality international cuisine in a stylish setting situated conveniently within walking distance of The Executive Centre.
Tel: +84 28 3822 9925/6
Opening Hours: 7:30-24:00
Address: 33 Dong Khoi Street, District 1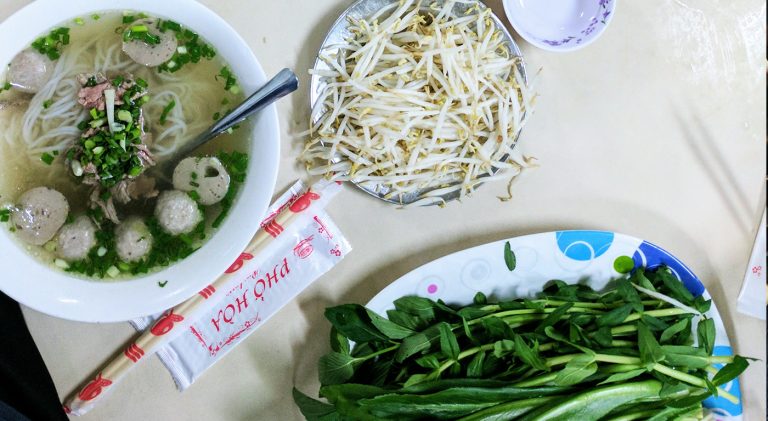 Vietnam has a well-earned reputation as a foodie haven and the local fare is rich with flavour and tradition.
Client Dinner
Blanc. Restaurant:  French-Vietnamese fusion fine dining in a beautifully restored French colonial villa, with a twist – the restaurant predominantly employs a team of hearing impaired staff.
Tel: +84 28 6266 3535
Opening Hours: 11:00-23:00
Address: Lane 178-180D Hai Ba TrungDakao, District 1
Sorae Saigon: Serving modern Japanese fare in elegant surroundings and situated on the 25th floor of a building that boasts panoramic views over the city.
Tel: 02838 272 372|
Opening Hours: 11:30-01:00
Address: 24-25th Floor, AB Tower, 76A Le Lai Street, District 1
R&J Italian: A vibrant and contemporary restaurant specialising in flavourful, home-style dishes from various regions of Italy.
Tel: +84 28 3823 6688
Opening Hours: 18:00-22:00
Address: Level B1, Times Square Building, 22-26 Nguyen Hue Boulevard, District 1
Keeping up the Weekly Fitness Routine
The Saigon Sports Club: Inspiring its members to pursue a more positive, active lifestyle, The Saigon Sports Club has state-of-the-art facilities offering various martial arts, yoga, cross training and a swimming pool.
Tel: 3773 0513
Address: 514B HuỳnhTấnPhát, District 7
Body Shape – Gym Thao Dien: A friendly gym community inspiring well-being and fun amongst its members with top quality equipment and highly qualified trainers on hand.
Tel: +84 91 810 24 49
Opening Hours: 06:00-20:00
Address: 49G Quoc Huong Street,Thao Dien Ward, District 2
Park Hyatt Health Club: Get a membership to the award-winning Xuan Spa at the luxurious Park Hyatt and enjoy complimentary access to the swimming pool and well-equipped 24 hour gym, as well as discounts across all hotel F&B outlets.
Tel: +84 28 3520 2356
Opening Hours: 09:00-22:30
Address: 2 Lam Son Square, District 1
Arts and Culture Weekend
New to Ho Chi Minh City? As an epicentre for tourism in Vietnam, Ho Chi Minh has no shortage of interesting sights to see. A great day trip out of town is to visit the Cù Chi tunnels, an incredible network of tunnels left behind following the Vietnam War. They are now restored and enlarged (to allow somewhat larger Western tourists to enjoy a crawl through about 100 metres of tunnel). In town enjoy the Reunification Palace – formerly home to the president of South Vietnam as well as the American War Museum to get a good insight into what occurred here during the dark Vietnam War era. The Notre Dam Cathedral and Ben Thanh Market are also worth paying a visit.
Grain Studio Cooking Class: Join chef Luke Nguyen on a culinary adventure cooking class. Choose between a private session, group session (a great way to meet other people!) or even make a booking for your company as a unique team building opportunity or day out of the office.
Tel: +84 8 3827 4929
Opening Hours: 09:00-17:00
Address: Level 3, 71-75 Hai Ba Trung, Dist. 1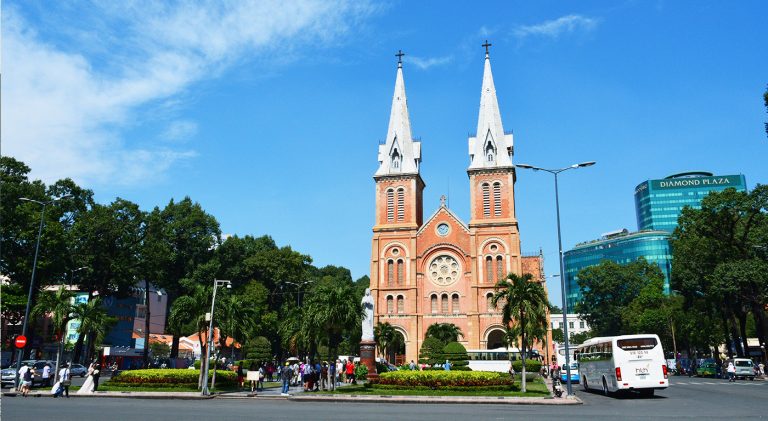 Notre-Dame Cathedral Basilica of Saigon is a decidedly French landmark in the city centre. 
Health and Wellness Weekend
Vietnam Golf and Country Club:
Located 20km out of the city, the club was the first 36-hole course built in the country. Regarded as one of the top golf courses in Asia, the Vietnam Golf and Country club is the premium golfing destination in the city and also a great spot to take clients for a golfing day out. For those less keen on golf there is a restaurant serving international delicacies as well as accommodation should one wish to spend the night.
Tel: +084 28 6280 0103
Family Time Weekend
A worldwide organisation offering tours of the Mekong Delta. situated outside Ho Chi Minh City your local guides give you an unique perspective on the area. The company offers both group and private tours to suit all members of the family.
Tel: +1-604-777-4141
Spend the weekend enjoying the golden sands of the beautiful coastline of Mui Ne. Situated just 4.5 hours drive from Ho Chi Minh, this is an ideal spot for a weekend getaway. Stay in the beautiful Pandanus Resort perfectly positioned on a lovely long beach, featuring a fabulous lagoon swimming pool and lush tropical gardens.
Tel: +84 28 3840 8968 – 8969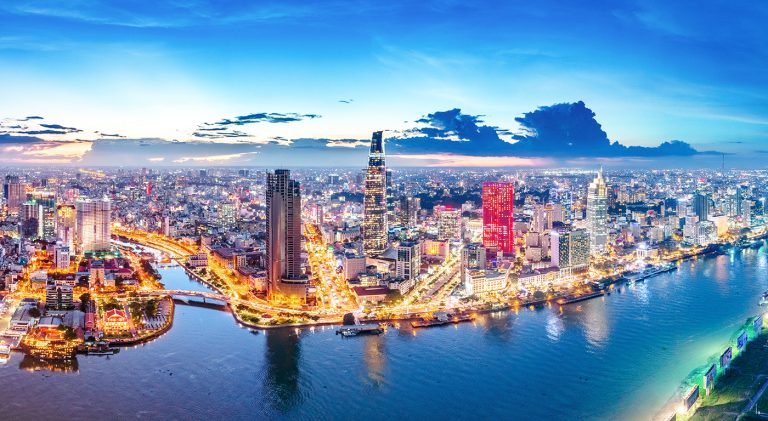 Ho Chi Minh City is a thriving regional hub and we are looking forward to growing our presence in this dynamic market. Find out more about our forthcoming centre here.