Chengdu, the capital of Sichuan Province, is a city that celebrates both its rich past and glittering future. Perhaps known best for its world-famous Panda sanctuary and the infamous spice of Sichuan cuisine, the city is unique in its dynamic vibrancy and modernity, stunning cultural  sites and local attractions that are steeped in history. The juxtaposition of ancient relics and state-of-the-art technologies showcases the city's exceptional economic growth and future potential.
 
Need to Know
Chengdu is China's 4

th

 largest city

 

Population of 14 million
With a 2017 GDP of over USD 200m the city is set for continued growth of 8% per financial year
Electronics and IT industries account for almost 30% of economic output
Population: 14 million
300 Fortune 500 companies maintain a presence in Chengdu

 

As a major transport hub it will play a pivotal role in China's Belt and Road Initiative

 

The origins of paper currency began in Chengdu some 1000 years ago

 

Commonly referred to as the 'cultural capital' of China with a rich political and military history
Although Puntonghua is widely spoken, 'Sichuanese' is a local dialect often spoken amongst residents 

 

Early industry in the area revolved around agriculture and earning Chengdu the title of 'The Land of Abundance' 

 
Getting Around
Chengdu's public transport network is one of China's most efficient.  For example, you can reach our Pingan Finance Centre by Metro Line 2 at Chunxi Road Station. The  Didi App provides quick, easy and reliable private car services.
Where to Stay
Niccolo are a collection of chic and contemporary hotels at the most desirable addresses and their Chengdu branch is no exception. The hotel's award winning service and design makes it a perfect base during your visit to the city.  
Contact: +96 28 8220 8888 
Address: Tower 3, Chengdu IFS, No.1 Section 3, Hongxing Road, Jinjiang District, Chengdu 610021, China
The Temple House 
A distinctive and unique luxury hotel Chengdu, The Temple House is the perfect blend of traditional and modern design- a theme beautifully continues throughout the property. Superb bars, restaurants, state-of-the-art wellness facilities and unparalleled service are further complimented by its location in the Taikooli shopping district.  
Contact: +86 28 6636 9999 
Address: No.81 Bitieshi Street, Jinjiang District, Chengdu 610021, China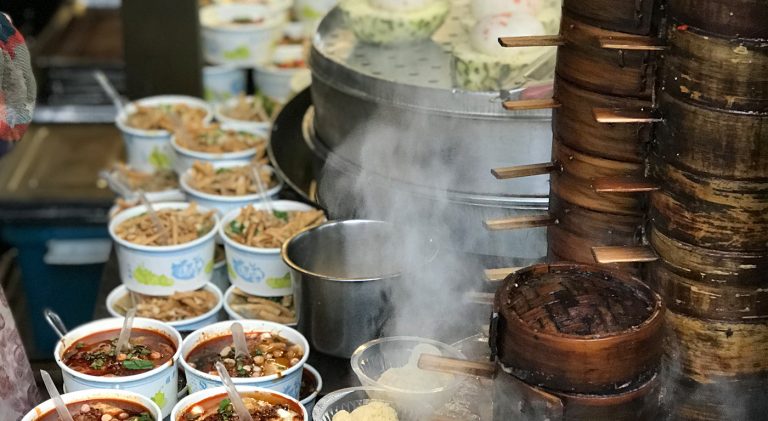 There is no shortage of delicious food to be found in Chengdu.
A Working Lunch
Exceptional all-day dining with French Bistro cuisine and situated in The Temple House hotel, this café is the perfect stop for lunch or for mid-afternoon tea. 
Contact: +86 28 6297 4191
Opening Hours: 11:30am-9:30pm
Address: No.81 Bitieshi Street, Jingjiang Distrct, Chengdu, China
Best choice for a healthy lunch on the go. With an abundance of choices and delivery services available, Element Fresh is becoming a favourite in a city where a healthy lifestyle is an increasingly dominant trend.  
Address: No. 2332 2/F, Sino-Ocean Taikoo Li Chengdu, No.8 Zhongshamao Street, Jingjiang District, Chengdu, China Contact: +86 28 65953208
Opening Hours: 10:00am-10:00pm 
Freshly made juices, pastries and artisanal breads that can be enjoyed in their relaxed atmosphere, both inside or outside.  
Address: No.1345 Taikooli, Shamao Street, Jingjiang District, Chengdu, China
Contact: +86 28 8652 3176
Opening Hours: 08:00am-10:00pm 
A Client Dinner
Famous for its authentic Sichuanese food, the food is light, fresh and they offer a wide array of local delicacies. They famously see a queue outside their doors but trust us, the experience is worth the wait.
Address: No.1 East Kangshi Street, Dacisi, Chengdu, China
Contact: + 86 28 6423 1923
Opening Hours: Lunch 11:30am-2:30pm / Dinner 5:00pm-8:00pm 
This is one of Chengdu's best known hotpot spots. Their custom 9 compartmented pot has become an iconic design and encourages diners to cook their ordered items separately in each. 
Address: RenMin South Road 2nd Section, NanFu Street 53, Chengdu, China
Tel: +86 28 8299 6969
Opening Hours: 10:30am – 11:30pm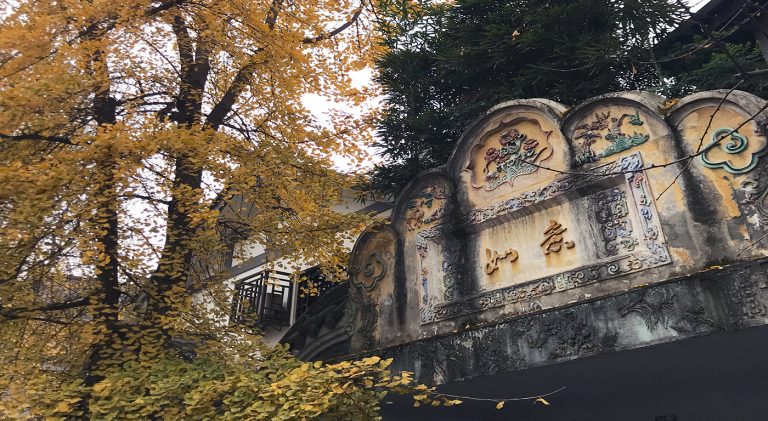 Exploring the city on foot is a great opportunity to see the evolution of Chengdu from historical centre to a thriving contemporary city. 
An Active Weekend
Jinsha Archaeological Site
A recently discovered archaeological site, Jinsha highlights the history of Chengdu. Various tools and art pieces from 3000 years ago shed light on daily life and customs. 
Address: No. 227, Qingyang Avenue, Jinniu District, Chengdu, China
Opening Hours: 8:00am-6:00pm
Note: Entrance Fee of RMB 80 (English guides are available with additional cost, advance booking is required) 
Just outside the city stands the world's largest Buddha providing a look into the strong Buddhist presence in the area. With its ears measuring an almost incomprehensible seven meters, the Buddha is carved into the mountain side and is in an area which is ideal for those who want to spend a few days in nature.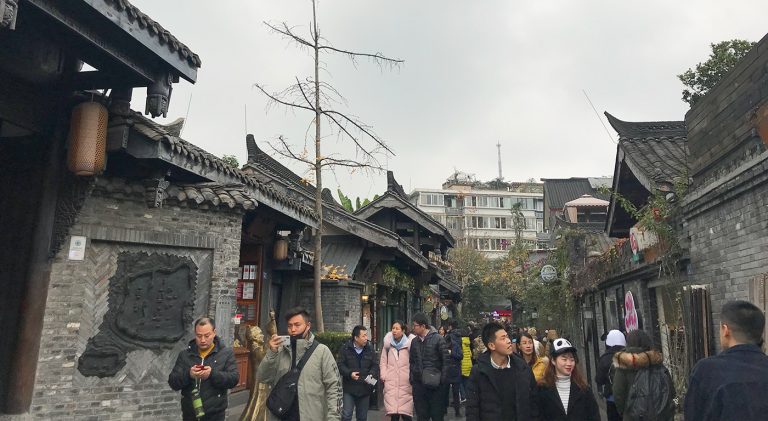 Wandering Chengdu's streets and alleys is a great way to see the vibrant history of the city.
A Cultural Weekend
One of three historical culture protection area of Chengdu, the area consists of three ancient streets situated parallel to one another: Kuan Alley, Zhai Alley, and Jing Alley. With authentic restaurants, local street food stalls, bars and traditional handicraft gift shops the beautifully restored facades and curated selection of shops is the epitome of Chengdu's charm.  
Address: Kuanzhai Alley, Qingyang District, Chendgu  
Best experienced at night, Chengdu is a great place to experience Sichuan Opera for first-timers. Shu Feng Ya Yun is the best in town and consists of a few short sketches across different genres with acrobatics, hand shadowing, face-changing, illusionists and even comedy taking centre stage.  
Address: 132 Qintai Rd, CaoTang CanYin YuLeQuan, Qingyang Qu, Chengdu Shi, Sichuan Sheng, China, 610072
Contact: +86 28 8611 1025 
Tea House Cultural Experience
Tea houses are an integral part of the city and can be found in temples, markets and hidden down alleyways. Feeling thirsty? Have a cup of tea at Shunxing Old Teahouse, an impressive and sprawling artistic complex. It combines the architecture of the Ming and Qing dynasties, featuring wood carvings, furniture, costumes and 'tea art'.  
Address: Wu Hou Qu Shi Ji Cheng Lu 166 Hao Xi Shu Lang Qiao, Chengdu
Contact: +86 28 8538 0007 
A museum that features both classical and modern art from the Sichuan region, entry is free for everyone. The architecture of the building is impressive and compliments the display of some of most exciting new talent alongside some of the region's most historically significant pieces.  
Address: 20 Renmin W Rd, LuoMaShi, Qingyang Qu, Chengdu Shi, Sichuan Sheng, China, 610015
Contact: +86 28 8663 6302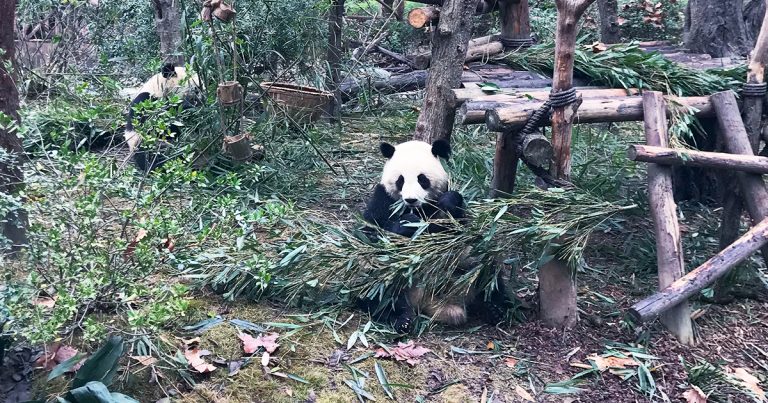 Chengdu is one of the best places in the world to see Giant Panda's up close. 
 A Family Weekend
Research Base of Giant Panda Breeding
This nonprofit, protection and education organisation specialises in researching and breeding endangered wildlife- specifically the Giant Panda. A species native to the mountains that surround Chendgu. The centre  is a leading research facility and houses the largest population of Giant Panda's anywhere in the world. Best visited in the colder months, roam around the park which mimics the natural habitat of the animals.   
Address: No. 1375, Xiongmao Avenue, Chenghua District, Chengdu, China
Opening Hours: 08:30am-06:00pm.
Note: Entrance Fee of RMB58 
A sprawling outdoor shopping experience, Taikoo Li is an award winning development. Taking inspiration from the temple which stood in its place a 4000 years before, the ceilings are modelled after those that topped the original temple, and the geometry of the design is sympathetic to the architecture that remains of the ancient structure. Take a walk through the temple or stop by The Abbaye for a drink and experience a bit of 'old' Chengdu while in the midst of its most modern concept.  
Address: 8 Middle Shamao St, ShuYuanJie, Jinjiang Qu, Chengdu Shi, Sichuan Sheng, China, 610000 
In China, the traditional 'shopping mall' has been elevated to new heights. The IFS has restaurants, an IMAX theatre and ice rink and features all the top international brands. Look out for the Giant Panda climbing onto the roof above Prada.  
Address: Chunxi Rd, ZongFu Lu ShangQuan, Chenghua, Chengdu Shi, Sichuan Sheng, China, 610000