The Executive Centre has been successfully operating as a flexible workspace provider for the last 25 years, growing our list of locations, the scope of our products and services and our Member base, that now extends from Australia, across Asia Pacific, China, South East Asia and the Middle East. During this time, we have seen our industry develop and change, shaped by economic and political factors as well as evolutions in terms of attitudes to work, organisational culture and work-life balance. One thing that has been a constant during all these changes has been our ability to thrive and grow during periods of relative instability or uncertainty. Now more than ever, The Executive Centre is poised to support all manner of industries and organisations with a diverse portfolio of locations and products that are designed to anticipate a new future of work, one that is increasingly agile and responsive to 21st century changes and challenges. 
A True Partnership
When a company or individual becomes a Member of The Executive Centre, they enter into a partnership that brings new opportunities for connection via our online and offline community initiatives, the chance to benefit from our rich digital ecosystem, and the ability to use multiple spaces and services in our Centres. In addition to these benefits, a membership with TEC means a shared responsibility for the risk that comes with taking on any sort of physical space.
As a flexible workspace provider we handle negotiations with the landlord or developer, we manage the relationship with contractors who fit out the space, we provide the professional team to manage all administrative functions in our Centres, and we are responsible for the upkeep and maintenance of our spaces on a day-to-day basis. Our Members can enjoy a fully functional space for a monthly, all-inclusive payment that considers the specific services and real estate that they use and nothing they don't. There is an ability to scale as needed in the case that headcount grows or contracts, meaning that there is never a need to take on more space than is ever required at any one time.
Ultimately, a flexible workspace operator like TEC functions as a partner, and we see ourselves very much as an involved and reciprocal agent in the trajectory of the businesses that call our Centres 'home'.
Our Private Offices give Members a secure and confidential space to manage their own operations, secure in the knowledge that they are supported by one of the largest and most successful flexible workspace operators in Asia.
Stakeholder Involvement
As the physical aspects of a workspace have evolved, so too has the network of people involved in the management and maintenance of the space. Landlords are taking a much more involved approach in the operational aspects of buildings and in their relationship with operators like TEC. When thinking about risk in terms of building security, a close and active relationship with a landlord means that Members are always informed of up to the minute developments and arrangements in our Centres. Involving landlords and other key stakeholders in the day-to-day functioning of our spaces means that Members are less exposed to the risks that often times smaller tenants face when it comes to being involved in high level decision making.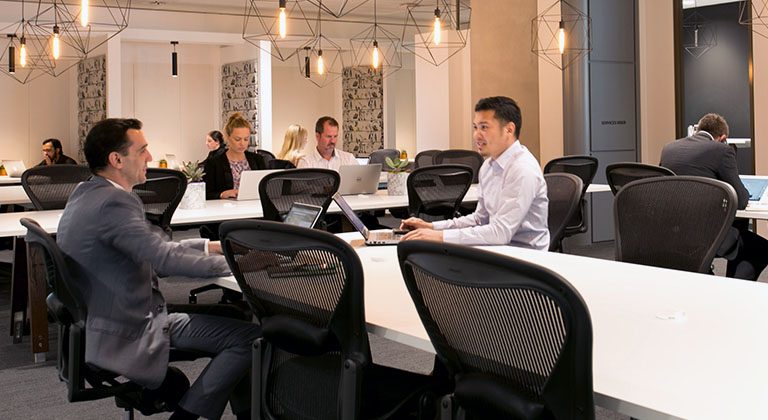 Coworking as a concept has enjoyed huge popularity of late. It's a great way for small organisations and entrepreneurs to connect with a network of more established professionals without the risk of taking expensive real estate as part of a traditional lease agreement. 
High Tech Defence
When thinking of risk management, it is impossible to ignore the technological aspects of the conversation. Given that so much of our personal and professional lives are lived online, it is essential that businesses make every effort to secure both their own data and that of their customers. The Executive Centre takes cyber security very seriously, and we have IT Managers onsite in all cities to ensure that our Members are supported in both the daily running of their businesses but also in the case of a serious emergency. When developing bespoke or Enterprise spaces, we work with Members to manage even the most stringent IT security requirements from secure and private server rooms to custom cabling.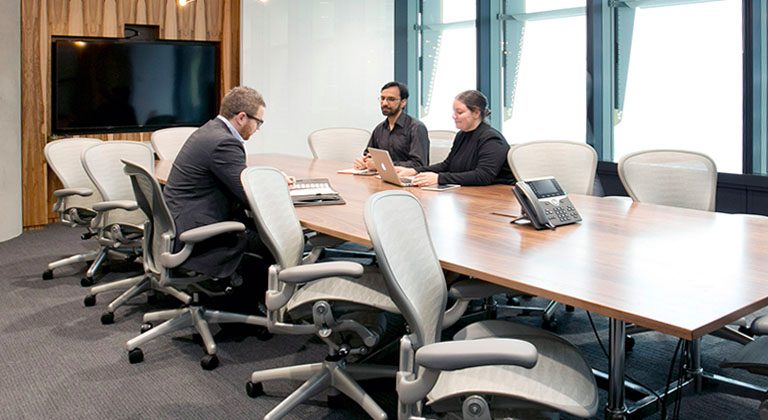 TEC manages Meeting Rooms in most Centres that can be booked by both Members and non-Members alike. This means that there is no need to pay for space when it isn't being used. It also means that we are responsible for maintaining and updating the technological infrastructure in these rooms which we do regularly. 
Risk management is a concept that extends well beyond the considerations of maintaining a safe and robust physical space. If your organisation manages multiple office locations, there should be close conversation between HQ and regional outposts about perceived risks and local management of these issues. Risk is a fluid concept and situations can change rapidly. This means that there will be a need for regular internal workshops and 'check-ins' to assess how teams respond to developing situations. When it comes to responding to risk, there should be training and education on decision making processes because most situations will require nuance and understanding rather than a memorised response.
Ultimately, as a flexible workspace partner, TEC can help mitigate many of the risk factors that come with a traditional lease. We view our relationship with our Members as a true partnership and we are proud to support our network with secure and transparent solutions that allow them to scale efficiently and run their businesses with complete confidence.