As the year comes to a close, we are taking time to reflect on what has been a busy 12 months of growth, connection and collaboration. With a rapidly expanding network and several industry awards, 2018 has been a challenging and rewarding period for both our team, our Members and our industry. This period of reflection also gives us the opportunity to look ahead. We are excited for new opportunities in 2019,  and our positive and progressive approach to the new year is an opportunity to capitalise on our current upward momentum. Here are just some of the highlights we will be carrying into the new year.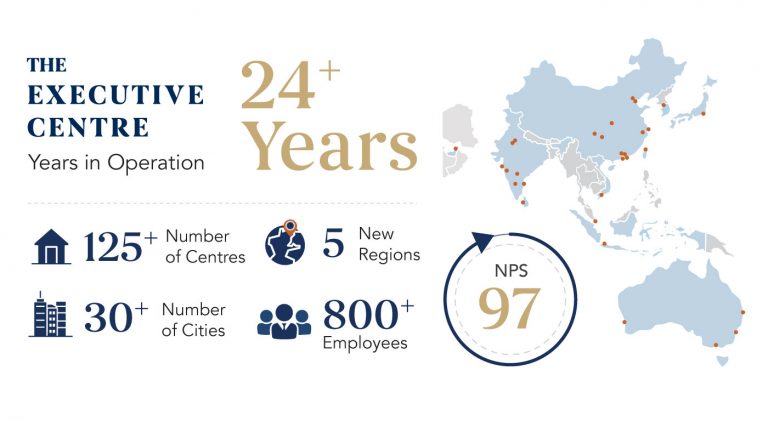 From a Distance
We are closing the year with some exceptional numbers that demonstrate not only our growth, but also our position in an increasingly competitive market. We have always maintained that understanding and serving our Members is key to all that we do. With our growth in 2018, we have not compromised on any aspect of this service commitment. Our Net Promoter Score of 97 sits alongside the likes of Google, Amazon and Mercedes. Our approach to expansion has been a strategy of demand driven development in both new and existing markets. We have maintained a standout presence in the best buildings in Asia Pacific, expanded to markets including Dubai, Ho Chi Minh City and soon, Melbourne and Xi'an to further cement our status as a leading premium office provider.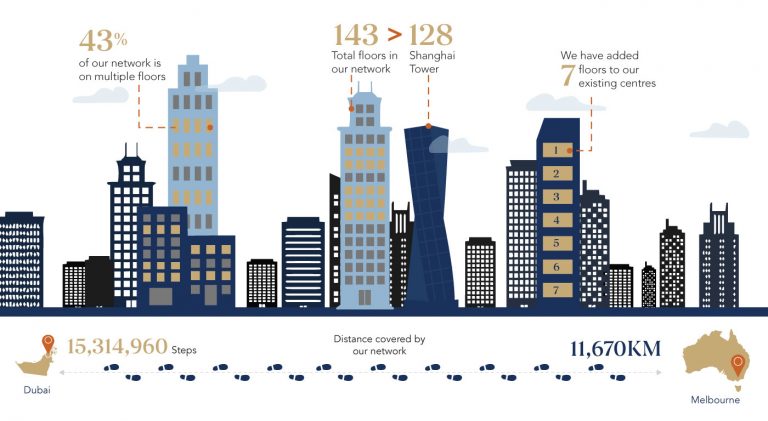 Our Evolution
Part of our ethos is constant innovation and evolution, and actively responding to the changing needs and expectations of our Members. Identifying prime locations and working with the most prestigious developments has meant we naturally attract reputable and highly distinguished Members. Beyond this is our own design ethos, both exceptional infrastructure and best-in-class interior design. These elements work in tandem to establish the foundations of the TEC Member experience. By continuing to work with design partners such as Timothy Oulton, Herman Miller and 9AM, we have been able to further understand and innovate way that our Members use our spaces. Our approach to design has resulted in several award-winning projects and recognition for interior design and overall office development.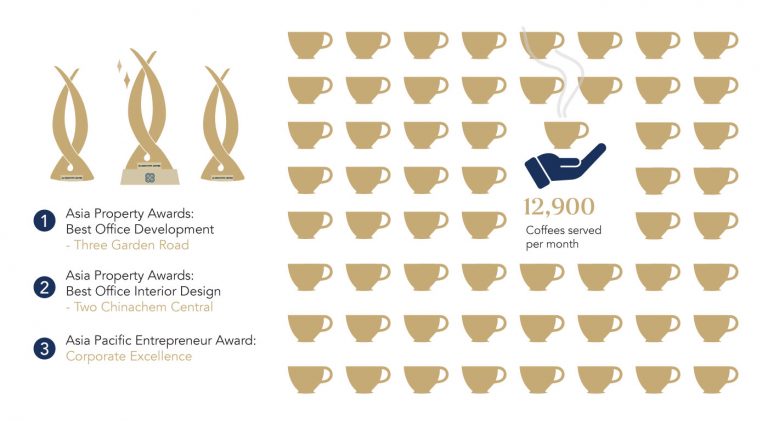 Our Network
The launch of our online community platform early in 2018 set the tone for what was to come throughout the remainder of the year. Covering professional events, social gatherings, online discussion, exclusive Member benefits, TEC Community developed into a cornerstone of our in-centre and online experience. Connecting with our Members is a vital part of TEC, but beyond this, facilitating connections between our Members, whether on a local or global scale has become a defining element of our offering. We have responded to the demand for connection and collaboration through the inclusion of in-house baristas and coffee bars in our central spaces, the popularity of which is articulated in the sheer volume of coffees we serve to Members each month.
This year we:
Held 360+ events across all regions
Covered topics like Customs & Tax, Global Mobility, HR Recruitment, Real Estate Outlook, Work-Life Balance, Mental Health, Women in Leadership and more
Connected Members through social and networking gatherings, B2B Networking, Fitness, Health & Wellness, Holiday and Cultural Celebrations
Worked with more than 150 community partners including AmCham, Britcham, Austcham, Babson Alumni Group, University of Hong Kong, Chinese University of Hong Kong, Make-A-Wish, Shared Value Project, Deloitte, Startup Grid, FitFam, Nespresso, Jabra, Bookings.com and more
Offered our Members more than 100 Benefits including Luxury Hotel Groups, Fitness Centres, F&B Outlets, and Business Services in all regions
Our Online Forum had:
59,000 user visits (averaging about 300 user visits per day)
4,650 user signups (3,900 TEC members plus employees)
1,850 topics created
11,000 comments and replies
64,000 likes given
Our Future
We are proud of all we have achieved in 2018, and of all our network has achieved. Looking ahead to 2019 we will continue to grow, to expand where our Members needs us, where we see the potential for our industry to grow and where we see unique opportunities to establish market leading centres. We will continue to innovate design, maintain our Member-centric outlook and support our community like family. In 2019 we will be stronger together as we celebrate 25 years of The Executive Centre as #yourspaceforsuccess.