The true significance and relevance a breakout space might be overlooked by some when it comes to designing and developing a workspace. Essentially, the breakout area provides space for crucial social interactions and are fundamental for helping us learn and remain engaged at our jobs. When these spaces are designed correctly, socialising in a work environment can foster professional, mutually beneficial relationships and connections that would be difficult to replicate otherwise. A report by JLL describes how office design can have a major impact on social wellbeing. Large, open spaces designed specifically for social interaction have become typical among many office providers, often with some kind of 'watering hole' acting as the focal point of the space. Not only is social interaction key to our wellbeing as individuals, social spaces can prompt similar effects among colleagues and professional organisations. 
Our 25 years of experience and new industry research have shown that social spaces are a hugely important element of workspace design. In all our new Centres and our ongoing renovations of older Executive Centres we prioritise community lounges and breakout areas. These spaces support better work, easier collaboration FastCompany explains, "Workplaces that facilitate more frequent and higher-quality contact with others have been shown to have improved communication and collaboration on tasks, job satisfaction, and social support." In this article, we will explore the necessary components of social spaces in the workplace, analysing their benefits and unpacking TEC's evolving role in facilitating connection, community and wellbeing at work.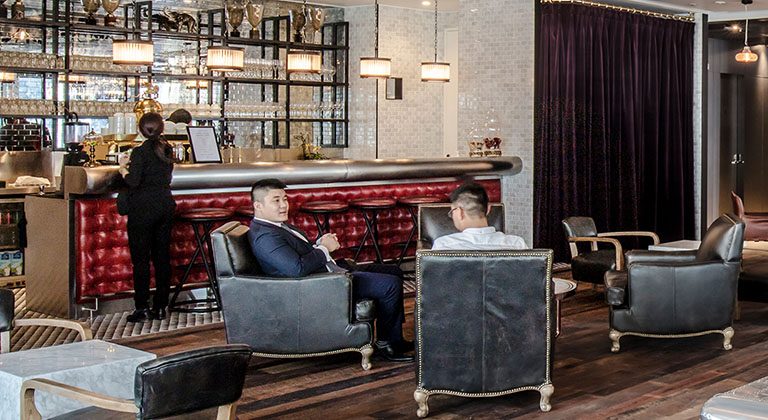 Members enjoying our lounge space at Two Chinachem Central in Hong Kong. 
Social Spaces at Work, What do the Numbers Say?
Form and Function
Sociologist Ray Oldenburg outlined the 'third space' as a place where people choose to spend their time outside of their first and second place – the home and the office respectively. Since making this distinction in 1989, urban planners, architects and designers have adopted this lexicon to justify the concept of an in-built communal space.The concept is intended to facilitate connection, create a healthy balanced environment, support collaborative efforts and increase social wellbeing. Office design quickly followed suit in adopting this 'third space' concept, and we saw the end of the cubicle era and the beginning of the foosball phenomenon.The shared workspace has become a symbol for progressive and proactive organisations. Social spaces, breakout areas and collaborative zones have for many, been regarded as innovations in office design that simply exercised a 'progress for progresses sake' attitude, as cautioned by the Harvard Business Review.
In recent years, changing expectations about work and workspaces have transformed the way offices look and perform. Shared workspaces are a trend which continues to gain popularity amongst professionals and are driven by overarching movementssuch as globalisation and technological innovation, encouraginga more mobile and flexible workforce. Understanding why there is such a rapidly changing work culture, implies that where we work needs to adapt to keep pace.The effectiveness of these spaces was, and is, greatly dependent on accurately addressing the needs of an increasingly discerning client.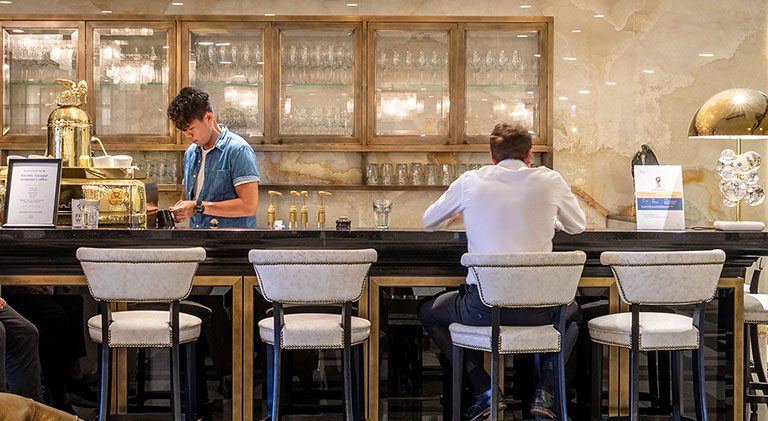 Our barista bars, like this one at our Three Garden Road Centre in Hong Kong, are a way of encouraging Members to discover the social and networking possibilities of a shared space. 
Advantage in Anticipation
When TEC first entered the market 25 years ago, our dedicated workspaces focused on the personal aspect of the office space. The early versions of these social spaces in our Centres served a secondary function, at least in the eyes of our Members. Over time, these areas became an increasingly attractive asset, becoming natural points of confluence for Members. Thischange in behaviour informed the future of our design – large centralised spaces which supported the increasing sense of mobility throughout the workspace. Having anticipated this evolution in the industry, TEC is ideally positioned to adapt to changing demands and expectations. Our approach to design celebrates a newfound appreciation of the benefits a social space can present to modern corporates.
A Step Ahead
Over the years, many flexible workspace providers have recognised the advantage that comes with including environments that allow their clients to easily interact and provide the opportunity to foster valuable connections. At TEC, our 'third space' goes a step further. Larger spaces with more power outlets, long tables and a coffee bar staffed with a professional barista are the norm for TEC.Involving best practices in social ergonomics, these elements reconcile the disconnect between a space and the needs of its user. The development of our social areas is a direct reflection of how our Members use them. They are designed to help convey an image of impressive professionalism and sophisticated intelligence. Although foot traffic is inevitably higher in areas with a multi-use functionality, these spaces maintain a highly productive climate. All of this is amplified by a high concept design, including TEC signatures such as Timothy Oulton furnishings and full-service barista bars.
The Barista Effect
The breakout area is a highly valuable tool for Members, but there is one aspect of added importance in the space – our baristas and the bars they manage. According to a report cited by Workplace Insight, coffee tops the list of most important office additions for reasons that have become obvious to us. Although undoubtedly still part of a professional environment, our barista's have demonstrated the way a well-structured, thoughtfully designed social space can support the work of all manner of professionals. Social spaces and the effect of the barista;
An outlet for those who simply need a break from their routine
The luxury of exceptional service and a unique point of distinction
A source of energy  and point of revitalisation
An inimitable and reliant human-element
Within the first days of becoming a part of the TEC community, barista's know Members by name and how and when they take their coffee. All our baristas are highly qualified and are acutely aware of the role they play in the TEC experience and community.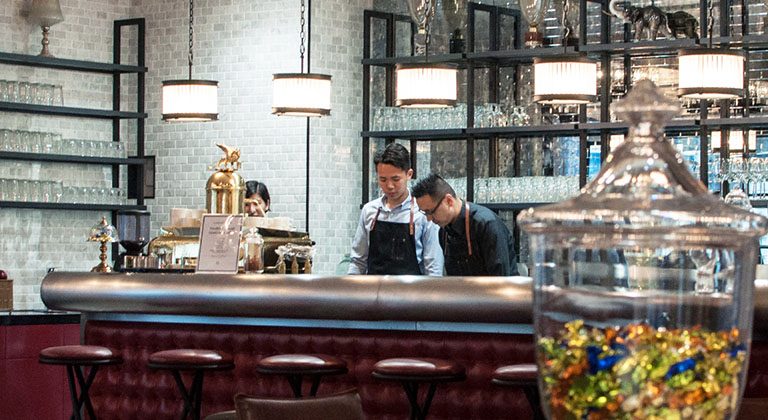 One of our baristas at work in The Executive Centre.  Central to the TEC ethos is our human approach to global business and modern corporate culture. A unique mix of quality infrastructure and a keen understanding of the contemporary professional dictates the TEC experience- an experience supported by the design of our breakout areas. These collaborative spaces demonstrate the full-circle effect of what a third space can and should be. Breakout areas are more than a space to work collaboratively or to connect with fellow professionals, they signal the end of the divisive work-life paradigm and the future of work.