Equality, diversity and inclusion at work are powerful tools that can uplift not only team culture, but the overall performance of an organisation. Traditionally, the workplace was an environment that did not necessarily support or encourage gender parity. Thankfully, in 2019, we are witnessing an evolution in corporate culture that, while still imperfect, is certainly changing for the better. In celebration of International Women's Day, we're exploring ways to better encourage equality and accountability by empowering accomplished female leaders from within our team to share their stories.
Recent research by LeanIn.org and McKinsey & Co. revealed that despite a movement towards equal opportunities for both genders, women are still less likely to be hired into management roles, and even less likely to be promoted into them. While women hold just 38% of all management positions worldwide, DDI's Global Leadership Forecast asserts that organisations who practice greater diversity are:
2X more likely to have their leaders work together to create new solutions and opportunities
1.5X more likely to work across an organisation's silos and exhibit a growth culture
1.7X more likely to have strong leadership
Contribute to these companies being 1.4X more likely to have sustained profitable growth
Bottom lines are at the heart of good business decisions and data has shown repeatedly that diverse teams help generate better revenues. Certainly, we should acknowledge progress, but data from LeanIn.org and McKinsey's Women in the Workplace 2018 Report indicates that the number of women in leadership positions will increase by just 1% over the coming decade.
International Women's Day is celebrated each year on March 8 and is an opportunity to acknowledge the social, economic, cultural and political achievements of women the world over. The very first 'Women's Day' was held on February 28, 1909 in New York, but since 1910, March 8 has been adopted as an international day of celebration. The day was officially recognised by the United Nations in 1975, and since this time the scale and breadth of celebrations have grown. The theme for this year's celebration is #balanceforbetter and it encourages actionable steps to address the inequalities experienced by women in all aspects of life.
At The Executive Centre, our approach to building and managing teams has always been one that seeks to nurture and uplift talent from within. This International Women's Day, we are talking to the Managing Directors of all our key regions. These are successful businesswomen, respected leaders and invaluable assets to our TEC team. We discussed their challenges, their successes and any advice to leaders navigating the contemporary corporate landscape.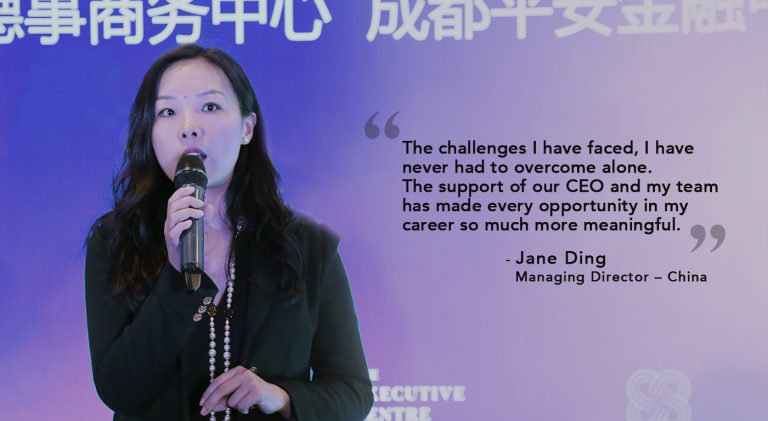 Jane Ding – Managing Director – China
A Defining Career Moment
"I joined TEC back in early 2009 as Head of Business Development in Beijing. It was the first time in my career that I, being quite young, was trusted and given a leadership position in a very tough and competitive market- all this during the global financial crisis and with Beijing being a new market for me too. I was given the authority to reform team structure, hire and build a new business development team, implement new business development and sales strategies and reset KPIs. All measures taken were highly effective, resulting in huge improvements for the city. Within 2 years I was then promoted to Beijing City Head and progressed to managing the city at up to 45% EBITDA margin before I moved on to my next career step as Regional Director.
I feel that I am the perfect example of TEC's culture – they recognise talent and demonstrate a 'promote from within' approach. I have grown and developed my career path along with TEC's growing business in China. The challenges I have faced, I have never had to overcome alone, and the support of our CEO and my team has made every opportunity in my career so much more meaningful."
Making Your Voice Heard
"Never underestimate the impact of eye contact. Also, listening respectfully is just as important as putting forward your own opinions. Take the time to understand what the various agendas may be and address these with relevant, logical and straight forward contributions."
Impact of TEC
"First and foremost, my efforts and performance are always recognised and I feel there is an underlying respect between myself, my superiors and my team. Being given so many opportunities within TEC's different markets gave me an appreciation for the different teams, their culture and their unique business sensibilities. Having the ability to then combine all that I had learned and make an impact keeps the work interesting, challenging and never ceases to provide me with the chance to further develop myself and my skills."
The Challenges of Leadership
"Managing people is easily the most challenging part of being a leader. I need to understand the nuances in each of the work cultures across the different markets and get to know the dynamics of each team. I find that the best way to approach this is to have a genuine and continued desire to hear their voices and respect each of their unique insights. It's important to learn about people's strengths and weaknesses to know how best to support them. It may sound complicated, but this is how I work with my team, with every team. Making tough decisions is part of the job and being able to react decisively in ways that will benefit the company and the team are important. Micromanagement doesn't work, especially within TEC. We hire intelligent, highly capable people and holding the team accountable while offering the right environment to thrive is key."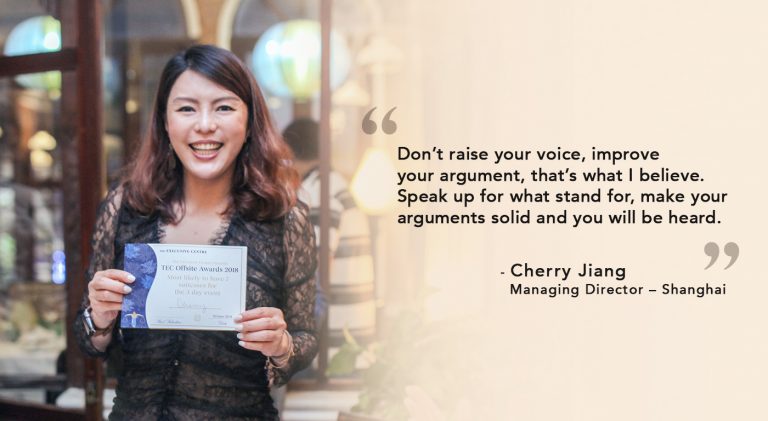 Cherry Jiang – Managing Director – Shanghai
A Defining Career Moment
"2018 marked my 10th year with TEC and it strikes me how much I've grown together with TEC and how far we've both come. I feel so proud to be part of a company that values women and encourages female leadership."
Making Your Voice Heard
"Don't raise your voice, improve your argument – that's what I believe. Speak up for what you stand for, make your arguments solid and you will be heard."=
First Impressions
"Understanding your business operations and your customers, and having conviction in your abilities is vital. Treating everyone with the respect is the most important thing to remember, not just in business, but in every aspect of your life. Practicing respect has a habit of coming full circle."
Impact of TEC
"When I first joined TEC we only had a small number of Centres in Shanghai. Today TEC Shanghai has expanded to 15 centres across Pudong and Puxi. As the market has evolved, so has my knowledge of the industry and my understanding of our customers' needs, which make me a better manager and leader."
The Challenges of Leadership
"Being a leader is about delivering results for the company that draws on the strengths of your team, leveraging the assets of your organisation, and constantly looking for new business opportunities. There is a huge amount of responsibility involved which some may find daunting, but in order to be a good leader you must embrace this. I am proactive in learning and am constantly improving, reflecting on my way of thinking, acting and reacting."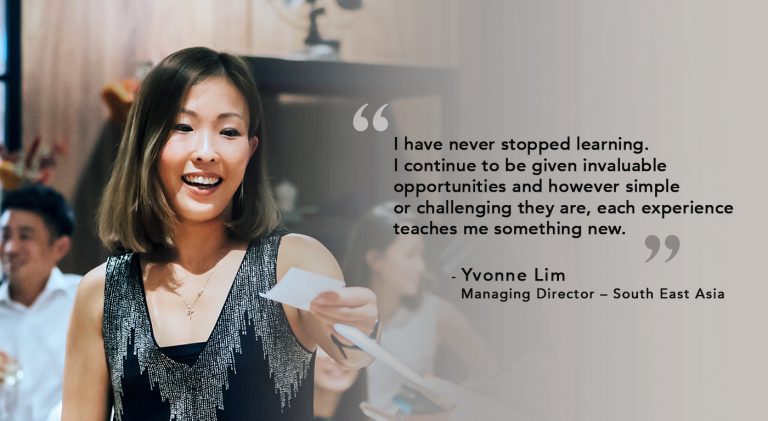 Yvonne Lim – Managing Director – South East Asia
A Defining Career Moment
"I started with TEC in 2008 as a Business Development Manager, a role very similar to all my past experiences. As I progressed with TEC, I was given the opportunity to lead the entire Singapore team. This was the first really big step in my career. Shortly after, I was given the regional role and in hindsight, this was an even bigger step! Taking over management of our operations in Australia, starting in Brisbane with control of site visits, floor-plate planning, building and training a team, and launching pre-sales. This then led to an opportunity to open TEC Perth as well as adding Jakarta and Sydney to my management portfolio. The regional role gave me exposure to learn the cultural and compliance differences that impact the business, and in turn, provided me with the ability to adapt to the each of the regional teams that vary so much from city to city."
Making Your Voice Heard
"Listen. Let them speak. Take note on their points and understand their agenda. After they are done, address their points clearly and provide a clear description of your own agenda."
First Impressions
"Professionalism, a firm handshake and a smile. Don't be afraid to let your personality show."
Impact of TEC
"I have grown and matured alongside TEC. When I first joined 11 years ago, we had 24 centres and now we are at 125 and counting. I have never stopped learning. I continue to be given invaluable opportunities and however simple or challenging they are, each experience teaches me something new. Our CEO gave the team and myself the care we needed to develop us in our roles, and I am deeply appreciative of my role with this company."
The Challenges of Leadership
"Managing individual expectations and talent retention are definitely my biggest challenges. I need to be constantly engaging with the various teams from across the regions I manage. Showing appreciation, acknowledging their work and trusting them with new projects has been for me, the most effective way to motivate them."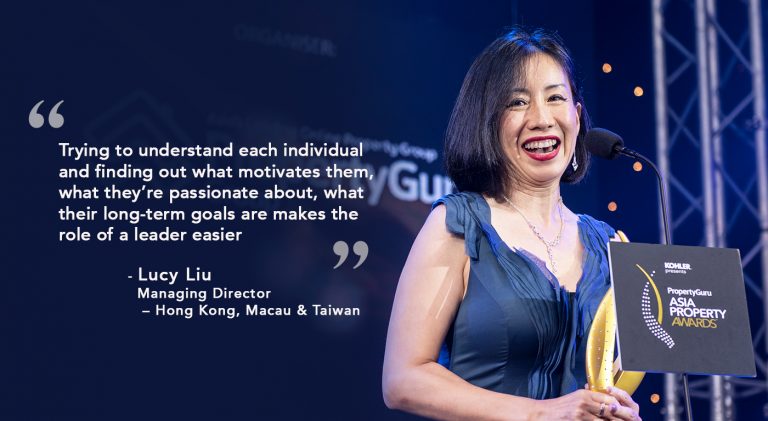 Lucy Liu – Managing Director – Hong Kong, Macau and Taiwan
Making Your Voice Heard
"If you aren't being listened to, take a break and start again. It is crucial to maintain the flow of a meeting, however, making a relevant, concise and thoughtful point is more effective than back and forth disagreements. Be sure that you are really listening to everyone as much as you would hope they listen to you."
First Impressions
"Professionalism and confidence… and a smile never goes astray. A warm greeting can often promote constructive dialogue which automatically sets the tone for the meeting or interview."
Impact of TEC
"I have been working with TEC for 14 years and gained almost all my international working experience and management skills from the company. The opportunities I have been given at TEC have made me who I am today, both as a leader and as a person."
The Challenges of Leadership
"Talent management is everything! Human relationships are the most difficult things to handle and can sometimes be the most unpredictable and volatile, perhaps thanks to a gap in expectations. I can't say that I am truly an expert at this, nor will I ever be, it is an ongoing and never-ending process. Everyone is different and we all respond to a slightly different style of management. Trying to understand each individual and finding out what motivates them, what they're passionate about, what their long-term goals are makes the role of a manager easier. At the end of the day, your bottom line reflects this too."