Standing desks are not a new development in the workplace. However, as conversations about wellbeing at work gain prominence, and as technology continues to drive innovation, a seemingly simple piece of furniture is becoming increasingly mainstream. It is clear that gradual, small and incremental changes to our habits at work and elsewhere have the capacity to collectively change our overall physical and mental health. Given that good health in turn promotes improved performance, there is plenty to be gained from small changes in behaviour. Standing desks, or sit-to-stand desks, are key to bridging the social and physical ergonomics of a workspace and ultimately creating an environment of holistic wellbeing.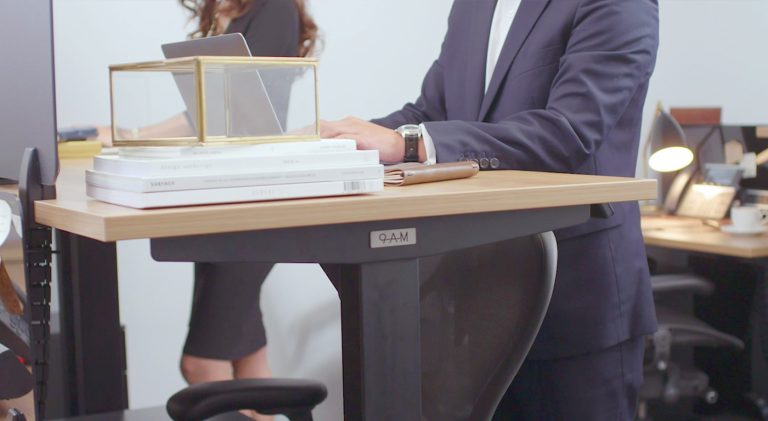 TEC is proud to support Members with height-adjustable standing desks by 9AM.
Workplace Wellness and Ergonomic Principles
To most of us, our desk is an anchor and a home base. It's a place where we spend the majority of our work day – usually seated. It is this point that gives us an opportunity to understand how and why standing to work can support wellbeing. When the body is sedentary, there are multiple physical and mental detriments. It is impractical to assess workplace wellness without regarding all physical, social and cognitive ergonomics, according to Oliver Baxter, Insight Programme Manager for ergonomic furniture design firm, Herman Miller. TEC's relationship with design partners such as Herman Miller is founded on a shared understanding that workplace wellness supports both increased efficiency and satisfaction, which in turn contributes to both the quality of work and the company culture. Globally, 88% of organisationswho currently operate a wellness program rated their initiatives as somewhat or very effective in improving employee health. However, the fact remains that 3.2 billion workers are becoming increasingly unwell. As corporate culture evolves, the expectation of where, when and how we want to work is evolving too. The contemporary workplace is increasingly mobile, a direct response to expectations from young people who want to work in the same ways that they socialise. TEC Global Marketing Director, Chelsea Perino explains, "Competition for talent and the need to increase efficiency are driving corporations to seek desirable and collaborative workspaces for their teams. We are no longer tied to offices and cubicles." Standing desks can help relieve the physical strains caused by a more traditional office setup. They can also stimulate productivity and help to foster closer collaboration and openness among teams. 
The Standing Argument 
With 360 joints and 370 skeletal muscles, our bodies aren't designed for a sedentary existence. Our energy levels are dependent upon our body's movement and the circulation of blood to muscles and organs. Common complaints in the office like back pain, muscle soreness, swelling, fatigue and lethargy can often be attributed, at least in part, to our reliance on our office chair. The Centre for Active Design reported that an impressive 65% of sit-stand participants reported greater productivity. When decreasing the number of hours spent sitting per day by an average of 12%, an estimated 61% reported that a sit-to-stand desk improved their health outside the workplace. Studies like 'Effectiveness of the Stand More AT (SMArT) Work intervention' published in the British Medical Journal cite that standing desks helped individuals move more, feel stronger and more limber while experiencing reduced pain in muscles, joints, and back, with more energy and a greater awareness of their standing posture. They have also been proven to decrease the risk of cardiovascular disease, improve organ function and can help relieve diabetic symptoms.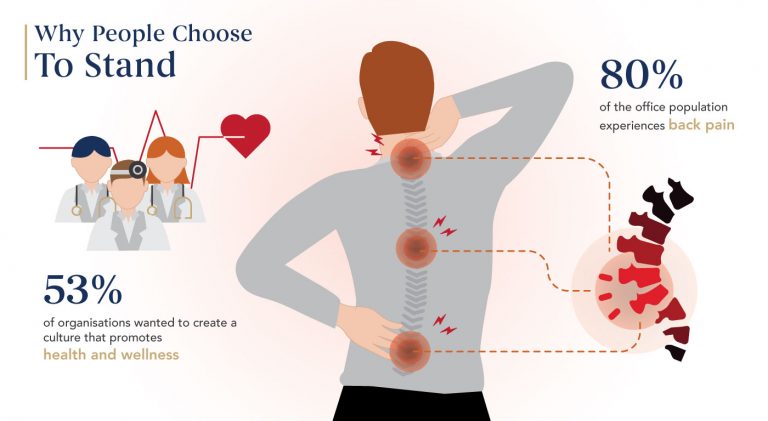 Standing Versus Sitting 
There is some debate as to whether making the switch to standing 'full time' serves its intended purpose of providing a healthier alternative to sitting. While sitting for extended periods of time can create stress on major muscle groups and reduce optimum physical functions, so too can standing. In fact, sitting is a necessary practice in the body's recovery process.  While investigating the effects of standing over an extended 2-hour period, a study published in the journal 'Ergonomics' shows increased discomfort and decreased cognitive function, along with muscle fatigue and lower limb swelling. Physical discomfort also showed correlation to a deteriorating mental state. Participants in the study showed reduced ability to concentrate and slower reaction times, however they simultaneously displayed improved creative problem-solving. The ergonomics of sitting have been examined to in the most minute detail. Designs such as the Herman Miller Aeron Classichave revolutionised the office chair game and are best supported by a combination sit-stand working practice. Considering the relationship between physical and cognitive wellbeing, the body and mind cannot function when restricted to one position. 
"I'm always fiddling with the adjustable height and I think it's absolutely brilliant. I'm so happy that TEC are actually encouraging people to work ergonomically. When you are offered a highly intelligent chair and a height-adjustable desk then this changes your expectation and changes your understanding of how you want to work. I think working in this environment is great. It's a healthy environment because you have been given these choices."
– Fiona Hardie, Fiona Hardie ID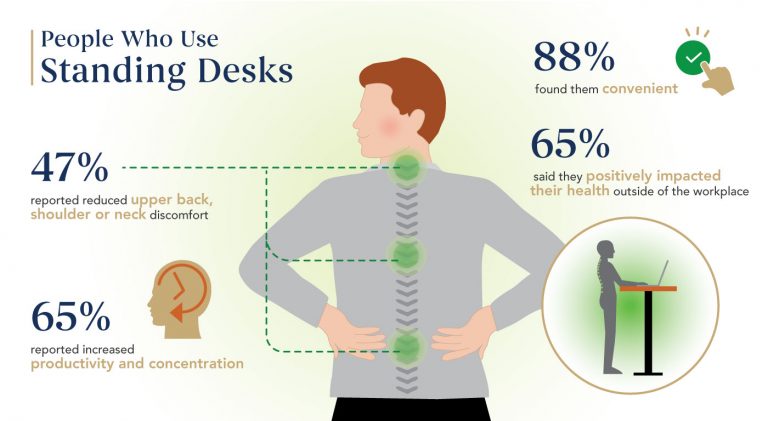 The Ultimate Desk by 9AM 
The very nature of workplace wellness means that it is essential for employers, designers, architects and flex providers like TEC to continually update, revise and refresh the status quo. With our Members at the core of our company and its decisions, the return on investment from infrastructure such as standing desks is invaluable. The humble work desk has undergone a transformative journey, a journey which Beijing based technology company 9AM have spearheaded over the last several years. We wanted to find the right partner for this undertaking, one who understood not only the technology, but also someone who would take ownership of research, concept and with design. 9AM focus on transforming the traditional, and do that by making the workspace a smarter conduit for productivity. Business Development Manager for 9AM Alex Hu says, "With the help of technology, we believe that a well-designed space should not only provide a place to work, but also inspire and energise people when they're working." Incorporating sit-to-stand desks are a proven and intuitive solution to the problems associated with sitting too much and TEC are proud to support Members with this technology from 9AM.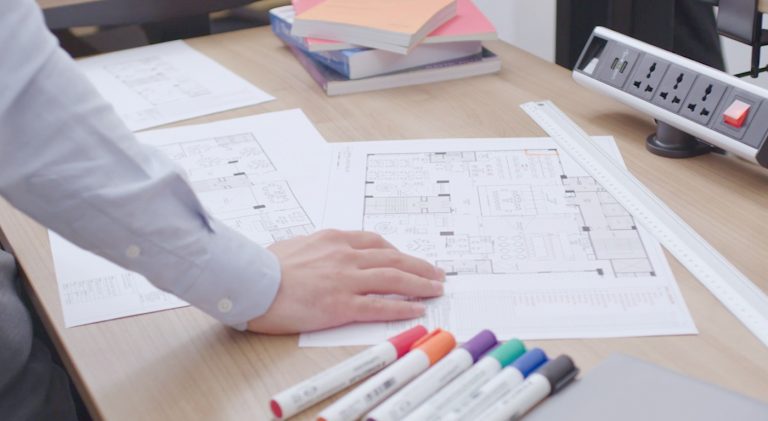 A standing desk gives end users the freedom to work in a way that is comfortable and convenient for them.
The Takeaway 
Standing desks, although an important component of the modern workplace, are only part of the equation. Creating positive habits by making multiple and incremental changes, with the mindset of providing a holistic, healthy and sustainable work environment will ultimately lead to long-term change.
Be mindful of posture and equip yourself with the tools needed to support the body's natural position.
Get up frequently to encourage healthy blood flow and energise the body and mind.
Set and execute chaptered tasks within a limited time period.
Educate yourself on stretches you can perform both when seated and standing to help relieve stresses and pressure.
The most significant change you can make is creating a habit which enforces regular changes from sitting to standing. Sitting and standing are understood to be ideally effective in 30-minute sessions. In some cases, office workers are hesitant to adopt standing desks purely because they prefer to sit during more cognitively challenging work. However, if managed correctly, allotting time for administrative tasks – replying to emails, taking calls or hosting casual meetings while using a standing desk can prove to be hugely beneficial for both wellbeing and output.