As Associate Director with our Service Leadership Team for North APAC, Joanne Hay has been working in the Flex and Serviced Office industry for over 10 years. In this interview she shares her considerable expertise on creating exceptional leaders, dynamic teams and self sufficient individuals. On August 24 at our Shanghai BEA Tower centre Joanne will present at a 'Lunch and Learn' Seminar where she will elaborate on this information. We look forward to seeing you there. 
Can you tell us who you are and a little about your experience as a coach and in the Flexible Workspace industry?  
My name is Joanne Hay and I was born and raised in Hong Kong. I went to secondary school in Belfast, Northern Ireland and then went to university and worked a few years in Edmonton, Canada before coming back to Hong Kong. I have been working in the Flexible and Serviced Office industry for over 10 years. My experience lies in coaching, leadership training and development, in addition to sales and operations. 
What you do at TEC and who do you work with?

 
I am an Associate Director with our Service Leadership Team looking after the North Asia Pacific region. Our teams focus on driving service revenue, elevating service standards and leadership development. I work very closely with Operations Heads in North APAC and I also work with our Managing Directors as well as all departments at our Global HQ. 
I'm an Associate Certified Coach accredited by the International Coach Federation and I offer one-on-one coaching to all TEC locations, working with everyone from Operations, Accounts and Business Development teams to develop business skills, performance, leadership and life skills – the list goes on! 
Is there such a thing as a typical day for you? What does that look like?

 
To be honest, every day is different. Some days I'm a coach, some days I'm a trainer, on others I'm a mentor and a cheerleader. I tend to spend a lot of my day on the phone supporting our leaders across the network on general leadership issues and advising them on team conflicts. I can also be found meeting with people for one-to-one coaching or projects that involve collaboration with various departments.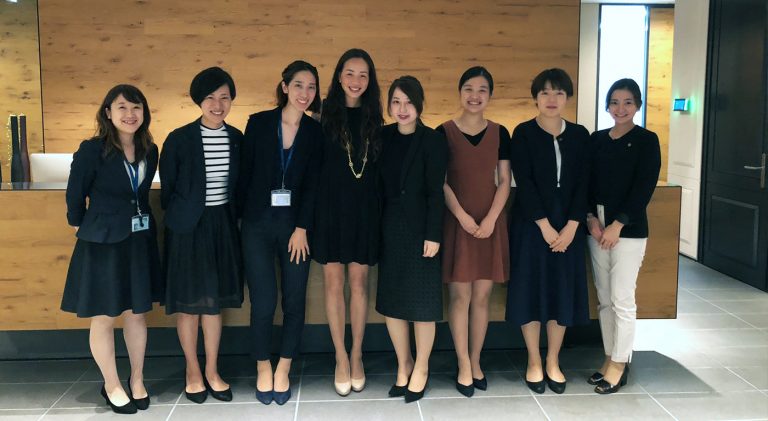 Joanne regularly travels throughout our network to work with our regional teams in-person. She recently spent time with our Taipei team following the opening of our new centre at Taipei Nanshan Plaza.
What about 'The Power of Shut Up' really resonated with you as a coach and what do you think we can all learn from this philosophy?

 
The 'power of shut up' is key to being a good coach and a great leader. The main role of a coach is to help clients reach their goals through thought-provoking questions and structured conversations. It is not a coach's job to provide answers. In fact, it goes completely against our code of ethics as per ICF regulations to do this.  
I think this philosophy applies to every role I play in life.  Before becoming a coach, I always thought that a leader must have all the answers, when the reality is that we don't. I used to feel embarrassed or anxious when faced with problems I could not resolve alone. After learning the 'power of shut up', I realised as a leader, my job is to help my teams learn to find their own way. By solving their problems for them, I'm taking away their chance to learn and grow. Everyone has their own way of learning and problem solving and what works for me may not work for someone else. I've learned that giving advice can actually backfire! 
Equally, as a friend, I found the 'power of shut up' has helped me become a better listener.  Most people already know what they want and how to handle a particular situations, they are only looking for some form of external validation. Your opinion doesn't really matter much at all. The best course of action is to listen and to understand instead of listening to respond. 
As a mother, the 'power of shut up' enables me to empower my child to voice her opinion and find her own solutions unless she asks me for help. This builds her confidence, independence, problem-solving skills, perseverance and so much more. 
How do you try to practice this philosophy in your work with our TEC teams?

 
I practice shutting up during my coaching every day. It can be a real challenge because it's in my nature to help people. When I hear someone struggling with something I immediately want to jump in and try to help. Before I open my mouth, I ask myself  'is this a service to my team?' 'Am I helping them learn or am I hindering their growth?'.  When I reflect in such a way, it helps me keep my mouth shut.  
This doesn't mean I feed them to the sharks or sit back and enjoy the chaos! I ask them thought-provoking questions to help them devise out-of-the-box solutions and gain insights and awareness from verbalising their own thoughts. 
Typically I ask "do you want me to coach or advise you?"    
If giving advice mostly fails, what do you think is a more productive way for people to communicate and share experience?

 
If there are situations where people need a quick answer, or if I feel strongly I can help provide a resolutions I'll ask pointed questions like "what do you think would happen if… ", or "how do you think this person will react if you do… instead?"  
The key is to ask powerful questions to help change the perspective of any given situation.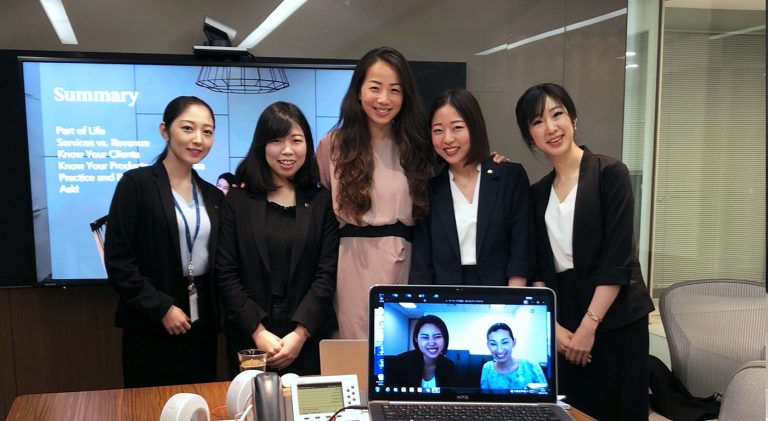 Joanne with some of our Tokyo team at a recent training session. 
How can we become more effective listeners?

 
Just be there.  Be there in the moment, focus on the person speaking and try to be mindful that when your mind wanders away you're quick to catch yourself, refocus and be present again. If needed, turn your phone off. If you are meeting with a friend, remove the phone from your line of sight and refrain from looking at your watch. Focus your attention on the here and now. 
Once we change our way of being, that is, stop trying to constantly problem solve and our way of feeling in terms of offering advice, then our behaviours will change. It takes a lot of practice and I still struggle with it every day. I have become a much better listener, but I can always improve. 
What is something that you regularly try to communicate with the teams and individuals that you coach?

 
They have the answers they need. I realise it sounds cheesy, but they must look within themselves. Whether it's finding the courage to say "no" to their boss, or delivering a speech on stage, many of us simply need to be reminded that we are capable of so much more than we think. It is much more empowering and satisfying when people find their own solutions. They also tend to retain and remember these solutions meaning increased confidence, job satisfaction, team retention and ultimately Member satisfaction. 
How have you seen the Flexible Workspace industry change, and why do you think that your role has been so important in this shift?

 
At TEC we don't just offer space, we offer business solutions to our Members. We can't have robots and followers blindly following standard operating procedures. We need a team that is engaged, forward-thinking, highly adaptable, communicative and leading the way forward! The Flexible Workspace industry has changed significantly in recent years. People are more engaged and the old way of managing and telling people what to do is just not effective.  My role as a coach, learning facilitator and cheerleader helps empower our teams to be more of who they truly are. I nurture self-worth and this in turn helps them engage with their team and with our Members. 
For our Members who are interested in this topic do you have any further reading that you'd recommend?

 
Thinking, Fast and Slow by Daniel Kahneman 
Why Leaders Eat Last by Simon Sinek 
Why Most Leaders Need to Shut Up and Listen 
Giving People Advice Rarely Works. This Does 
Google's Project Aristotle talks about the importance of psychological safety and is a great reference.
Any final thoughts?

 
Some leaders may appear to be practicing the 'power of shut up' when in fact they just don't want to take responsibility for their teams. These are the "don't know, don't care" kind of leaders. As an effective leader, not only do you have to shut up, you have to provide psychological safety to nurture and cultivate an effective team.  Teams need to feel safe to speak up, to take risks and even make mistakes. This is all part of being creative and empowered to make decisions.  
 On August 24 at our Shanghai BEA Tower centre Joanne will present at a 'Lunch and Learn' Seminar where she will detail strategies for building a strong team, and the importance of trust, encouragement and empowerment. We look forward to seeing you there. Please RSVP here.