The Executive Centre was founded 25 years ago, truly a milestone anniversary worthy of celebration. Beyond this however, what is important is that over the last quarter-century, we have built a sustainable business that has thrived and grown through all sorts of economic conditions to become the third-largest flexible workspace business in Asia. Our approach relies on a sincere, nuanced and comprehensive understanding of our client base.
Our premium positioning means that we invest in quality infrastructure, we prioritise an exceptional look and feel for our spaces, and we work hard to ensure our products and services are unparalleled. We are always focused on innovating, evolving, learning and accumulating knowledge to continuously improve the TEC experience. In many ways, our journey is defined by our expansion. From a single space in Hong Kong in 1994, we have grown to more than 130 locations in 14 countries supporting a growing community of more than 26,000 professionals. In a competitive industry, intelligent, thoughtful and strategic expansion has helped make us who we are today. We are proud to share some of our reflections from this journey in this two-part report.
Our Expansion Playbook
The foundation of our business, and arguably the most important strategy that has allowed us to grow as a well- established industry leader, is the fact that our operating model is sustained by an average annual growth rate of 20%. Our footprint and our profitability continue to increase, a real testament to the symbiotic relationship with our Member base and our success is indicative of a truly strategic expansion program. We grow with our existing Members and are confident of an audience for our product in new markets.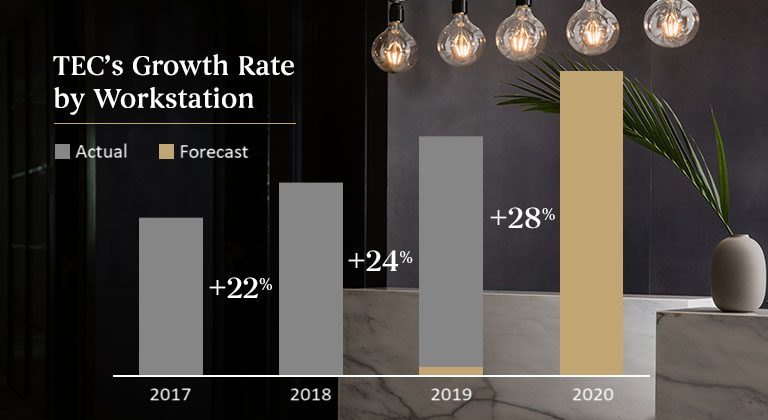 Foundations of Flex
Arecent report from Colliers outlines three non-negotiables demanded by end-users of flex space; flexibility, efficiency and experience. These are now seen as essential tools for retaining a younger, increasingly mobile corporate workforce, but also as a means of improving productivity, managing real estate costs and mitigating risk. For most companies, more than 80% of operating costs are tied to people. There is huge potential for greater return on this investment with even small modifications and improvements to a workplace – increased productivity, improved engagement and greater job satisfaction.  Flexible space is shaping global real estate trends just as it is evolving corporate behaviours. Behemoths such as Microsoft indicate that up to 70%of their real estate portfolio is composed of flexible space as an estimated 67% of businesses count it as a long term solution. It is estimated that 29 million new jobs will be created this year, with a growing workforce driving demand for flexible space, given that traditional office space is limited in most markets, and is a major barrier for companies trying to scale quickly. Add to this the fact thatAsia is the fastest growing coworking market in the world, and we anticipate that current momentum will see more and more businesses choose to manage at least part of their real estate requirements with a flex provider.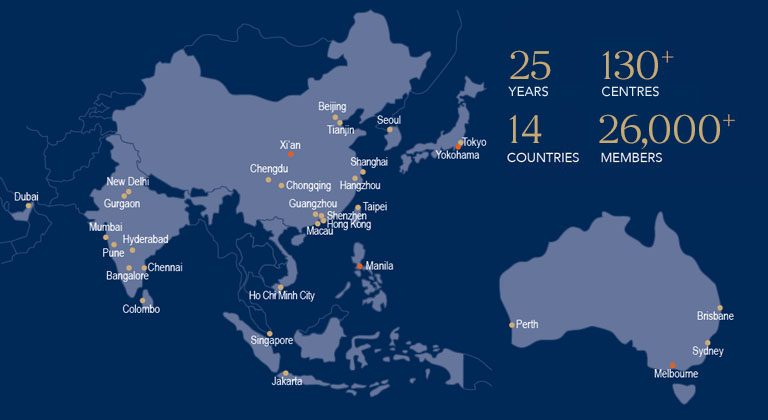 Intelligent Growth
The most important thing to note is that TEC isn't "growing for growth's sake" as our Director of Expansion, Todd Liipfert explains.
"We're trying to find the locations that we know are going to remain valuable long term, as well as drive successful business for TEC."
Our expansion is usually driven by our existing presence in a city. We entrust our exceptional sales teams to identify the needs of their market, as well as responding more broadly to trends and developments in corporate culture. As our Members grow, we grow with them by taking space where and when they need it. This way of working means we are exact in our identification of space, in line with the market and with an understanding of pricing and the delivery of a high quality, business class product for Members.
Our Growth in 2019
25 new Centres
5,286 additional workstations
340645.5 additional sq ft in 4 new cities
90% average occupancy of mature Centres
COMING SOON. Up next, the second part of our expansion update will feature insights from our leadership team about the current state of the market and our plans for the near future.