Our 'Faces of TEC' series is a chance to get to know our Members, an opportunity to hear about their professional journey and celebrate accomplishments along the way. In this instalment, we spend time with our Members from Cielo who were one of our first Enterprise clients. An Enterprise Solution is a new product offering from TEC, our response to the here and now of corporate culture that gives Members the chance to experience all of the exceptional touch points of the TEC experience, just on a much larger scale and with the added benefit of complete customisation at every turn. These interviews were captured during our time in Manila where we spent several days shooting our new campaign that you can see here. Thank you to Jasmine, Ian, Raymart and the entire Cielo team for welcoming us into your space and sharing your thoughts so candidly. We are so proud that this workspace serves you well and we look forward to the future of this partnership.

Jasmine Surema – Recruitment Specialist, Cielo 
How does the new space compare to the old Cielo office?
Compared to our old offices, the new space is very different. We have more space and dedicated rooms which we really needed, and then the pantries…. they are amazing! It's just a pleasure to go to work in this kind of environment, where everything is pleasing to the eye and, not just that, it's comfortable as well, especially our chairs! 
How has space impacted team dynamics?
It's great that we're face-to-face with each other and that we can book meeting rooms as needed. I think that's where we can really collaborate very well. I really like the meeting rooms, they're all really bright and comfortable. Sometimes you go into a meeting room that feels stuffy or you feel nervous, but our new meeting rooms you just feel like there will be a good outcome.  
What are your favourite parts of the space?
I really like the aesthetic, it's pleasing and refreshing, and it just really suits the vibe of the people as well. Everyone's upbeat and the aesthetics really fit, so it's great. Then there is the workspace itself. Your desk is private, but it is still accessible to other people. You have that safe space, at the same time, you're not isolated, you can see and interact with other people as well.  
It makes me feel refreshed… The little details, the special touches, you know you're in a comfortable space…You're able to sit and focus and work hard. You can walk around, talk to other people, so it's really a refreshing space to be, and really gives you the energy that you need.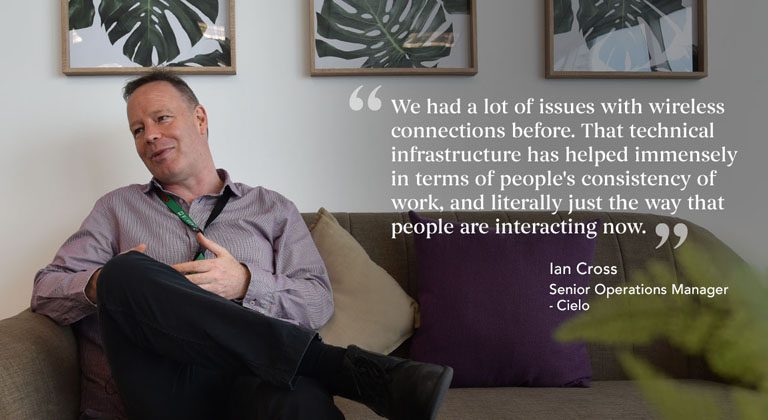 Ian Cross – Senior Operations Manager, Cielo 
What was your experience with TEC like as the space was in the process of being developed?
I work for Cielo as part of our global operations team and part of my role is to ensure that our global strategy, in terms of operations transformation, is implemented and supported from the Philippines Center. I was lucky enough to be one of the first people to visit the office while it was being built. We came over and saw it in construction phase, so when it was all bare concrete and being ripped out. I was also able to visit just prior to opening, when all the branding had been put in place, where all the work in terms of the lights, the very nice windows were in place.  
What has been the response from the team on the ground to their new space?
Before we moved, we were sharing the design sketches, ideas and drawings, and everyone was really involved and interested. I think the great thing is that those sketches and designs have come out to be exactly like that in real life and it all looks fantastic. When the team started to visit, they were impressed. On the first day, when we were all moving in, it was a very exciting day for everybody.
We'd come from offices that were rented, that weren't ours, and they were very cramped and crowded. Now we have a lot of space, the Cielo branding is everywhere and people very, very quickly, felt like it became their office and part of our company's culture. 
How has the space impacted the culture and dynamic of Cielo?
Our old space was very fragmented, the teams were split up and it was extremely cramped. This made it very difficult to put your own corporate identity and individual team culture in place. This space has been purpose built from the outset to allow us to do that. In terms of the way people are working, within maybe two days of being here, you could see that all the breakout areas are being used, the little tables are being used by people for informal meetings or just to grab lunch. The fact that we had a lot of available meeting rooms made life for much easier. The biggest advantage is that we have a wired internet connection, so we have reliability.
We had a lot of issues with wireless connections before. That technical infrastructure has helped immensely in terms of people's consistency of work, and literally just the way that people are interacting now – there's a real feeling of being part of a big team now, much more of a sense of community. 
How did your expansion plans impact the decision to adopt an Enterprise model?
One of the reasons we moved to such a large space is that we have very big expansion plans and we wanted something we could really grow into. Those expansion plans have now started happening. We intend to double our head count here, and we'll recruit well over 100 people in the space of two months. The one thing that has really helped us is the new office. We've used that in our marketing to our potential candidates, to show them pictures of the office and show them what a great environment it is. When candidates arrive for an interview, they walk in and you can just see them looking around and go, "Wow, this is great."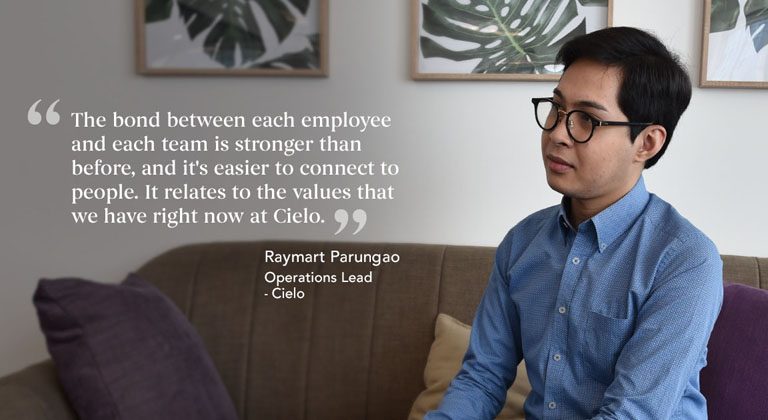 Raymart Parungao – Operations Lead, Cielo 
What was your workspace like before you moved into the Enterprise 
space?
Our old office had rooms divided according to different functions or teams and you felt quite enclosed and siloed because you didn't see a lot of people that you didn't work with directly every day. The experience of having that corporate setting or at least, a positive office vibe, it wasn't there.  
What has been your experience of the new Enterprise Solution?
It's fantastic…. I get the chance to interact with lots of people. It makes a difference to our work, especially for a delivery center. Now that we're trying to establish this as a place of excellence, we want to ensure that we give that experience to our employees, not just our candidates…
Having this huge space, feeling that we are in a successful, corporate space, it makes us feels so good to come to the office every day. 
How has the layout impacted relationships among the teams?
The bond between each employee and each team is stronger than before, and it's easier to connect to people. It relates to the values that we have right now with Cielo. Being personal is being connected to others. And that helps, the layout, the aesthetics in the office right now. I guess, TEC did a great job for this space and I would love to see more in the expansion that we'll be doing in the next couple of years here.