In the article 'Don't Get Too Used to Your Own Desk published by The Wall Street Journal it is reported that by 2021, upwards of 52% of all corporates intend to rely solely on the 'progressive' concept of open plan seating, including first-come-first-served hot-desking with additional collaborative spaces like small meeting rooms, huddle rooms and even less conventional 'touchdown spaces'. Removing walls from conventional office design is seen as a way to break down metaphorical, yet equally obstructive barriers that prevent open communication and easy connection. The aim; to increase collaboration, allow free and open sharing of skills, and encourage the organic development of a new ideas. At least that's what well-intended advocated cite when speaking in support of open plan designs. However, there is a reasonable point to be made that when poorly executed and without consideration for the end-users of said space, open plan offices can be detrimental to the overall office ecosystem.
At a time when digital culture has impacted most industries, a competitive edge comes from a distinct point of difference. This starts with the foundations of an organisation's structure- its people. A well-designed, well-equipped office lends itself to fostering the type of high quality work typical of successful businesses. Research into the workings of today's high-functioning workplaces shows that employees are spending significantly more time on "collaborative activities", 50% or more time to be exact as reported in the paper 'Collaborative Overload'. Similarly, FastCompany explain "Workplaces that facilitate more frequent and higher-quality contact with others have been shown to have improved communication and collaboration on tasks, job satisfaction, and social support. The design of the workplace significantly influences this, by supporting or detracting from interdependent work."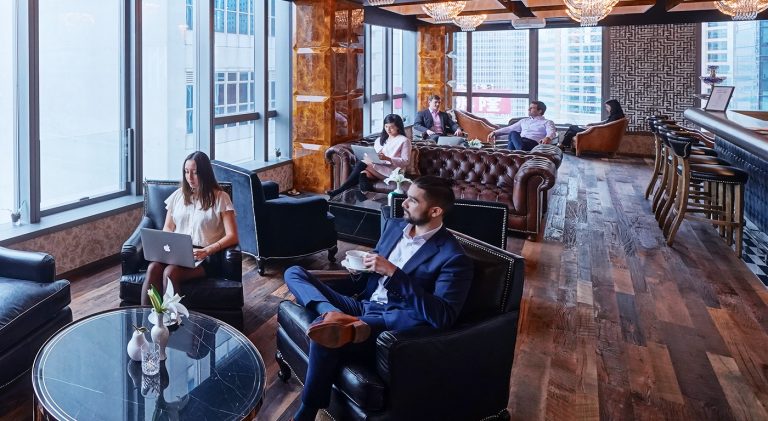 Lots of natural light and plenty of seating options in the lounge at The Executive Centre, Prosperity Tower in Hong Kong. 
The History of Open Plan Offices
Open plan offices first appeared in the 1940's, most commonly populated by secretaries in expansive, centralised spaces. In the 1960's the idea evolved and became a means of showcasing, at least symbolically, the democratic, and egalitarian ethos of a company's culture. The German term 'Bürolandschaft' describes the concept of a company's leaders being 'just one of the gang', sat amongst their employees and sharing information, resources and experience.
Open plan offices were the hallmark of boundary-breaking organisations during the tech boom of the 1990's. Driven at least in part by necessity, tech start-ups sought to take space that differentiated their organisations. The same necessity drove the 'industrial loft' aesthetic so prevalent among the start-up community today. In the article 'Everyone hates open plan offices. Here's why they still exist' Fast Company quote Joel Spolsky, Cofounder of Fog Creek Software and current CEO of Stack Overflow, "Those places were terrible, they were so loud, because there were no drop ceilings. It was painful for everybody. But [dotcom startups] were doing it because they had literally no choice."
Still a relatively new concept, open plan became a real beacon for innovative organisations when in 2005, Google renovated their HQ, signalling "the dawn of a new professional era". The extinction of the cubicle is explained by project architect Clive Wilkinson as a natural continuation of Google's "We're inventing a new world, why do we need the old world?" attitude. The project was so revered that companies, perhaps less confident in their own identity, began asking to be 'Google-fied'. Facebook followed suit 10 years later, seating 2,800 employees across a 10 acre campus in what it has claimed to be the largest open plan floor plate anywhere in the world.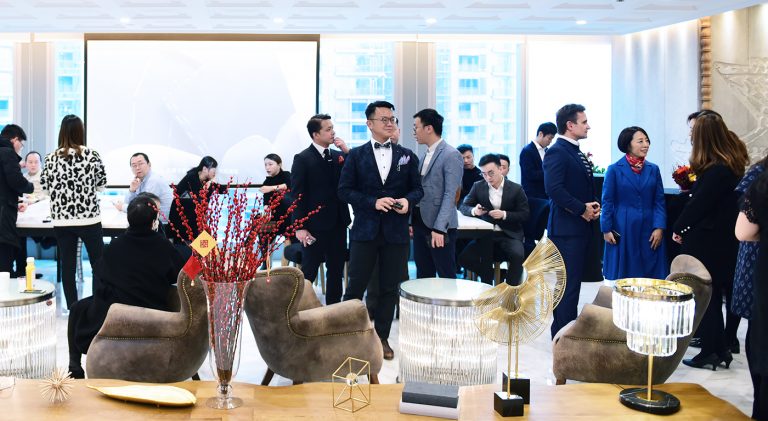 Members gather for an event at The Executive Centre, Yintai Centre in Chengdu. 
The Arguments Against Open Plan
The opportunities that come with an open plan design can also present obvious challenges. Leading the charge is a 2018 report by the Harvard Business Review, 'The impact of the 'open' workspace on human collaboration'. The findings of this report directly contradict the central intention of open plan space, explaining that "open offices reduce face-to-face interaction by about 70% and increase email and messaging by roughly 50%".
A recurring theme in arguments against open plan space is that noise, a lack of privacy and distractions abound. Fast Company explains "When distraction makes it hard for employees to focus, cognitive and emotional resources are depleted. The result is increasing stress and errors, undermining performance. When employees can't concentrate on their work, their desire to interact and collaborate with others is reduced." Acknowledging that there is a trade off between privacy and communication rationalises the argument to support increased digital communication in an open environment.
Though the 'Bürolandschaft' concept is still relied on by leaders seeking both internal and external approval, it represents one of the major misconceptions of open plan offices. Mark Zuckerberg is famously reported to sit at the same white desk provided to all Facebook employees. He is also reported to spend the majority of his time at work alone in a conference room. Zuckerberg described the newly designed Facebook headquarters as "the perfect engineering space: one giant room that fits thousands of people, all close enough to collaborate together". The issue is that each of the 2,800 people under Facebook's rather expansive ceiling have different roles, different job functions and simply put, are just different. Diversity can be one of the biggest strengths for an organisation and should be celebrated. One of the most meaningful ways of doing this is through considering how space can best support individuals to allow them to work more effectively.
Calvin Newport, a professor at Georgetown University studies how people work. He observes that a suspicious and largely ignored issue with the open workspace is that it has become a 'low hanging fruit' for companies to indicate their value; the goal is "not to improve productivity and collaboration, but to signal that the company [is] doing something interesting."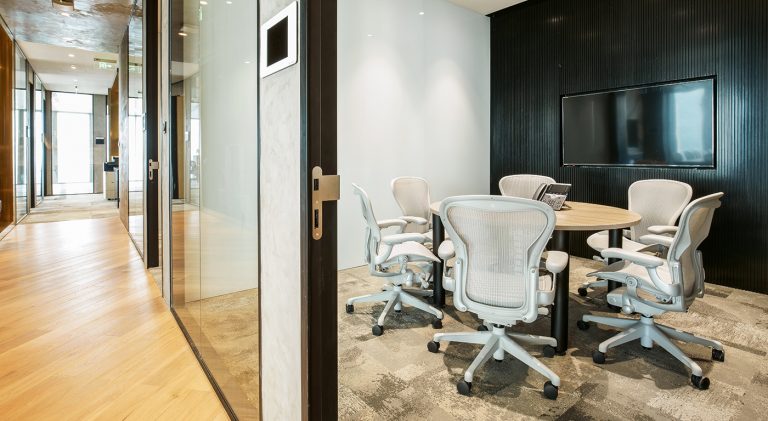 The airy layout of central a space in The Executive Centre, CTF Finance Centre in Guangzhou.
The Arguments For Open Plan
Adopting an open space plan impacts not only the culture and day-to-day operations of a corporation, but also significantly effects the bottom line. According to a report from CoreNet Global, the largest companies stand to save "hundreds of millions of dollars- or more- in savings per year". This is due to the average space per employee falling from 225 square feet in 2010, to 176 square feet in 2013.
The social aspect of an office provides a large system of support and can help with motivation and an individual's consequential productivity. A space's success in providing balanced social, cognitive and physical ergonomics is driven by its design – this is what determines success in a modern work environment. The ability for employees to work together cohesively, efficiently and collaboratively are all determined by how the space can support these actions. According to insights group Humanyze, an open plan design is well suited to "encouraging interaction between teams, which is useful when a company is trying to create new products". It becomes less than ideal when catering to those who are focused on "execution-based work". An optimised open plan design should offer a variety of spaces intended for different uses that are adaptable and specific to the needs of the user.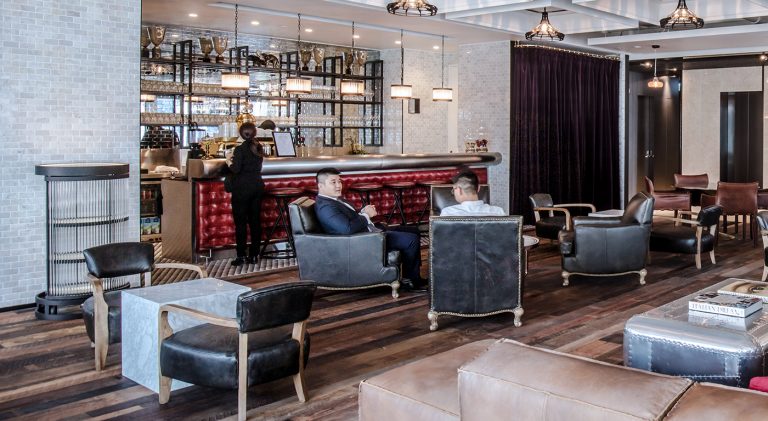 The lounge and barista bar in action at The Executive Centre, Two Chinachem Central, Hong Kong
Open plan does not just reimagine the cubicle, but also breathes new life into other staple office features, among them, the office 'water cooler', a fixture of the corporate social circle. The water-cooler meant all non-work related chatter and gossip was subject to the protection that the immediate perimeter of the water dispenser provided. It also had the potential to become a toxic feature in larger office dynamic. Open plan designs eliminate the need for the water cooler, in its place are relaxed seating and multiple informal meeting areas. Psychologically, we react to our social conditions, which in turn effect our motivation and well-being. Social needs that include a self awareness of "competence, autonomy and relatedness" are vital for maintaining healthy relationships within a working environment. It is vital that employees have access to opportunities for proactive social engagement, opportunities that open plan spaces provide.
At The Executive Centre we have really focused on the social elements of our spaces, with each of our Centres revolving around a centralised lounge setting. These spaces often include a coffee bar, a space that we hope inspires revitalises our members.. These spaces help to build a strong sense of community and can host groups for events, panels and roundtables. Everyone is made to feel welcome, and the opportunities for networking mean that relationships are built within our network are constantly being forged.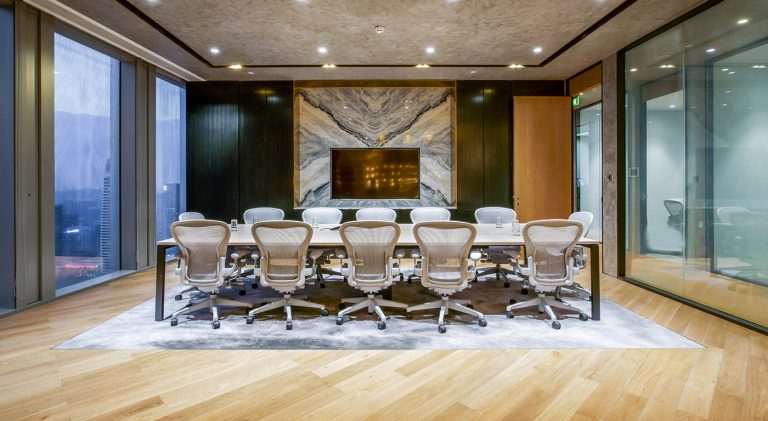 Meeting Room design at The Executive Centre, K12, Guangzhou.
The Living Office
The 'Living Office' is a powerful concept that views a workspace as a tool for achieving set goals. Our long-standing partners, Herman Miller, have a well-established and incredibly well-deserved reputation as being leaders in workplace design. The 'living office' is responsive, intelligent and nuanced in its design. Incremental changes have the ability to positively shape things like hierarchical interactions and communication, workflow productivity and organisational structure.
A recently announced product by Herman Miller, 'Overlay' provides mobile, private huddles and is described as "a system of freestanding, movable walls that helps you define your space. Designed to create visual clarity in open-plan offices, Overlay helps people understand where their best work will happen and gives organisations the agility to evolve on the fly." This is where open plan has evolved- by developing an understanding of the needs and behaviours of office-users and adding to the ecosystem of design tools now available.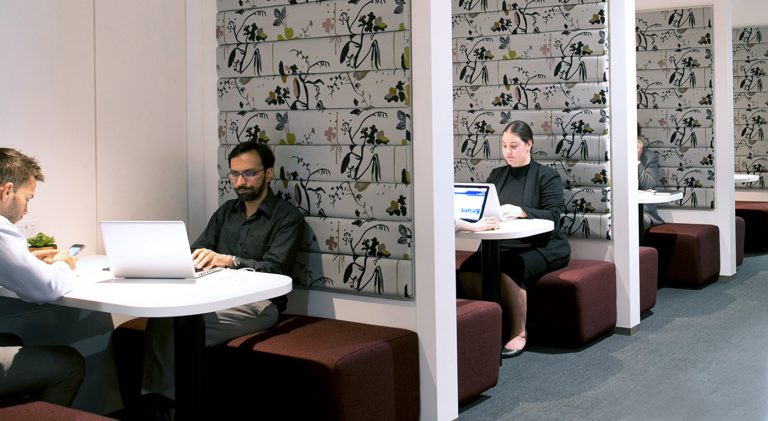 Coworking done right at The Executive Centre, International Tower Three in Sydney.
The Right Balance
As a principle at acclaimed architecture firm Gensler, Janet Pogue McLaurin shares that truly innovative companies "use more spaces throughout the office" and don't necessarily see their desks as their own personal anchor. When given a limited range of work options, open plan can have "negative effects [which] are compounded by a workplace that increasingly suffers from cognitive overload, brought on by time stress, increased workload and multitasking." In fact, collaboration is defined as "a system of behaviours that includes both social and solitary work" which supports the notion that to provide spaces that are actually collaborative, they need to have both private and communal areas. Instead of desks as 'anchors', the most effective office spaces are segmented according to types of work and include not just open, collaborative areas, but also private areas for when prolonged periods of focus is required.
In an interview, author of the report, 'The Impact of the 'Open' Workspace on Human Collaboration', Ethan Bernstein recognised the limitation of his findings, "Ultimately, human beings get agency to decide how to use any space, so design is only part of the equation… So maybe everything, from office design to people analytics, ought to shift slightly in mindset to optimise for their work more often." A behavioural and ideological shift is as important as a change in design philosophy. Research published by Emerald Insight supports the idea that emotional bias and personal preference can trigger a negative response if the implemented concept is not practiced as it was intended, even if all infrastructural components are fully functioning- "misusage of the concept is often the consequence of critical design (process) failures."
It is essential when designing a space, specifically open plan space, to recognise the importance and impact that thoughtful aesthetics can have. Even with a high concentration of people in a open plan workspace, attentiveness to resources such as natural light or access to a view, replenishes "cognitive resources even in the presence of distractions". It is the difference between passive use and an inspired human experience. Beyond this, research indicates that "aesthetically pleasing workplaces can help create trust within organisations" Weak concepts or poorly executed designs can have inadvertent consequences on social, cognitive and physical ergonomics. The variety of spaces on offer to our Members mitigates distractions while also highlighting aesthetic details, all of which make for compelling experiences.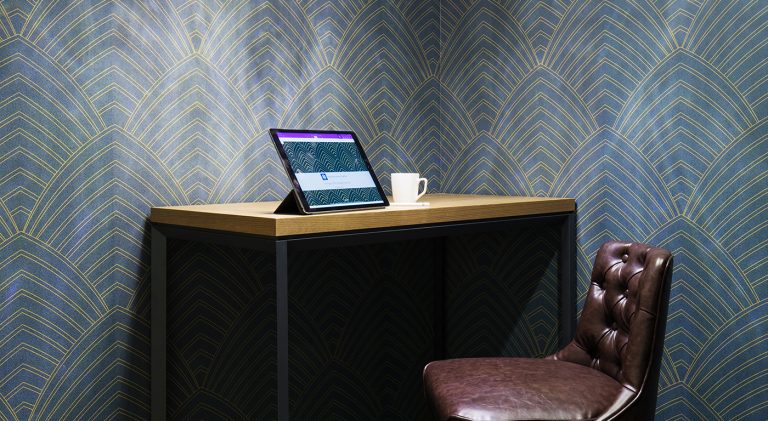 A call booth gives Members privacy when they need it at The Executive Centre, Prosperity Tower, Hong Kong. 
The Executive Centre Experience
Major external forces are changing the ways we work and the future of commercial real estate will be shaped by flexible solutions. Being adaptable to and conscious of these changes is the key to anticipating market, industry and even cultural flux. In spite of this ongoing evolution, one element for success remains a constant- people. Open plan offices are a tool, leveraged for the same purposes and catering to the evolving needs of a contemporary workforce. What is most important is human-centred design solutions. This is where we show our expertise and our commitment, developing spaces that address the physiological, social and professional needs of each individual in all of our spaces.